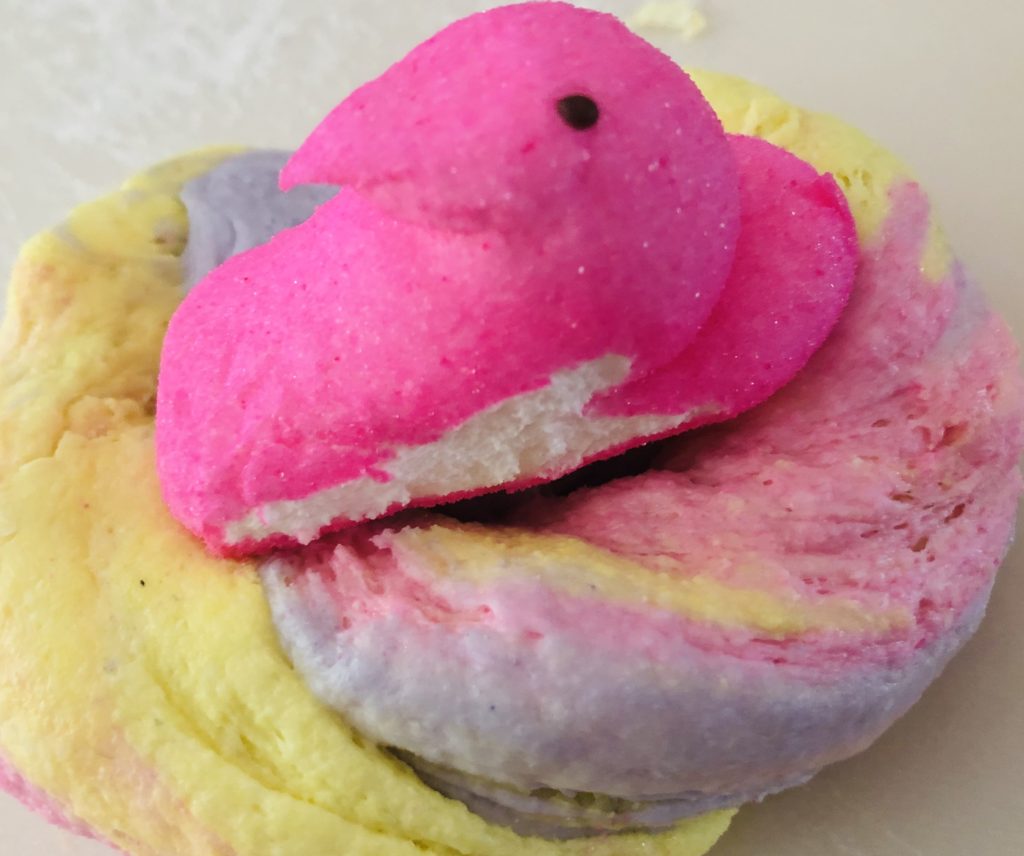 Do your kids like to make slime? We have tried slime a few times before and have had our share of slime fails. Edible slime is new for us though and you won't believe how easy it is to make with a little pack of Peeps. This Easter Peeps Edible Slime is safe to make with kids of all ages since it uses basic items from your pantry.
Easter Peeps Edible Slime is so much fun to make! Plus you don't have to stress if you have little ones or pets around who might accidently try to eat it. This recipes makes a beautiful pastel color slime and it even glitters a little bit with the sugar that the Peeps are coated with. It's almost as easy as our Cloud Dough Recipe!
Peeps Slime Ingredients
To get started with this simple Peeps Slime Recipe, you only need a few basic ingredients. We actually made this recipe three times so we would have three different colors to play with.
5 Peeps (color of your choice)
1 teaspoon vegetable or canola oil
1/3 cup powdered sugar
Easy Steps to Make Peeps Slime
Since we were making three different colors of Peeps Slime, I lined up three glass bowls for us to use. I had Graylie put each set of Peeps into the bowls and we talked about what colors they were.
Once we had the Peeps in the bowls, I microwaved them one bowl at a time for 30 seconds. As I pulled each bowl out of the microwave, I added one teaspoon of canola oil to the bowl of Peeps. Then I gave her the bowl to start mixing it together.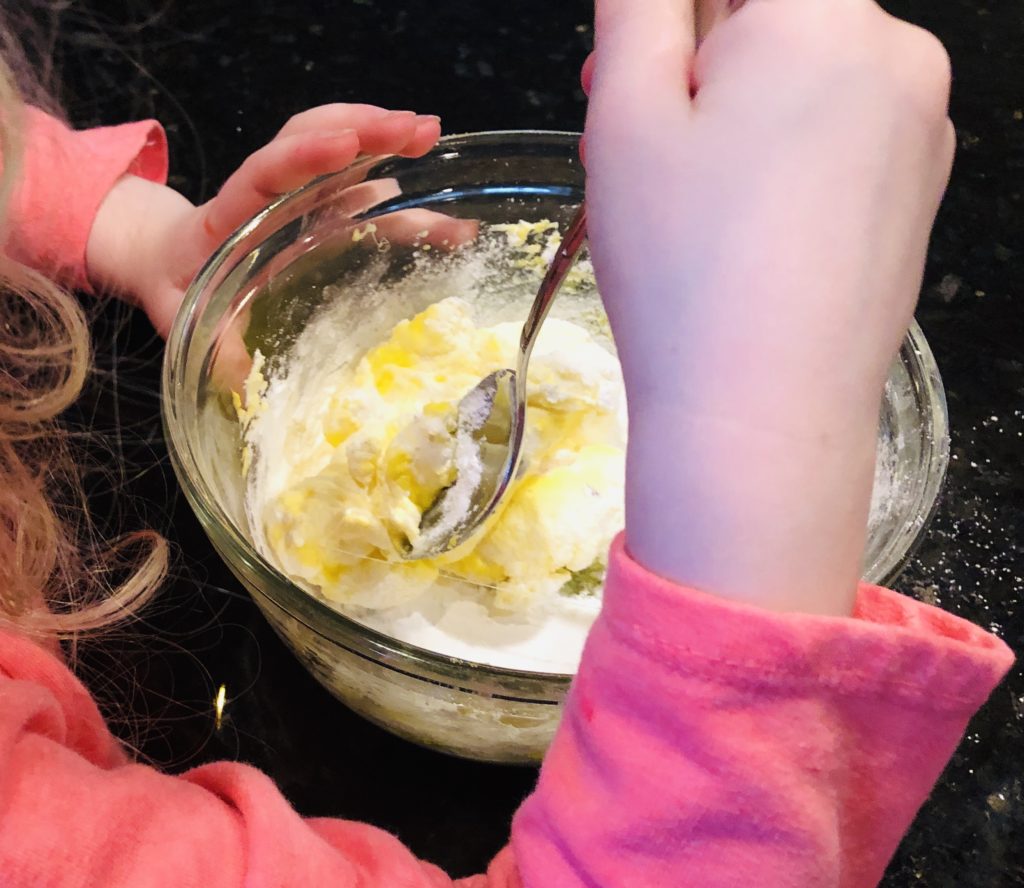 Once that mixture was starting to become stringy and combined, it was time to add the powdered sugar. I gradually added 1/3 cup of powdered sugar to each bowl. We both worked on stirring this mixture until we had a desired consistency.
Some of the powdered sugar was still remaining on the sides of the bowl. I used that to dust a cutting board to keep the slime from sticking. We also used it on our hands. Then we kneaded the slime on the cutting board with our hands until it was no longer sticky and became smooth and stretchy.
Time to Play with Peeps Slime
Once we had our slime created, it was time to play! Graylie loved just stetching and pulling on it. We also decided that it would be fun to combine the colors. You really need to make all the colors of this Easter Peeps Slime. It looks so pretty once you combine it.
She played with this slime for a while. It was a great activity since I was getting ready to start dinner. She pretended to make cakes out of it using one of the bowls and cutting board as well.
Not only is slime good for imaginative play, it is also great for sensory play and encourages the development of fine motor skills and coordination. These are great skills for toddlers to work on. Since this slime is taste safe, it would be the perfect activity for toddlers as well.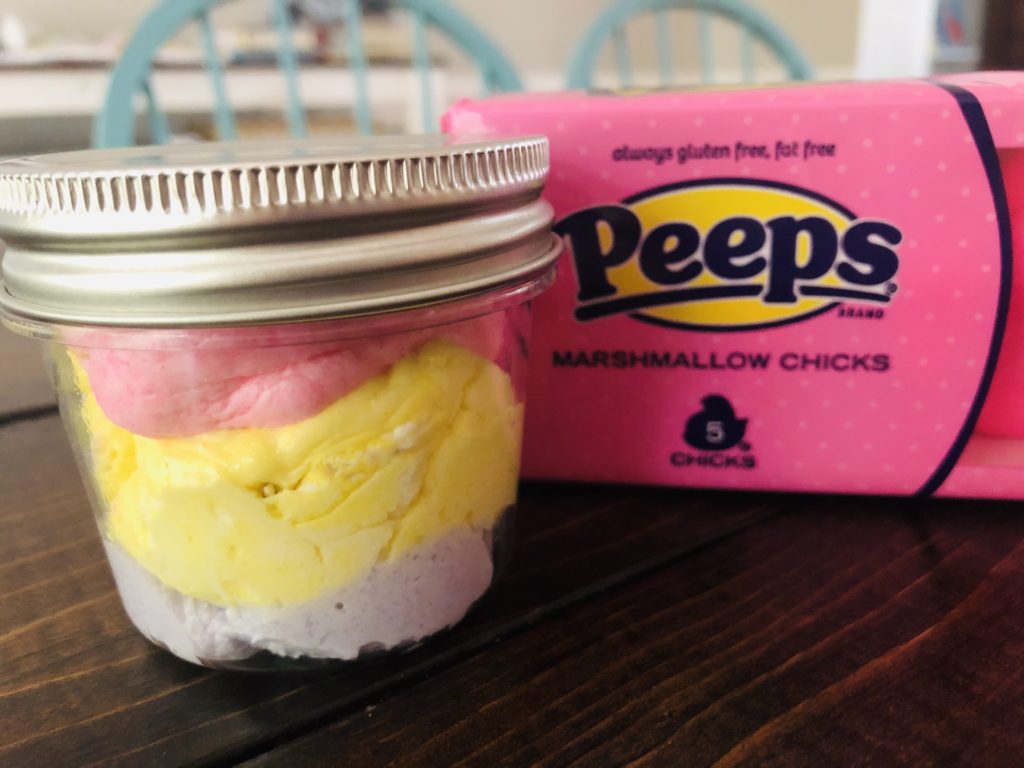 We did try storing our Easter Peeps Slime in an airtight jar but it did not hold up. It was pretty stiff and hard the next day. I was hoping this would make a fun Easter party favor but I would not recommend it for that. It is a fun experiment though and I really don't like to keep slime around the house for too long anyway!
I'm thrilled to have another slime recipe that actually works! We made Fluffy Halloween Slime last fall and I think that was our first successful slime attempt. In the past it has not been my favorite craft project but I did enjoy the simplicity of this Easter Peeps Slime Recipe. I would definitely make this one with kids again!
This post is part of the monthly Inspire My Creativity link party I co-host with some other amazingly creative ladies. Be sure to check out their projects below and add your own crafty post. This month's theme is PASTEL COLORS!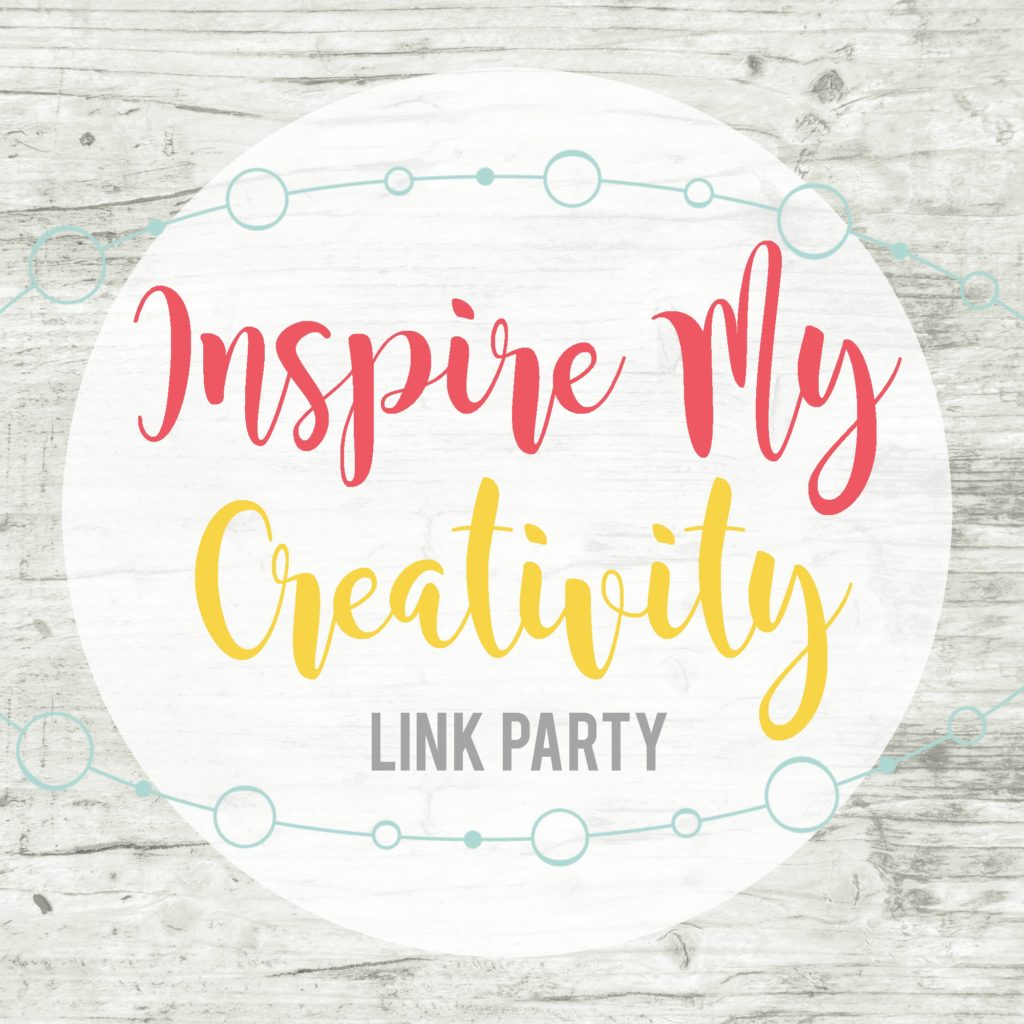 Shani | Sunshine & Munchkins
Christine | Swordfights & Starry Nights
Meg | See The Happy
Candice | She's Crafty
Julia | The Quiet Grove
Marie | The Inspiration Vault
Brooke | My Beautiful Mess
Heather | Glitter On A Dime
Rachel | Adventures of a DIY Mom
Jenny | Cookies, Coffee and Crafts
Anna | Practical and Pretty
Keala | Recipe For A Sweet Life
Carmen | Living Letter Home
Cathy | A Boy and His Mom
Sarah | The Strawberry Nest
Adree | The Keele Deal
Aimee | Things Small and Simple
Alexandra | EyeLoveKnots