Today let's talk about two of my favorite things…..Halloween and the Dollar Tree! I cannot go into Dollar Tree this time of year without buying all the fun Halloween things. My head just spins with ideas and dreams of fun parties. I was so exicted to bring this idea of DIY Halloween Hand Soap to life!
Obviously, I can't take credit for coming up with the idea completely on my own. I had seen similar soaps for various holidays around on Pinterest. This was my first time to try it though!
This post does include affiliate links. That means I could earn a tiny portion of any sale that is made through clicking on any of these products with no additional cost to you. All support is greatly appreciated!
Supplies for DIY Halloween Soap
We love looking at all the Halloween party favors in the Dollar Tree ailes. I knew I would be able to make some pretty cool soap.
To make the DIY Halloween Hand Soap, I decided on the sticky eyeballs and plastic Halloween creatures. I only needed one package of each to make two bottles of hand soap.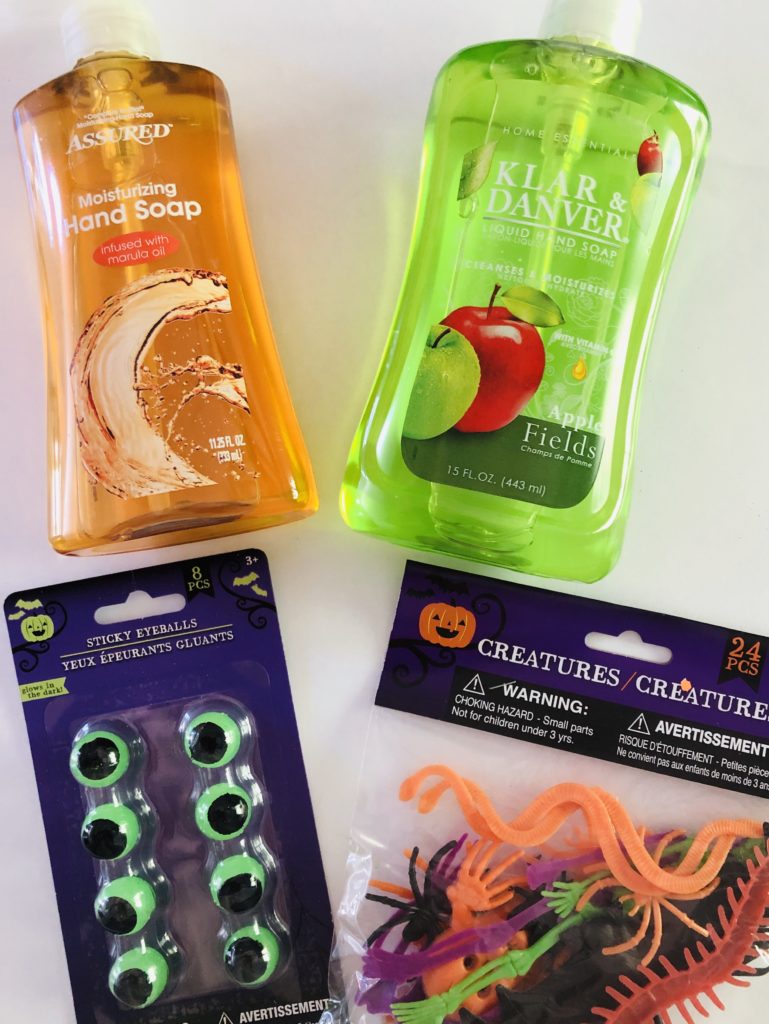 My Dollar Tree store has a great selection of hand soaps. I was excited to find orange and green hand soap for this project.
Such a simple project!
Since I was so excited about making this hand soap, I had try it as soon as I got home from Dollar Tree. It really only takes about five minutes to make one of these cute bottles of soap.
The first step is to peel the labels off the soap bottle. The label really comes of easily. It does leave a bit of sticky residue on the bottle though.
Since I'm pretty lazy, I just left the sticky residue on the bottle. To get the residue off, you could use Goo Gone Adhesive Remover. I did look for ours but I have no idea what happened to it.
If we were giving this as a gift, I would definitely do the extra step and remove the residue. Since I will be putting this soap in the kids' bathrooms, I decided not to worry about it. In reality, they could care less!
Easy to make DIY Halloween Hand Soap
Once the labels are removed from the soap, take off the lid and lay it on a towel. Then begin adding the Halloween creatures and sticky eyeballs to the bottles of soap.
I thought I might need to remove some of the soap, but it all fit perfectly into the bottle. Each bottle of soap held four sticky eyeballs, four small creatures, and one large creature.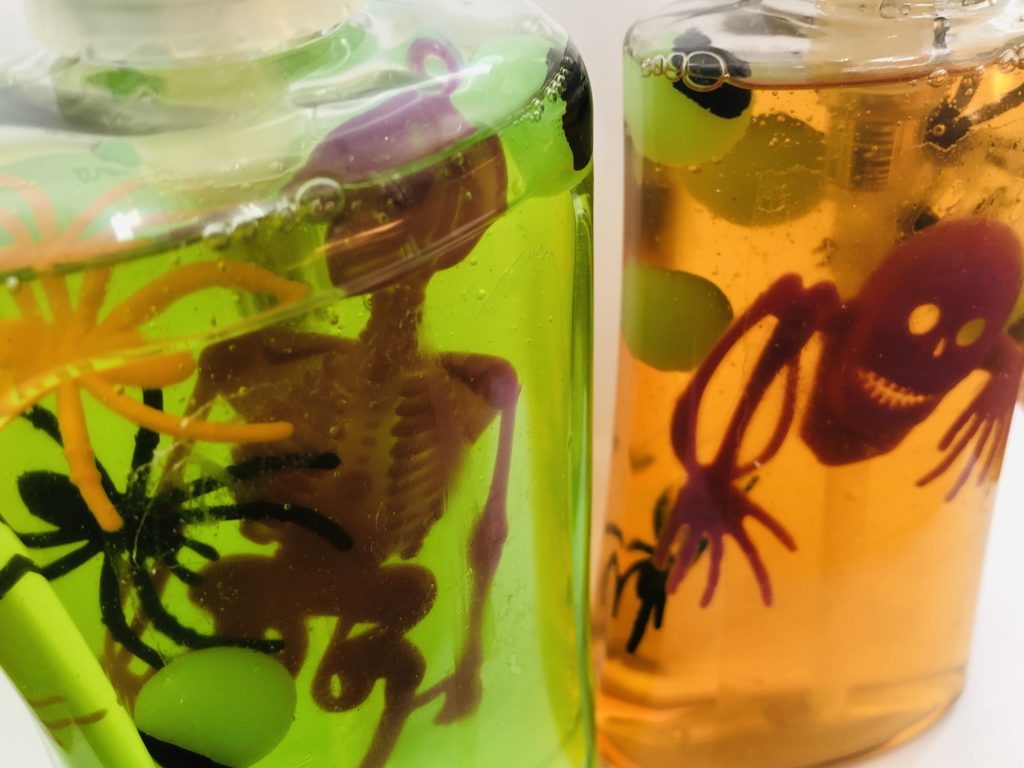 The long skeleton was slightly too tall for the orange bottle of soap. I did have to bend a few of the plastic creatures to slide them through the opening of the soap bottle. Then I used the tube on the soap dispenser to push the eyeballs and creatures down into the soap.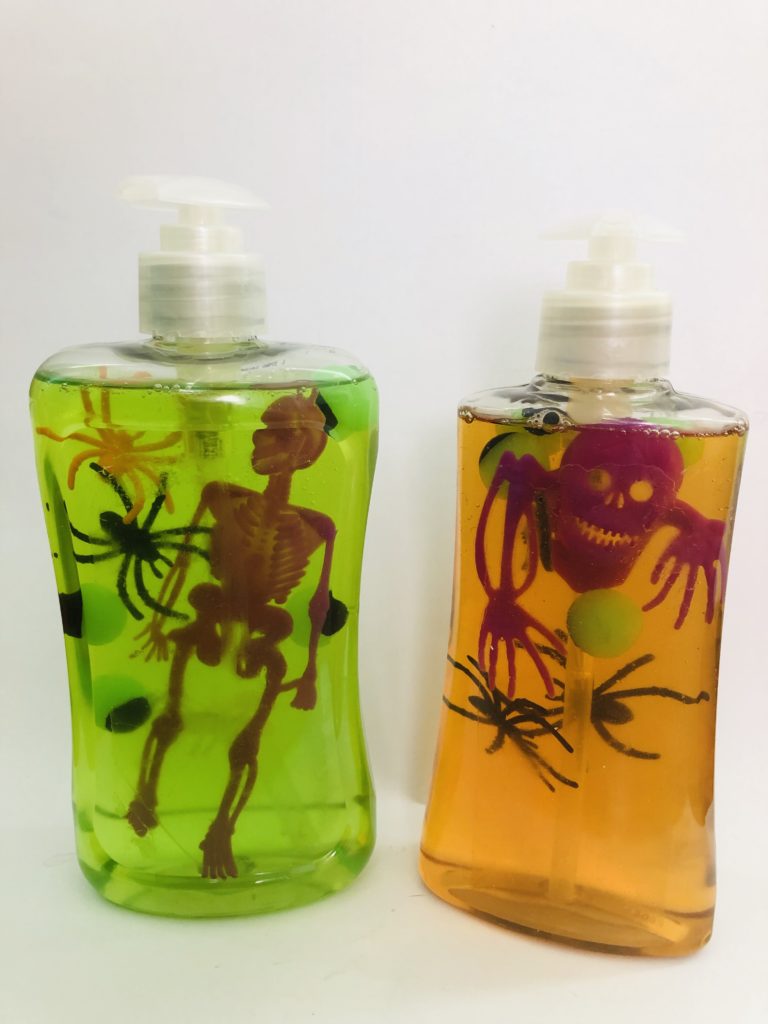 These DIY Halloween Hand Soaps turned out so cool! Yes, they are a bit creepy and spooky. I usually only like cute Halloween stuff but I am in love with these soaps!
The items do want to float to the top of the bottle. That is why I like the long skeleton the best since he does stay put! It really won't matter though once the soap starts being used.
Glow-in-the-dark Eyeballs
It would be really cool to do an entire soap bottle with the sticky eyeballs too. They are glow-in-the-dark. I just don't think we have enough of them to really get a good glow going.
You just can't beat Dollar Tree when it comes to celebrating Halloween! We have used their stickers for lots of fun kids' crafts. The kids also really enjoy their large selection of costume accessories.