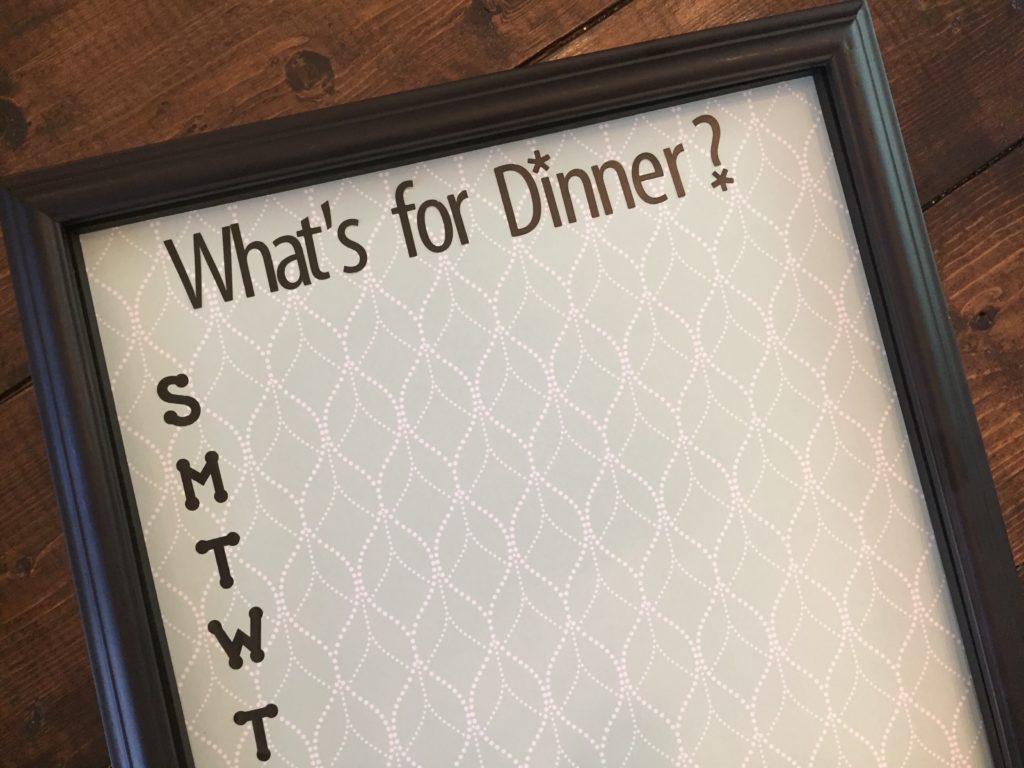 A couple of weeks ago, I posted a quote on Instagram and asked for advice on staying motivated or on task. I struggle with staying focused sometimes and really want to do better when it comes to having routines in place. I know that would make things run smoother at home and give me some peace of mind. One of the responses I received was great advice from my friend Amanda at Jasper and Willow. She said that her dry erase board was her lifesaver! It sounds so simple yet why wasn't I doing that? I have post its and lists everywhere!
This leads me to my project for Week 16 of the 52 Weeks of Pinterest challenge. I remembered having a pin for a DIY Dry Erase Menu Board using a frame and pretty scrapbooking paper. Sure enough, there the pin was buried in my Projects Board. Here are the supplies I used for this project:
12 X 12 Frame
1 sheet 12 X 12 patterned paper
Black alphabet stickers
This post does include affiliate links. That means I could earn a tiny portion of any sale that is made through clicking on any of these products with no additional cost to you. All support is greatly appreciated!
I actually already had all of these supplies including the frame! The frames came from our old house and just didn't really fit anywhere once we moved. I'm thrilled to be using them now. If you don't already have a frame, Amazon has a pretty good deal on a four pack of frames.
These frames make excellent gifts if you want to make a custom scrapbook page for a friend of family member. I also decided to frame another piece of patterned paper to use as a To Do List Board. I plan to use this over the summer for my son. That way he knows what he needs to accomplish before he can have screen time.
The steps are very simple for this project:
Choose the supplies you want to use. Any variety of frame, paper, and stickers will work!
Place the letter stickers on the paper to spell out What's For Dinner? and align stickers along the side for the days of the week.
Place finished paper into the frame.
That is all there is to it! Then you can hang it on the wall or use a stand to have it out on your counter or desk area. I decided to hang mine on the wall. I placed the plain board under it so that Gavin can reach it.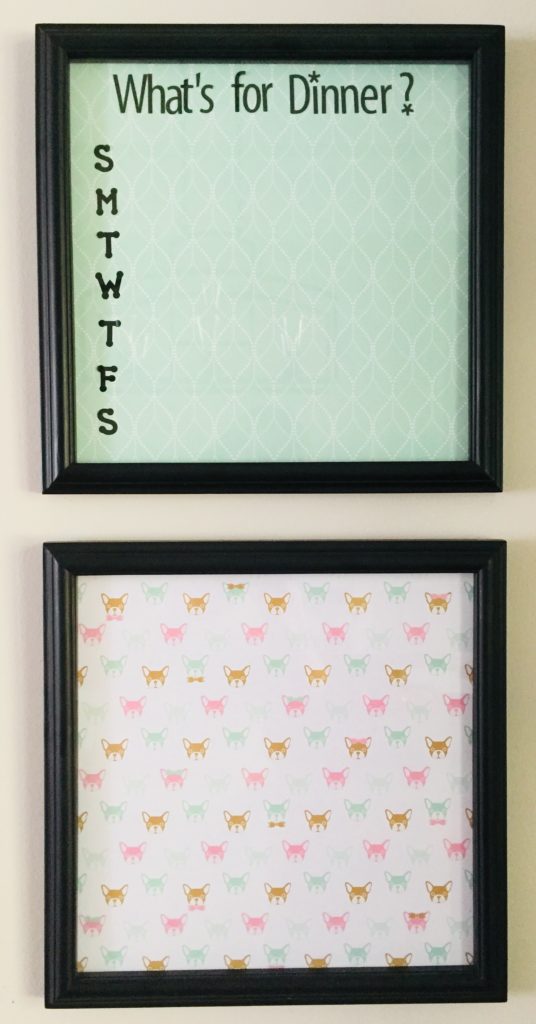 The plain dry erase board will also be great to have! I can use it for Gavin's chores or lists for myself. I try to have a to do list of my own each day and I can also use it to quickly jot down grocery lists. Having these cute boards hanging on the wall should make that much easier. No more searching for my notebook or list pads!
What is your favorite way to use a dry erase board? Does it help keep you organized? I hope the answer is yes, because I am very hopeful that it will help me stay on task. Right now I am on a mission to get my self organized before school is out for summer break!
If you are interested in joining the 52 Weeks of Pinterest Challenge, I would love to have you in our Facebook Group. It is always fun to see what recipes and projects others are trying out and there is no pressure to post! If that's not your thing and you love Pinterest as much as I do, please feel free to follow my boards .