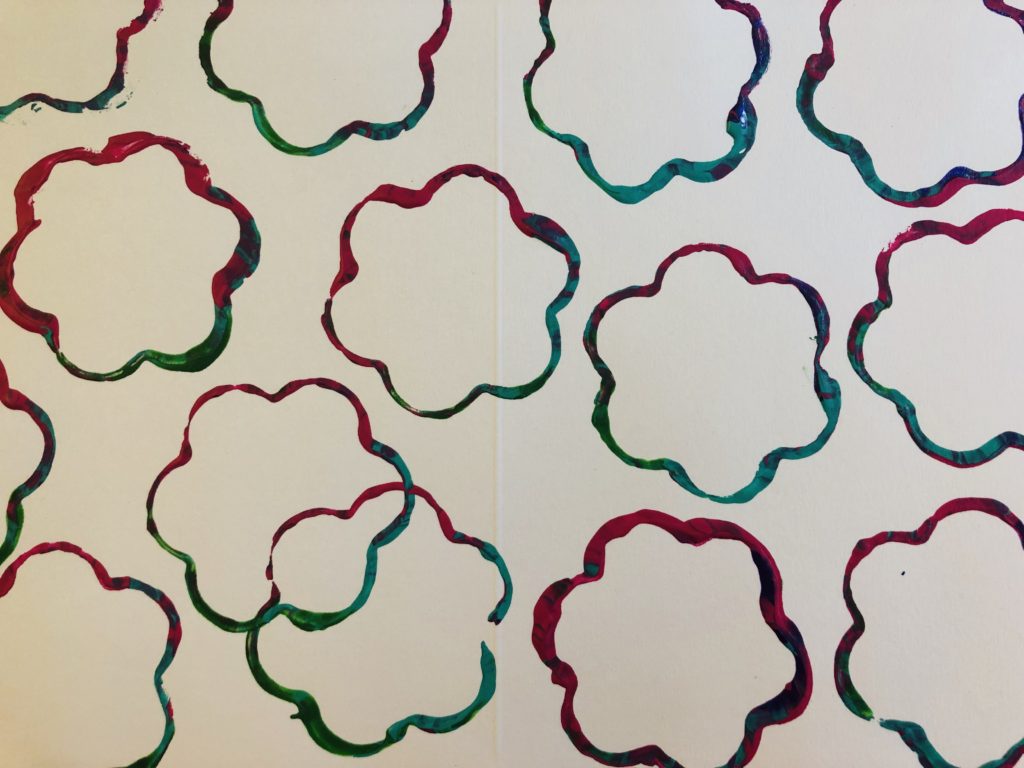 It is time for our monthly Bring on the Crafts Blog Hop! This month the theme is flowers so it is perfect for spring. Have you ever had an idea in your head for a craft and it doesn't go as planned? I think we probably all have! That happened to me this month. I wanted to try painting flowers with wine corks but it just wasn't working out. So we went with one of our favorite painting techniques. We did an easy and fun activity of Cookie Cutter Flower Painting. This is a great craft for kids especially preschoolers.

Bring on the Crafts — A Craft & DIY Blog Hop
On the first Friday of each month, a group of DIY and crafty bloggers join forces. Together with hosts Marie from The Inspiration Vault and Habiba from Craftify My Love, they bring you the #BringontheCrafts blog hop. Each blogger creates a fun craft or DIY project to share that follows a monthly materials theme. April's theme is Flowers! Each blogger chooses their own craft to make as long as they love it and it uses Flowers in the project.
Our April Co-hosts
Jenny at Cookies, Coffee and Crafts • Heather at Glitter on a Dime • Marie at DIY Adulation • Michele at Coastal Bohemian • Terri at Our Good Life • Gail at Purple Hues & Me
Cookie Cutter Flower Printing
As I said before, this is not a new activity for us! We have done cookie cutter painting for 4th of July and for Christmas. It is a super simple craft but Graylie really enjoys it. After having a few flower fails earlier in the week, I was happy to move on to this easy painting project.
To get started you only need the following supplies:
Acrylic Paint
Flower Shaped Cookie Cutter
Paper
We used four different colors of paint for our Cookie Cutter Flower Prints. When we did our Holiday Print Wrapping Paper, we realized how cool it was to get multiple colors on the cookie cutter. It creates a fun multi-color print.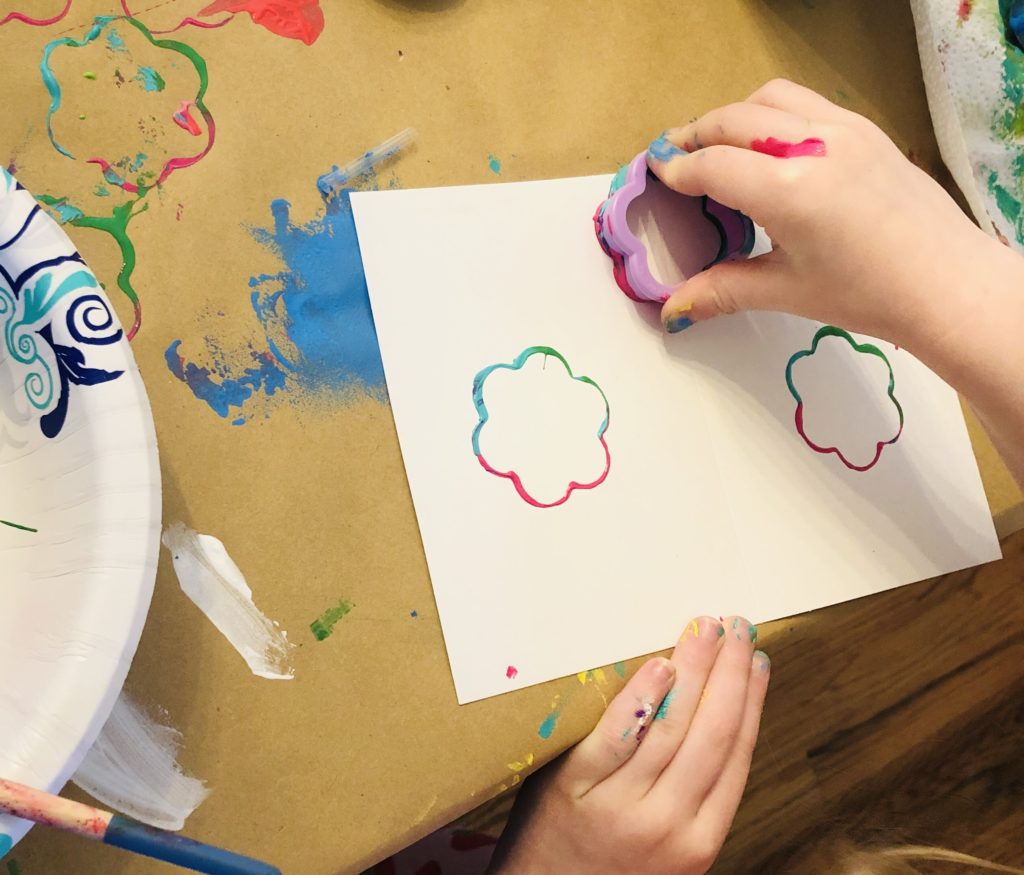 Once you have the supplies, squirt the colors of paint into a paper plate or bowl. This makes cleanup a breeze! Have the child dip the cookie cutter into the paint and then add it to the paper. How easy is that? The kids will be so proud of their beautiful prints too!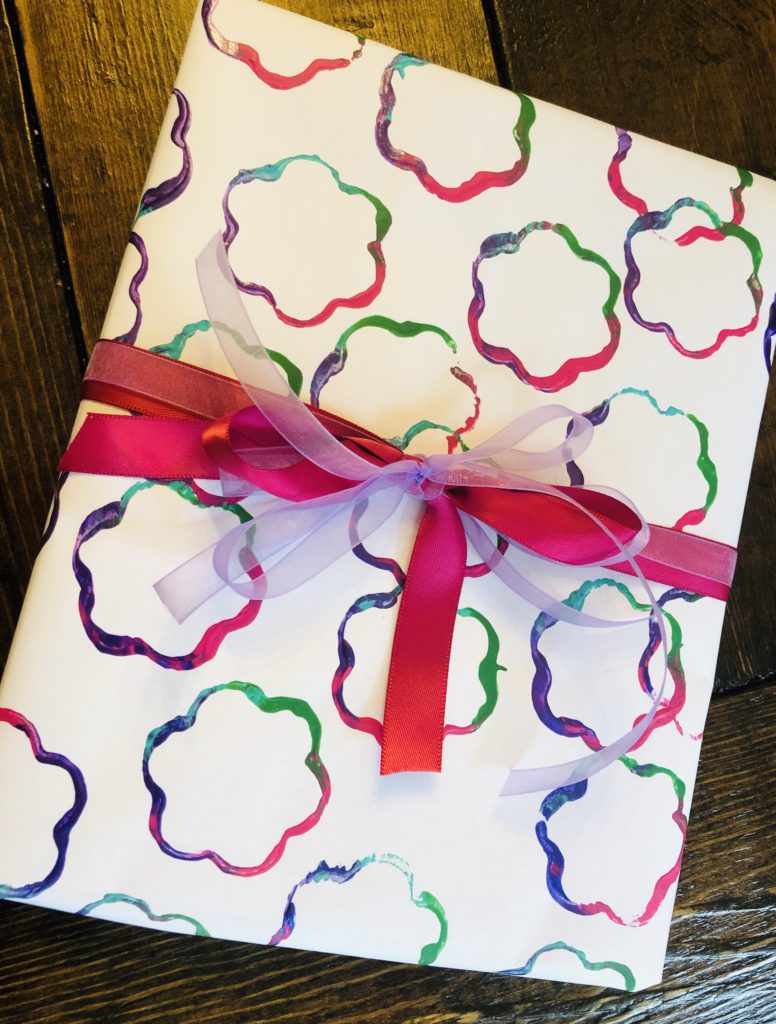 The Cookie Cutter Flower Prints make super cute gift wrap too! We actually turned ours into notecards and gift wrap. They would be perfect for Mother's Day or Teacher Appreciation Day. Just add some pretty ribbon and a tag if you want to make it extra fancy!
Join in on the fun! If you'd like to participate next month, you can request to join our Bring on the Crafts Facebook Group. Next month's theme is Stamps!
Not a blogger, but a creative mind none the less!? Don't worry, Share your awesome creations in our Craft Cult Facebook Group. This is also a great place to ask craft & DIY related questions and find inspiration for your next project.
Now let's see all of those amazing Craft and DIY Projects!