If you are looking for an easy craft project, check out this Christmas Canvas Art for Kids! We love to paint so this was a fun and quick activity to do with the kids.
The great thing about this holiday activity is that you can customize it for any holiday you celebrate. The greeting and colors are all your choice.
This post does include affiliate links. That means I could earn a tiny portion of any sale that is made through clicking on any of these products with no additional cost to you. All support is greatly appreciated!
Here is a list of the basic supplies you will need to get started!
Sticker Resist Art Project
I have a lot of alphabet stickers from years of scrapbooking. For this project I used a mix of cardstock stickers and plain stickers this time. Surprisingly (or at least to me) the plain stickers actually worked better.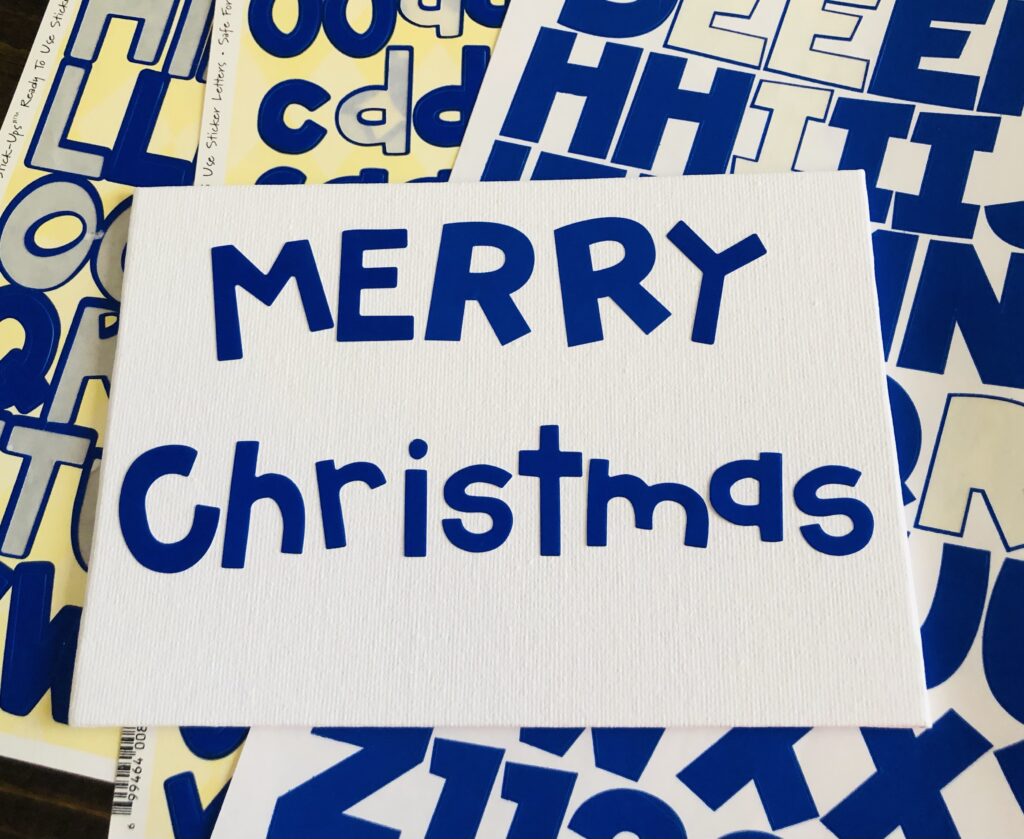 I used the stickers to spell out a holiday greeting. This would work for any holiday that your family celebrates. Once you have the greeting on the canvas panel, it's time to let the kids get creative. This is very similar to the Thanksgiving Place Cards we made a few weeks ago.
Holiday Art Activity for Kids
We used traditional Christmas colors to paint our canvas panels this time. I put red, green, and gold in the paint tray. Then the kids painted their own designs all over the canvas.
I was excited that my 11 year old son wanted to participate in the art activity! He isn't always interested in doing the crafty projects with us anymore.
Once the paint was dry from their creations, they added a layer of Galaxy Glitter on top. That glitter paint just took this artwork to the next level!
When that layer was dry, I began to peel off the alphabet stickers. This is when I realized the difference in the types of stickers I used. More paint got under the cardstock stickers than the plain stickers. Who knew?! I would have thought the thicker stickers would have done better.
There is an easy fix to this though so don't stress over the type of stickers to use. Just go ahead and use what you have on hand! Once the stickers are removed, it is super easy to touch up the greeting with white paint.
Christmas Canvas Art for Kids
These paintings turned out so cute! We used a 5X7 Canvas Panel but you could use other sizes. It just depends on the type of project you want to create.
I am actually thinking about turning these into cute Holiday Card Display Holders. You could also attach a ribbon on the back to hang these. The possibilities are endless!