I love pretty paper! Making cards and scrapbooking are two of my favorite hobbies. Both of those lend themselves to lots of paper scraps. The dilemma is always what paper scraps to keep and what to do with all of those paper scraps. I was thrilled to make this Simple Mother's Day Card Using Paper Scraps with my daughter today.
I've made card sets using paper scraps before. For those I used a technique for making card backgrounds from the paper. Today we made flowers.
This post does include affiliate links. That means I could earn a tiny portion of any sale that is made through clicking on any of these products with no additional cost to you. All support is greatly appreciated!
Paper Scraps Flower Card
This is such a simple card idea for kids to make! Start by letting them draw flowers all over the scraps of paper with a Sharpie marker. Encourage them to draw all kinds of flowers in many shapes and sizes.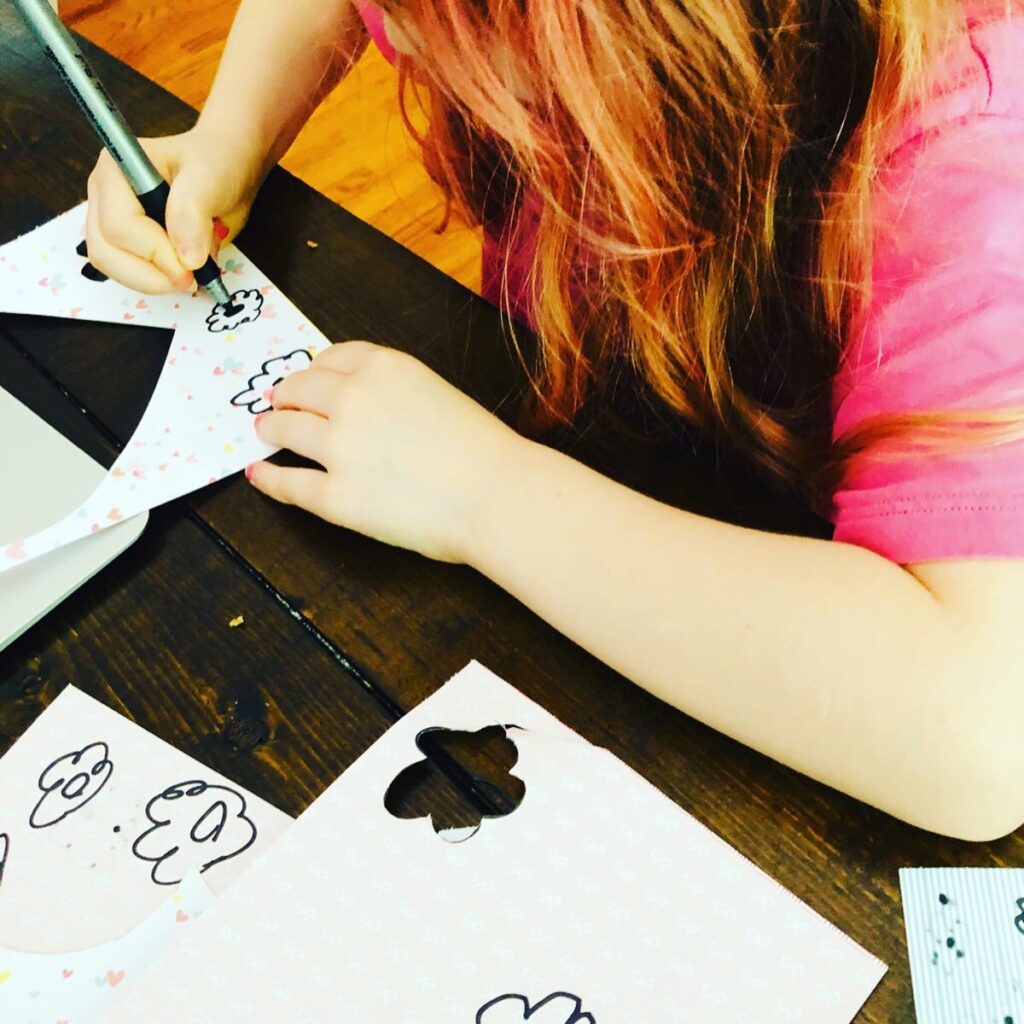 While they are drawing the flowers, you can start cutting the flowers out. They could also help with this step depending on the age of the child.
Easy Card Craft for Mother's Day
Then let them use a glue stick to adhere the flowers onto a card base. Your card can be any size you want. I usually like to buy card bases and envelopes in bulk. This time I used cardstock I had on hand to create a card base.
Using the black Sharpie, draw stems for the flowers. Then we used a beautiful Mother's Day sentiment from the Time to Celebrate stamp set. This set is only $5 this month (May 2020) with a qualifying order!
I love being able to share my love of paper crafting with the kids! Finding more projects like this for us to do together is on my quarantine bucket list. It also helps when we are able to use supplies that we have on hand.
These cards turned out super cute and were SO easy to make! Any sentiment would work for making these cards. I'm hoping to make some Thinking of You cards using this same technique to send to family members next.
Please note: This post does include links to my Close to My Heart business site. I am an Independent Consultant and could get commission on these products. All of these opinions are my own and would be happy to answer any questions. I appreciate any support!