Yesterday I shared a fun and easy Beach Paper Plate Craft. It was such a hit I thought I would also share a really simple snack craft that we did. We have realized that staying somewhere with a kitchen during vacation is a must for our family. This is true especially at the beach. No one likes to get cleaned up to go find food.
Hotel snack bars are fun but can get rather pricey if you have to depend on them for every lunch or snack. Plus it can be fun to get a little creative while on vacation. You will definitely want to try this easy Beach Snack Craft with your kids this summer!
This post does include affiliate links. That means I could earn a tiny portion of any sale that is made through clicking on any of these products with no additional cost to you. All support is greatly appreciated!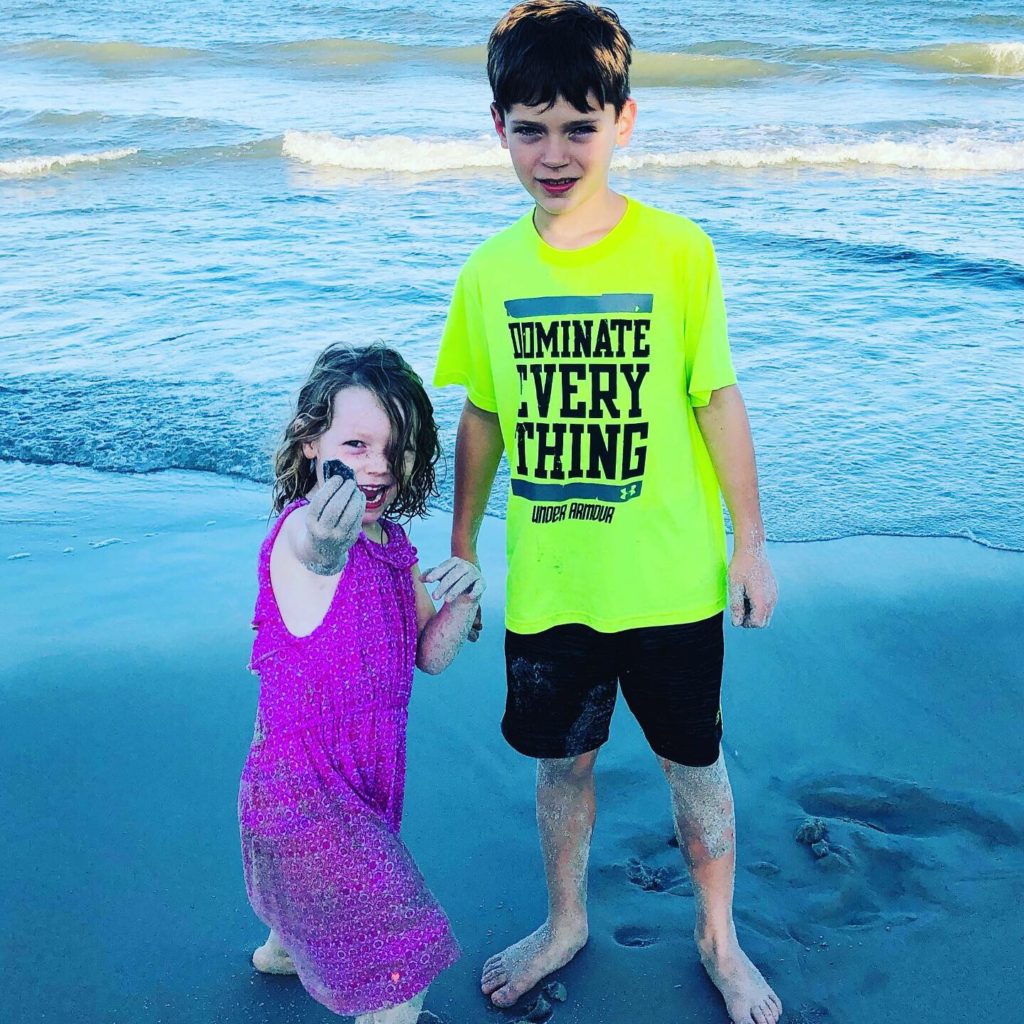 Beach Themed Snack Craft Supplies
I actually found the idea for this snack on Pinterest. There are so many fun snack ideas on the site Craft Create Cook. We changed it up a little by purchasing Funfetti Aqua Blue Vanilla Frosting. It came with really cute fish sprinkles. The bright colors of the sprinkles made this extra fun and special for the kids.
To make this simple craft, you only need a few ingredients. As you can see I often go with store brand items. In this case I was trying to use up ingredients we already had in the pantry. Doesn't everyone do that before vacation?
Graham Crackers
Tedddy Grahams
Kids can assemble this snack themselves!
This snack was fun and easy for the kids to assemble themselves. I broke the graham crackers into squares and gave them each two squares. Then I added a dollop of frosting so they could spread it themselves.
I cut the candy into small strips before giving it to them. How adorable is this rainbow candy? It is perfect for little beach towels. It would also be fun for any rainbow snacks or St. Patrick's Day crafts.
The candy sticks right on top of the frosting. Then just add a little frosting to the back of the teddy graham to adhere it to the candy piece. We sprinkled the little fish around the teddy grahams. You can even crush some of the extra graham crackers to sprinkle under the towel to look sand.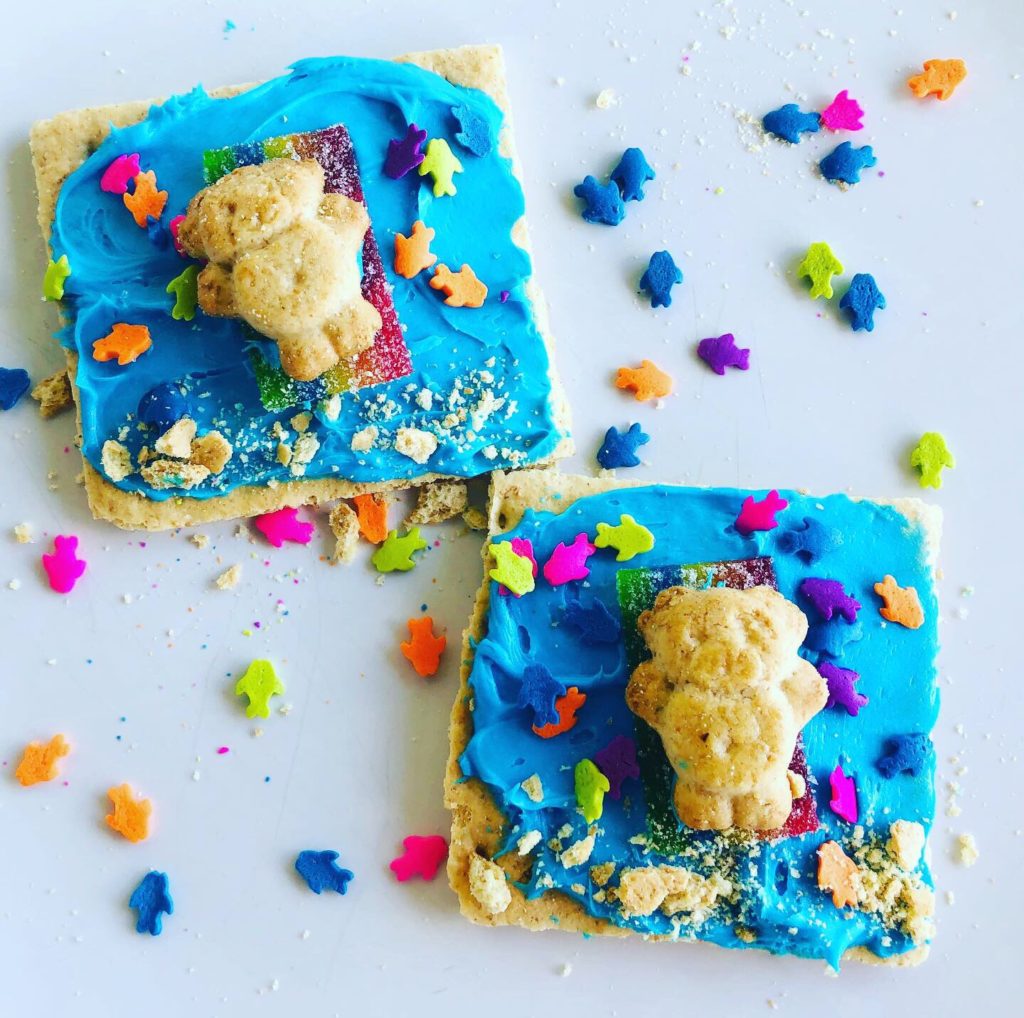 How fun is this? It was the perfect afternoon snack after a day at the beach. It was also be a great activity for a summer camp. The kids loved creating this adorable snack.
Another Easy Beach Snack Idea
If you are looking for more beach snack ideas, I found a fun Jello Beach dessert kit at ALDI. We ended up trying lots of ice cream shoppes on our vacation so I never got around the making this one. I'm hoping to save it for Shark Week of our DIY Summer Camp in a few weeks.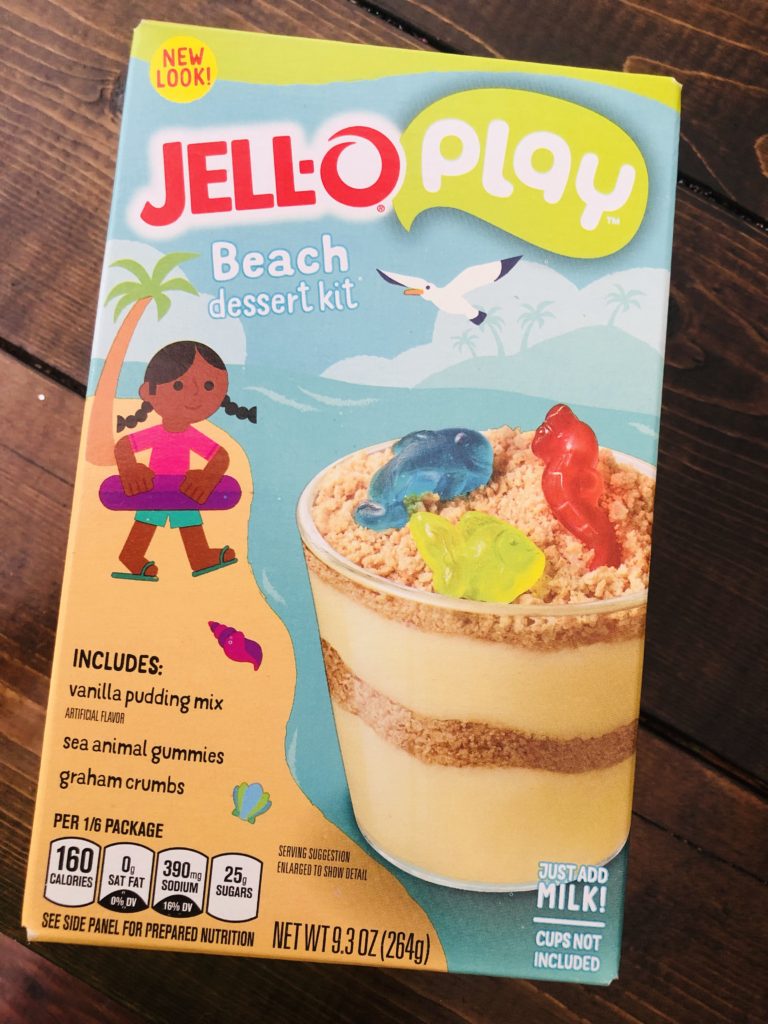 This one looks really simple too! Just make sure you have enough milk on hand. I also realized that cups are not included so be prepared for that. Our store also carried a cute Nature themed kit as well.