I am getting ready to host a Galentine's Day event to celebrate with a few friends. I had purchased a fun Cardmaking Kit so that everyone could make a card and enjoy a beverage while we caught up on life. The card kit is super cute and includes a really fun stamp set. It inspired me to make these You Color My World Party Favors for my daughter's preschool friends.
This post does include affiliate links. That means I could earn a tiny portion of any sale that is made through clicking on any of these products with no additional cost to you. 
The kit I purchased is the Workshops Your Way Lucky Friend Kit from Close to My Heart. These kits are perfect if you are looking to get into paper crafts. It has the supplies and instructions to make twelve cards and there are two different designs.
We aren't here to talk about the cards though! We are here to see how cute the stamp set from this kit is. When I saw the "You Color My World" sentiment included in this kit, I couldn't wait to try to make my own little coloring sheets. Since it is so close to Valentine's Day, these will make the cutest Valentines for my daughter's preschool class.
I made the coloring sheets by cutting a 12 X 12 piece of white cardstock into six pieces. The dimensions of each sheet ended up being 4 X 6. This is also the perfect size to include in a card.
I stamped the sentiment and images from the stamp set in the middle of each sheet. Then I drew a cloud-like design around it. I also added the hearts, rainbow, and sun from another set that I had on hand. You could even do all hearts for Valentine's Day or all rainbows for a rainbow party.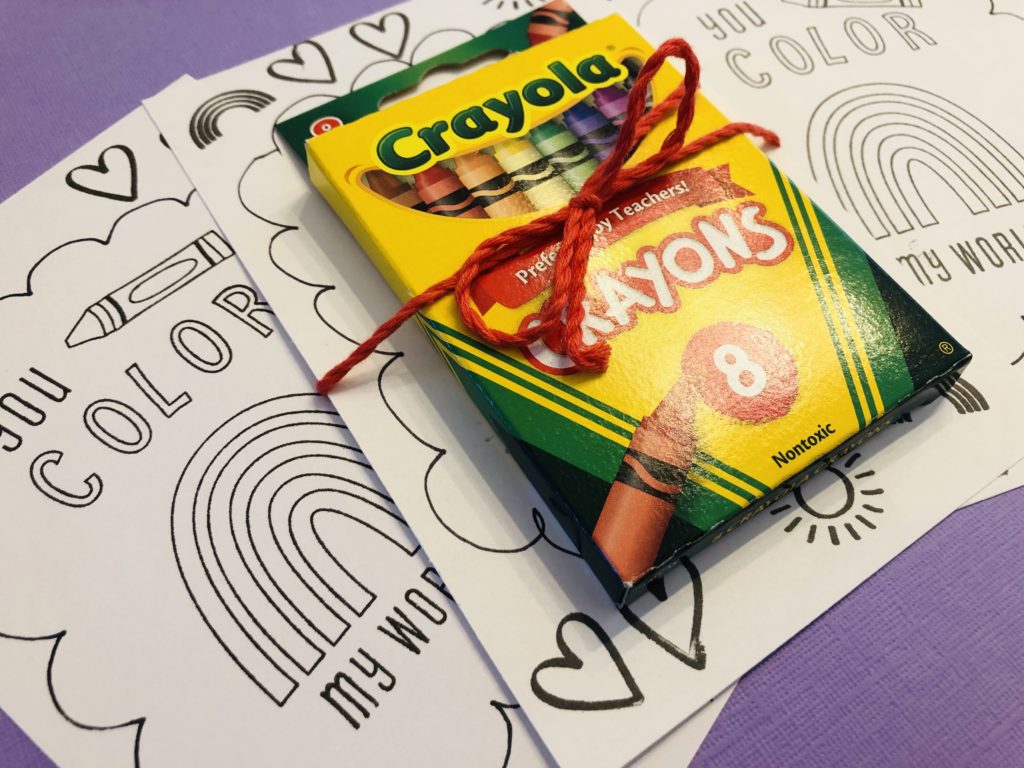 I tied a piece of red twine around the coloring sheet and the crayons. I actually found the crayons on Amazon at a really good price. It was a set of 12 for about $9. (Their prices do fluctuate!)To hold it in place, I added glue dots behind the crayons and a piece of washi tape to the back of the coloring sheet. You could also just tie it in a goodie bag especially if you want to add a treat or other items.
This is a great party favor for Valentine's Day but would also be fun for a birthday party! It would coordinate with lots of different themes but would especially be great for art parties or rainbow parties.
This post does include links to my Close to My Heart business site. I am an Independent Consultant and could get commission on these products. I love to spoil my customers with lots of fun products throughout the year! All of these opinions are my own and I would be happy to answer any questions. I appreciate any support!