Books are a huge part of our family life. We enjoy weekly trips to the local library and scholastic book orders make us giddy.
I am a huge fan of Lisa Leake, the author of the blog 100 Days of Real Food. Needless to say, I was pretty excited to hear that she was coming out with cookbook #2. I have been devouring every page of the Fast & Fabulous cookbook and have enjoyed adding some new recipes to our weekly menu plan. So far, I have tried the Stuffed Bell Peppers, Black Bean Soup, and White Bean Jar Salads.
I am also reading Say Goodbye to Survival Mode. This book is written by Crystal Paine, author of the blog Money Saving Mom. This book has a lot of great advice about time management. I feel like I am constantly in survival mode so I am hoping to apply a lot of this to my life. She has you really stop and think about your priorities and all the extra stuff that you may be doing that is just making you busy.
Gavin is currently reading Miss Klute is a Hoot. This is from his favorite book series My Weird School. I have never seen this boy so excited about reading before. He can lay in bed at night and finish an entire book from this series. These books are super silly and perfect for any silly second grader!
He recently started reading a new series called Ricky Ricotta's Mighty Robot. I haven't read any of these with him, but he seems to really enjoy them.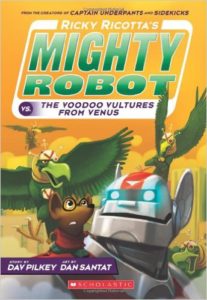 Graylie is at the stage where she wants me to read the same books over and over again. I know we have gotten one that she really likes when she immediately says, "Again!" when I get to the last page. Her current favorites are My Huggy Valentine, Sleeping Beauty, Dora's Sleepover, and Princess Addison Gets Angry. 
This post does include affiliate links.