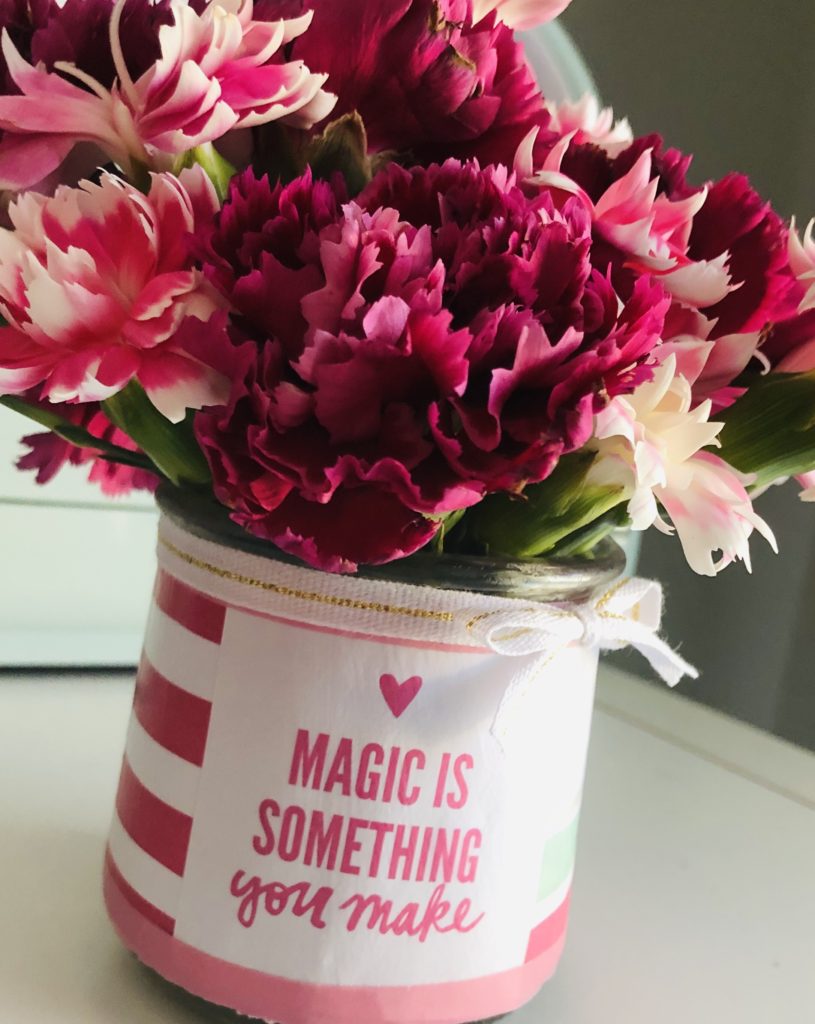 Don't you love the satisfaction of being able to repurpose a jar or container? The little Oui Yogurt Jars are a crafters dream come true! There are so many possibilities that it is hard to choose what to try first. I finally decided to try making this Repurposed Yogurt Jar Flower Vase.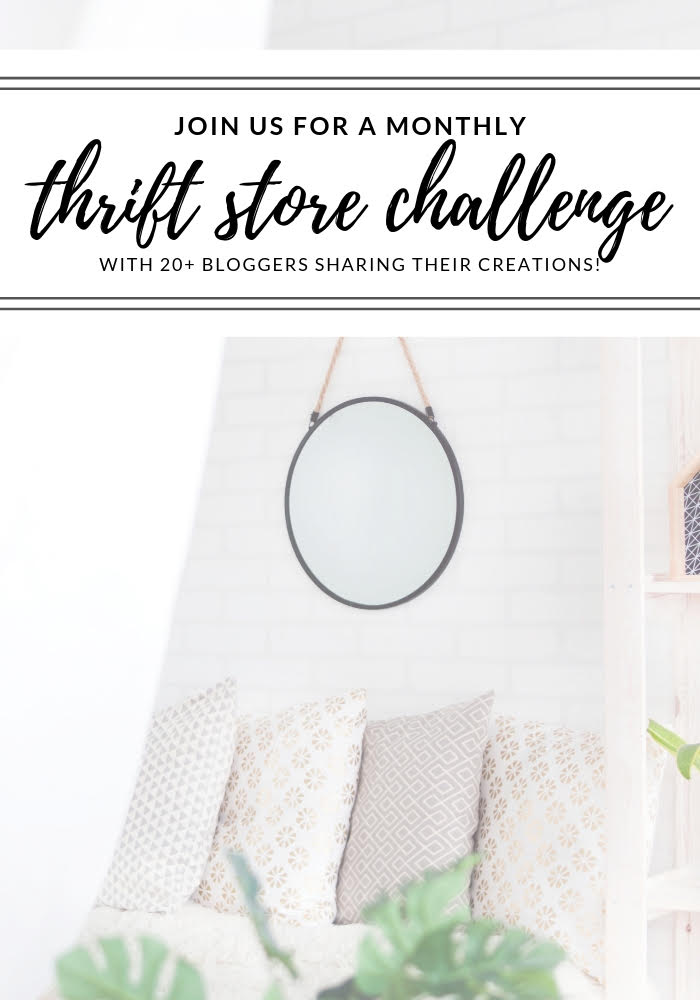 The Rules:
Upcycle an item(s) from a thrift store, resale store, or garage sale into a new piece of decor.
There's no monthly theme.
There's no budget to stick to.
Meet the Hosts
Angela | Simply Beautiful By Angela – Deborah | Salvage Sister & Mister – Angie | Flippin Fanchers – Denise | My Thrifty House -Jenny | Cookies Coffee and Crafts – Lynne | My Family Thyme –Meredith | Southbound Blog – Marie | The Inspiration Vault – Gail | Purple Hues and Me – Molly | Just a Little Creativity –Pili | My Sweet Things – Amanda | Domestically Creative – Ali | Home Crafts By Ali – Carmen | Living Letter Home -Emy | Semigloss Design – Jeanie | Create and Babble – Marie | DIY Adulation – Heather | Glitter On A Dime
Make sure you follow our board on Pinterest for more upcycled decor inspiration!
This post does include affiliate links. That means I could earn a tiny portion of any sale that is made through clicking on any of these products with no additional cost to you. All support is greatly appreciated!
Repurposed Yogurt Jar Flower Vase
When a friend of mine asked if I would be interested in her yogurt jars, I was super excited! I don't think she expected quite the response she received. These jars are so cute though. The labels peeled off so easily that I knew these were meant to be crafted. I just discovered they sell lids for these now too!
There are so many ways to decorate these little jars. I decided to use paper and modge podge. I came across these adorable paper cards in my stash recently and had no idea what to do with them. They ended up being perfect for this project! This is why it is so hard to purge craft supplies. You just never know when you might need them! 😉
This idea came together really easily. Just follow these simple steps:
Apply modge podge to the entire outside surface of the jar.
Adhere a layer of paper to the modge podge.
Apply more modge podge if you would like to add extra layers.
Follow with another thin coat of modge podge to seal it all together.
Add ribbon or other embellishements if desired. I added pink washi tape and ribbon to my jars.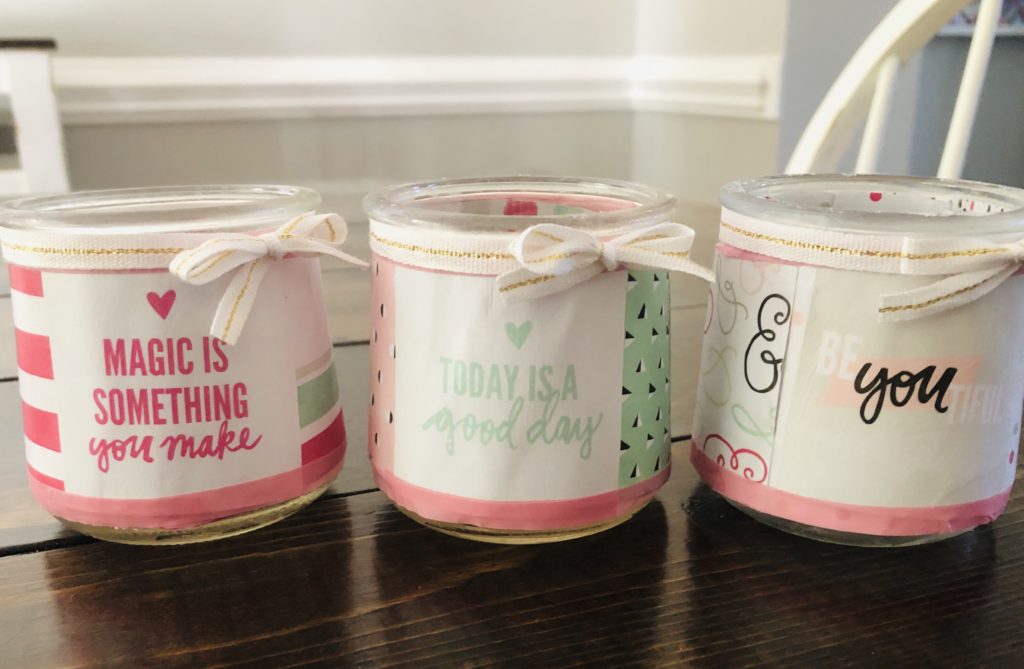 I ended up crafting three jars. I plan to use one as a vase and make candles with the others. I saved that for another day since I made a different candle for you last month. I still have some of the Sweet Pea Fragrance Oil left that would be perfect for little spring scented votives.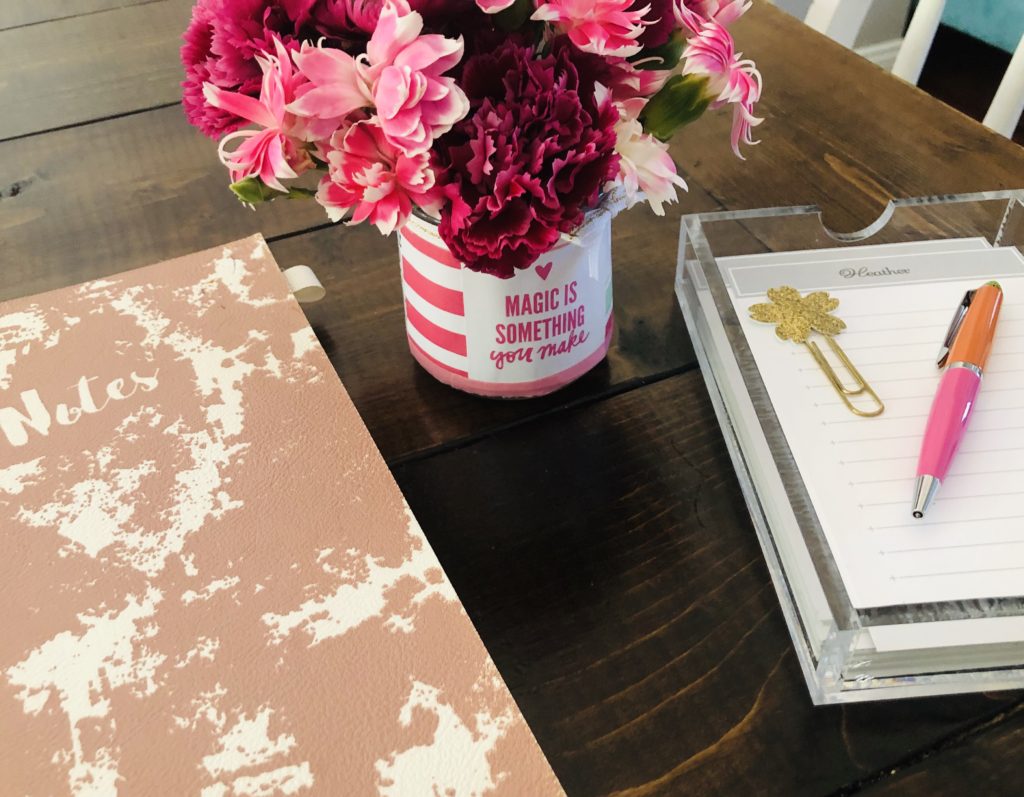 This little flower vase is perfect for my desk or my crafting shelf. It just makes me happy! I also love the saying on this particular one. Magic is something you make. That is such a great reminder. Next time you have a yogurt jar I hope you'll find a great way to use it. Please share all your crafty yogurt jars with me if you have them!
And now for more thrifty goodness!
Check out what my fellow upcyclers created below!