Welcome back to Menu Monday! We are back with a week from HelloFresh. I wanted to kick it off with a Freezer Challenge but that will have to wait. Somehow I got distracted and forgot to skip my HelloFresh shipment for this week. That is okay though. It is always fun to try new things and that is what we get with HelloFresh.
We tried HelloFresh several months ago and enjoyed all of the recipes. There are three different plans to choose from. We are currently on the family plan. This week my family is a little skeptical. They weren't too excited when I pulled the beautiful recipe cards out of the box. I thought it all sounded wonderful! We are having Honey Sesame Chicken Tenders, Cauliflower Pancetta Mac 'N' Cheese, and Peanut Pork Noodle Bowls.
One of my favorite things about HelloFresh is how they package the ingredients for each meal in their own little box. I am able to just grab the box from the refrigerator and know that I have everything I need. All the ingredients are all measured out for me too!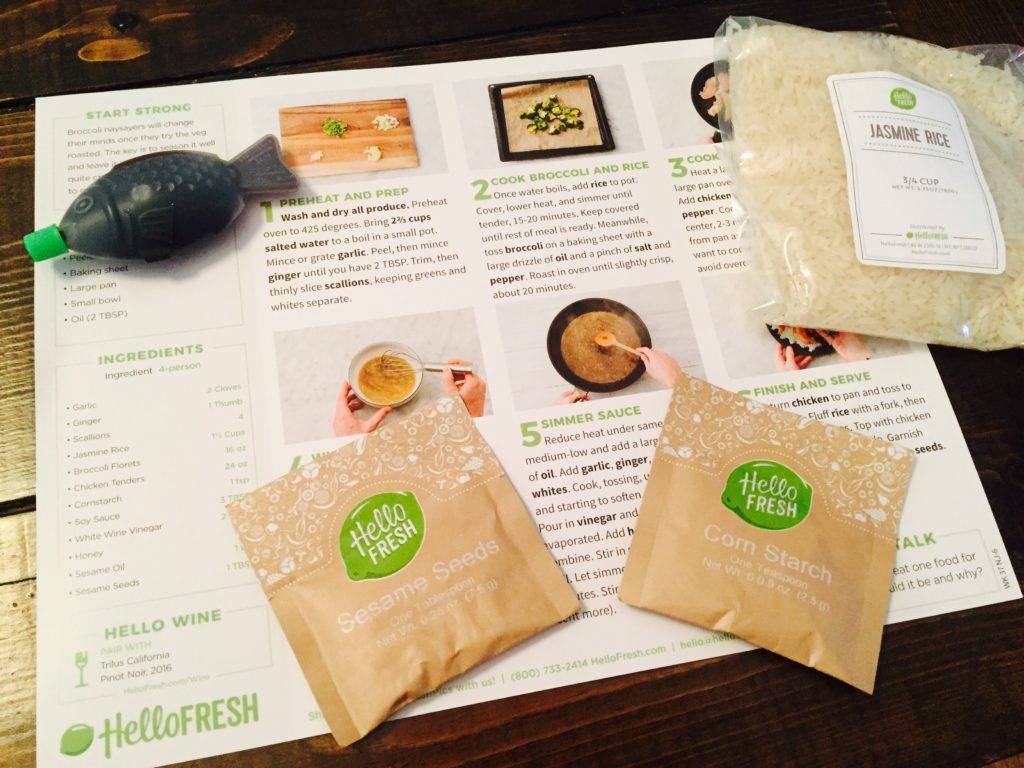 Last night I prepared the Honey Sesame Chicken Tenders. It came with jasmine rice and roasted broccoli. It was delicious. Gavin even admitted that he had been wrong about this one and the chicken was really good.
Tonight we had the Cauliflower Pancetta Mac 'N' Cheese. I decided to do the cauliflower on the side instead of mixing it into the pasta. Wow! This dish was a crowd pleaser. It had said on the website that it was one of their Hall of Fame meals and I can see why. The combination of the pasta, cheese sauce and pancetta was amazing. I will be saving this recipe card to see if I can recreate it in the future.
Hopefully the Peanut Pork Noodle Bowl tomorrow night will not disappoint. I'll try to post on Instragram to let you know! Here is what our menu looks like for this week. I thought I would try to keep it pretty simple for the rest of the week.
Sunday – Honey Sesame Chicken Tenders with Broccoli and Jasmine Rice
Monday – Cauliflower Pancetta Mac 'N' Cheese
Tuesday – Peanut Pork Noodle Bowl with Bell Pepper and Carrots over Rice Vermicelli
Wednesday – Leftovers (Soccer Night so we'll just eat what we had leftover from the previous three nights)
Thursday – Marinara Pasta with Green Beans
Friday – Homemade Pizzas with Salad
Saturday – Grilled Chicken, Baked Potatoes and Sauteed Vegetables
Next week I will start a six week Freezer Challenge for those families who don't like to eat leftovers during the week. One of the easiest ways to stock the freezer is to freeze your leftovers! I'll make two or three different recipes that can be frozen. I think this is a great time to do it with the holidays approaching! 🙂