This week was our school's pumpkin decorating contest! Since our girl is still Frozen obsessed, she created a Frozen Elsa Pumpkin. It turned out super cute and is a really easy craft for kids to do mostly on their own.
Do you know any Frozen fans? We are getting very excited for the Frozen 2 movie release that is happening next month. Graylie has a friend at school that also loves Frozen and they take turns pretending to be Elsa at recess every day. It is really cute!
Needless to say, she was very excited to create this Frozen Elsa Pumpkin! I'm sure she probably will not win the contest. There were some amazing pumpkins submitted. She had fun participating and showing her pumpkin to her teacher and friends.
This post does include affiliate links. That means I could earn a tiny portion of any sale that is made through clicking on any of these products with no additional cost to you. All support is greatly appreciated!
Frozen Elsa Pumpkin Supplies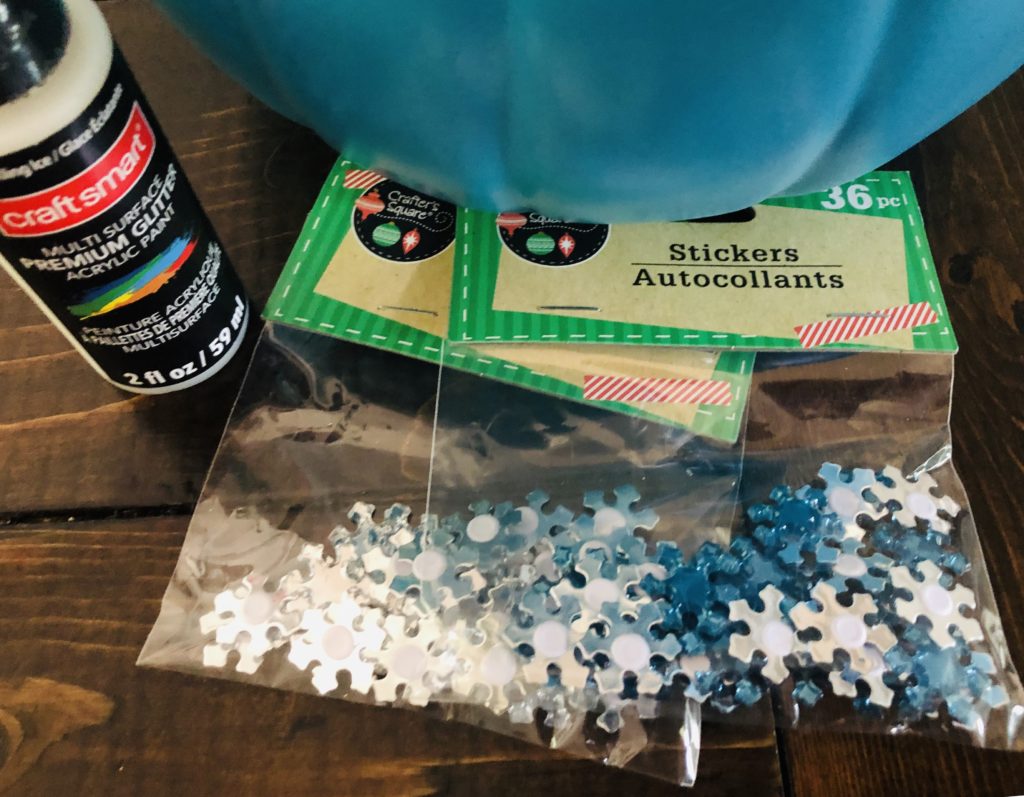 This year the school requested that the kids use artificial pumpkins. When I started looking at craft pumpkins, I fell in love with the teal pumpkins. It ended up being perfect for this no carve pumpkin craft!
The supplies are pretty simple for this craft. I found them at Michael's and Dollar Tree. I'll include some Amazon links below though in case you want to see more detailed information.
Rhinestone Snowflake Stickers (Dollar Tree)
The first step to creating this pumpkin craft is using the acrylic glitter paint. Let the child use a small sponge brush to cover the entire pumpkin with the paint.
It would probably be more dramatic if glitter spray paint was used. If you have an older child, you could try that. For younger children I would suggest letting them paint it with the acrylic paint.
While the paint was drying on the pumpkin, I worked on the crown. I looked for a blue tiara at Dollar Tree and I know I've seen them there before. With Halloween coming up, I think they must have been sold out.
Modify a toy crown that you already have around the house.
We had a crown that had fallen off a bike helmet and I decided to use that. I was able to use teal paint to cover the pink jewels on it. Then we added some of the teal glitter glue to give it more of a Frozen look.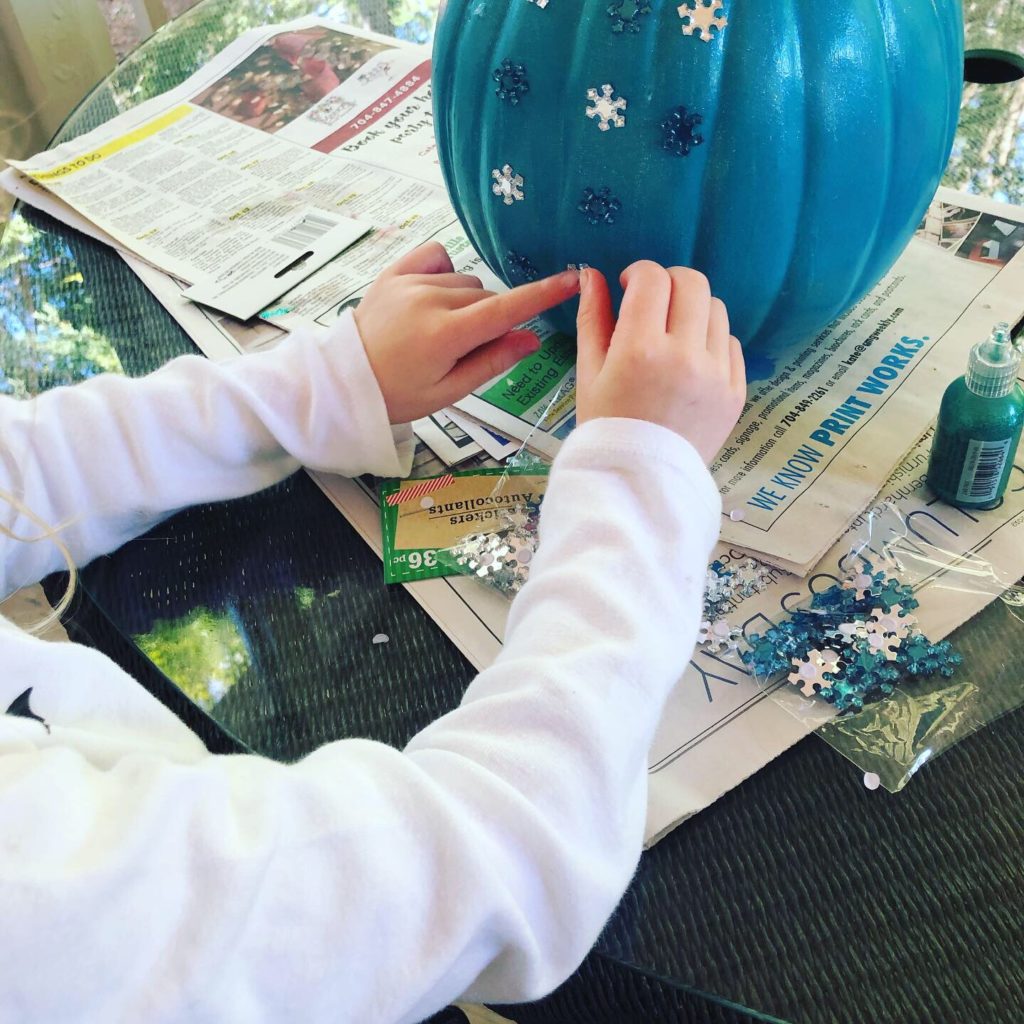 Next she applied the snowflake stickers to the pumpkin. I encouraged her to do a pattern since we had a combination of blue and clear snowflake stickers.
The best way to attach the tiara is with a hot glue gun. I definitely recommend an adult handle this part.
Then she topped off this pumpkin craft by apply a little teal glitter glue to the top. You can never have enough sparkle!
This was such an easy pumpkin craft! Kids will enjoy creating this all on their own. It is always so fun to watch them get excited about their own creations!
I was hoping to be able to share a pumpkin creation from my son too! He is very creative and always has great ideas. Unfortunately he did not decide to create a pumpkin until the morning of the contest.
This is such a fun tradition that the school does! Last year the pumpkins had to be book character themed. I love that idea too.