Does anyone else just love the sight of all the pretty fall items in the stores right now? It's still really warm here in North Carolina but I know that fall is just around the corner.
While I was walking through Dollar Tree a couple of weeks ago, I couldn't resist picking up some super cute crafting supplies for this Fall Leaves Paper Plate Wreath Craft. 
This post does include affiliate links. That means I could earn a tiny portion of any sale that is made through clicking on any of these products with no additional cost to you. All support is greatly appreciated!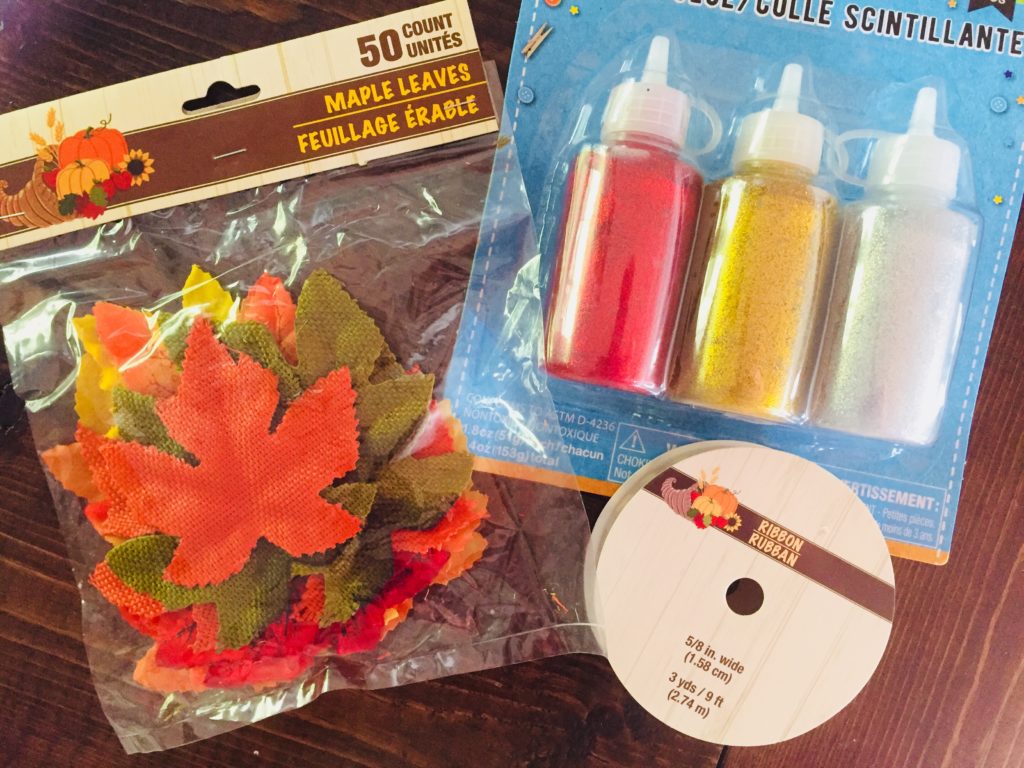 Cute Supplies from Dollar Tree
They have a lot of fun stuff to choose from! For this project I picked up a package of fall leaves, ribbon, and glitter glue. I really love the burlap leaves that are included in this pack.
Use a divided tray to organize supplies.
I love setting up a crafting tray! It may be my favorite part of the whole craft. I picked this tray up at Dollar Tree a few months ago and it has been one of my favorite purchases. I filled the tray with the leaves, glitter blue, ribbon, crayons, and glue.
I had already cut out the middle of a few cheap paper plates. I gave the kids the paper plates and told them to start the craft by coloring their paper plate wreath. Then, we glued the leaves onto the wreath and embellished them with a little glitter glue. The results of the glitter glue were so pretty!
I punched two holes at the top of their wreaths so I could tie a loop with the ribbon they chose. These wreaths turned out so cute and will be fun to hang on their bedroom doors to celebrate the fall season.
Great craft for class parties!
The paper plate wreath is my favorite craft for class parties! We did this one at my daughter's preschool and it was a hit. Instead of using glitter glue and these leaves, I brought in foam leaf stickers.
The teacher loved the simplicity of the craft. Plus the parents thought it was cute and the kids enjoyed making it. Everyone was happy! 
This Fall Paper Plate Wreath Craft was our project for Week 37 of the Pinterest Challenge. You can find so many cute holiday crafts on Pinterest to do with your children. We were inspired by a round up of crafts that I found in my Fall Fun Board.