Do you have that one recipe that everyone wants you to bring to the party? For me it is this Easy Cheesy Pizza Party Dip! It is always a hit at holiday parties or family gatherings. It is so simple to make that I don't mind bringing it to any party.
EASY CHEESY PIZZA PARTY DIP
I have been making this dip for several years now. It is a fun recipe and a definite crowd pleaser! This time I used a square baker to serve the dip but a pie plate also works well.
To get started you will need the following ingredients:
4 ounces Cream Cheese (room temperature)
1 cup Mozzarella Cheese (divided)
1/2 cup Parmesan Cheese (divided)
1/2 cup Sour Cream
1 cup Pizza Sauce
1/4 cup Sliced Olives
1/4 cup Diced Green Pepper
1/4 cup Diced Pepperoni
Mix the cream cheese, 1/2 cup mozzarella cheese, 1/4 cup Parmesan cheese, and sour cream together. I used a handheld mixer for this part.
Spread the mixture across the bottom of your baking dish. Spread the pizza sauce on top of this mixture and top with the remaining cheese, olives, peppers, and pepperoni.
Bake at 350 degrees for 20 minutes. The dip should be bubbly and the cheese should be melted. Serve with dippers of your choice. We really like corn chips with our pizza dip. I think pita chips, toasted bread, or tortillas would also be yummy with this dip.
This is our favorite party food recipe! I'd love to hear some of your favorites. I'm looking forward to reading about all the other fun party recipes that are shared for the 12 Days of Christmas. It's always fun to try new recipes!
Scroll down for many more Holiday Party Food Ideas for your holiday season!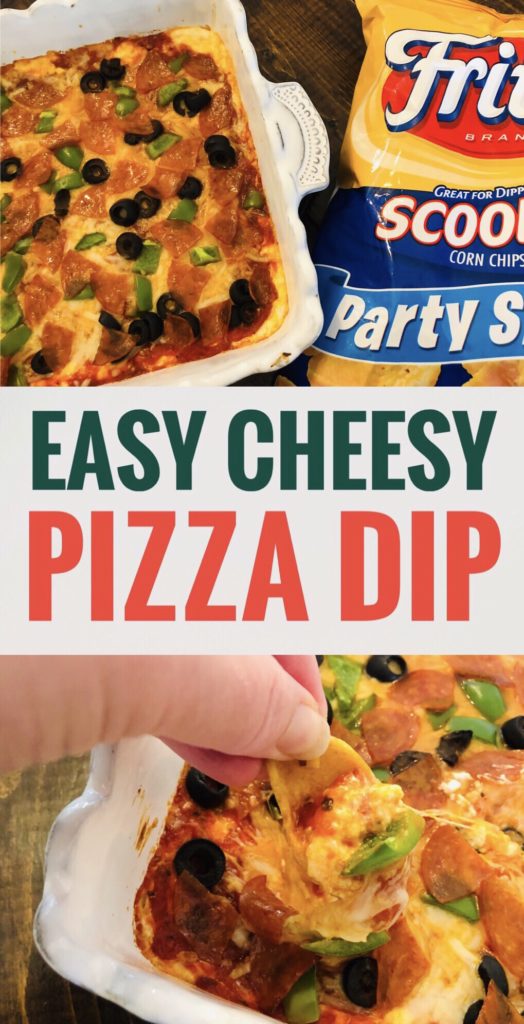 ---