We recently had the opportunity to try one of the amazing fairy garden kits from Party'n With Plants! If you haven't heard of this adorable company, you should check out her shop. Let me show you how fun and easy the Easter Fairy Garden Kit was for the kids to put together.
This post does include affiliate links. That means I could earn a tiny portion of any sale that is made through clicking on any of these products with no additional cost to you. All support is greatly appreciated!
Fairy Garden Kits for Kids
I couldn't believe how fast the shipping was for our fairy garden kit. It came super fast and was packaged so cute! The kids wanted to put it together right away.
This kit would make a great gift. It comes packaged in a pretty box and tied with a bow. Perfect for an Easter basket too!
What comes in the fairy garden kit?
Each kit comes with everything you need to create your own little fairy garden. This is actually a Succulent Fairy Garden Plant Kit. That means it includes a plant and the dirt to plant it in.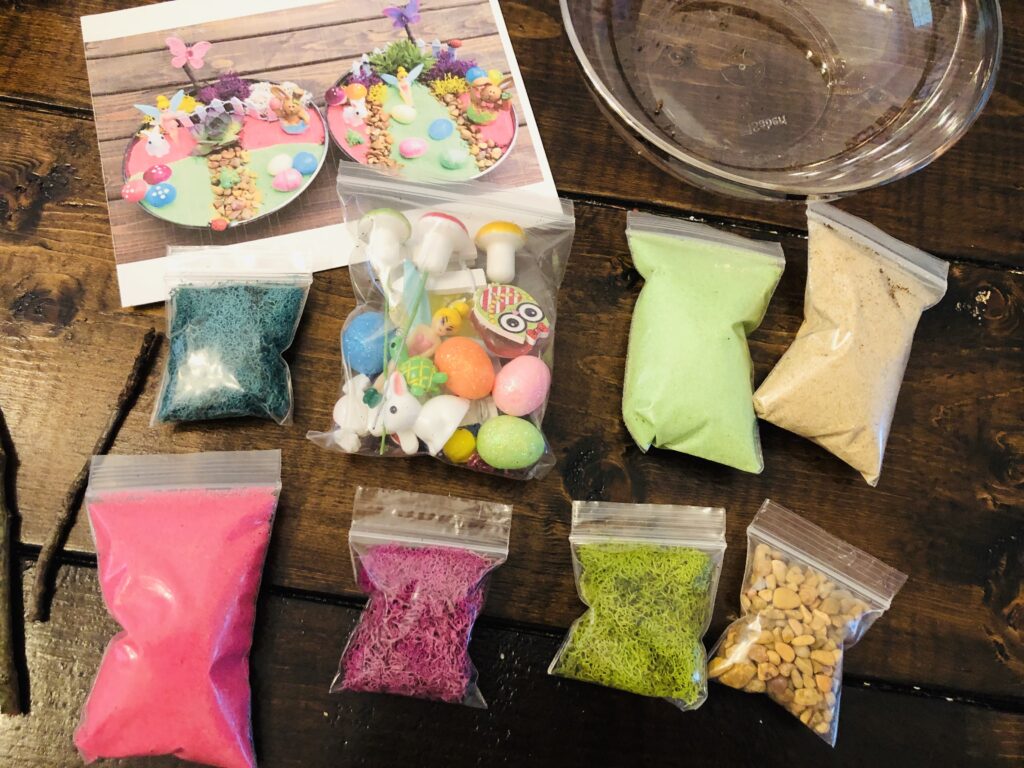 It also includes complete instructions and an idea card. I am all about an idea card myself but the kids always like to take their own path. Here is a list of everything that comes in the Easter Fairy Garden Kit.
Plastic Bowl (5.5 inches wide)
1 Succulent Plant
Soil for planting your succulent
3 bags of colorful moss
Brown Gravel
Pink & Green Sand
3 mushrooms
1 white fence
1 Tinkerbell Fairy
1 Easter Bunny holding an Easter egg
1 Basket
Miniature turtle & white bunny
2 miniature ladybugs that have stickers on the back
4 Easter eggs
Creating the Fairy Garden Kit
Once we had all the supplies laid out for creating this kit, the kids got started coming up with a design. They actually worked very well together! It was kind of a surprise!
The directions for the kit were very easy to follow. Basically we added the soil first. Then we planted our adorable succulent. Once that was complete, they were able to complete their design all on their own!
We were all thrilled with how cute this little fairy garden turned out! These kits would be perfect for a fairy party or to do as a summer craft.
Right now we are all staying in so I can only dream of having a party. The kit gave my kids something fun and creative to do. This activity also really brightened our day! If you know someone who could use a lift, send them one of these sweet fairy garden kits!