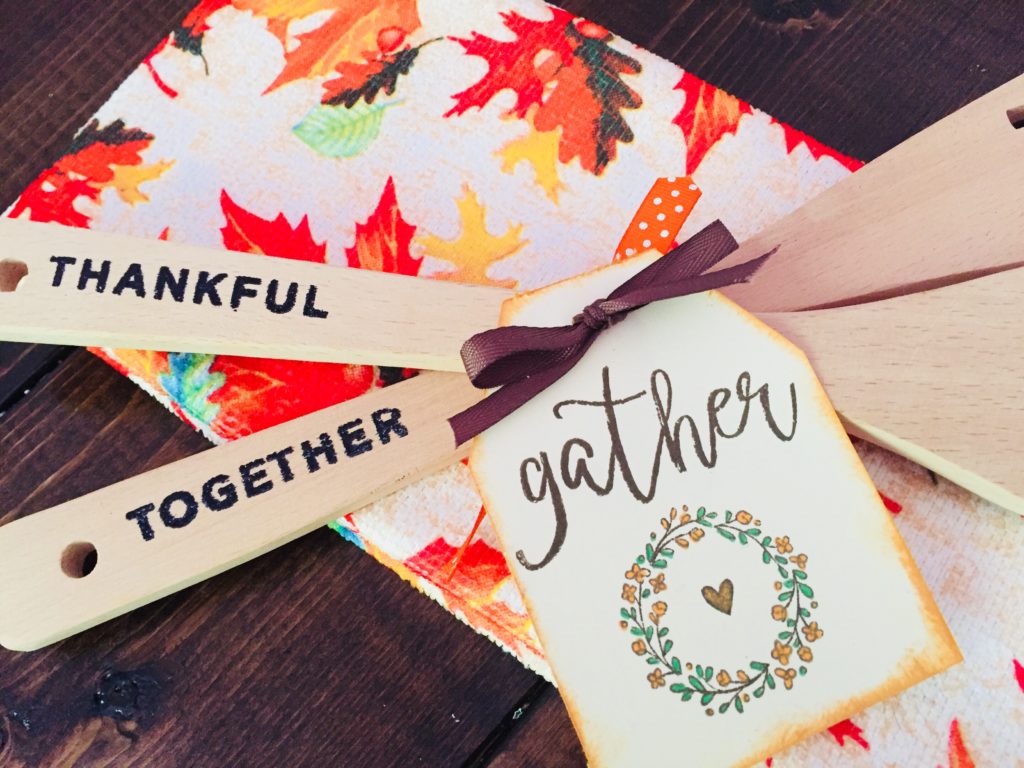 I'll be honest. I actually don't do a lot of crafts for Thanksgiving. The holiday kind of gets lost between all the Halloween festivities and preparations for Christmas. Plus we are usually not around for Thanksgiving. In the past 10 years we have always traveled to spend the holiday with family. That is definitely my favorite part of Thanksgiving!
When I decided to join an amazing group of crafters for the Bring On the Crafts Blog Hop, I was a little stumped when I saw our theme for this month was Thanksgiving. After a little time on Pinterest, I was definitely inspired though. I am excited to share this DIY Thanksgiving Hostess Gift I made by heat embossing a set of wooden utensils I found at Dollar Tree!
Bring on the Crafts – A Craft & DIY Blog Hop
On the first Wednesday of each month, a group of DIY and crafty bloggers join forces. Together with their hosts Marie & Aleisha from The Inspiration Vault and Habiba from Craftify My Love they bring you the #BringontheCrafts blog hop. Each blogger creates a fun craft or DIY project to share that goes with a monthly theme.
October's theme is Thanksgiving. Each blogger chooses their own craft or project to make as long as they love it and it's Thanksgiving themed.
Meet our October Co-hosts!
Becky from The Moments at Home • Jenny from Cookies, Coffee, and Crafts
Heather from Glitter on a Dime • Debra from Shoppe No. 5
Join in on the fun!
If you're a blogger and you'd like to participate next month, you can request to join our Bring on the Crafts Facebook group. Next month's theme is Christmas!
Not a blogger, but a creative mind none the less? Don't worry. Share your awesome creations in our Craft Cult Facebook group. This is also a great place to ask craft & DIY related questions and find inspiration for your next project.
Now let's see all of those amazing craft and DIY projects!
DIY Thanksgiving Hostess Gift
Heat Embossed Wooden Utensils
I love scouring Dollar Tree for fun items I can use as gifts. I actually came across the wooden utensils pictured above after seeing a pin from The Idea Room. I decided this would be the perfect project for Week 40 of my Pinterest Challenge. Their project used metal stamps for personalizing the utensils. Since I do not have metal stamps, I thought I would try heat embossing on my set.
I definitely wanted to use this month's Stamp of the Month from Close to My Heart. It is perfect for Thanksgiving crafts and cards. You can purchase this set during the month of October for only $5 with a qualifying order!
HEAT EMBOSSING ON WOODEN UTENSILS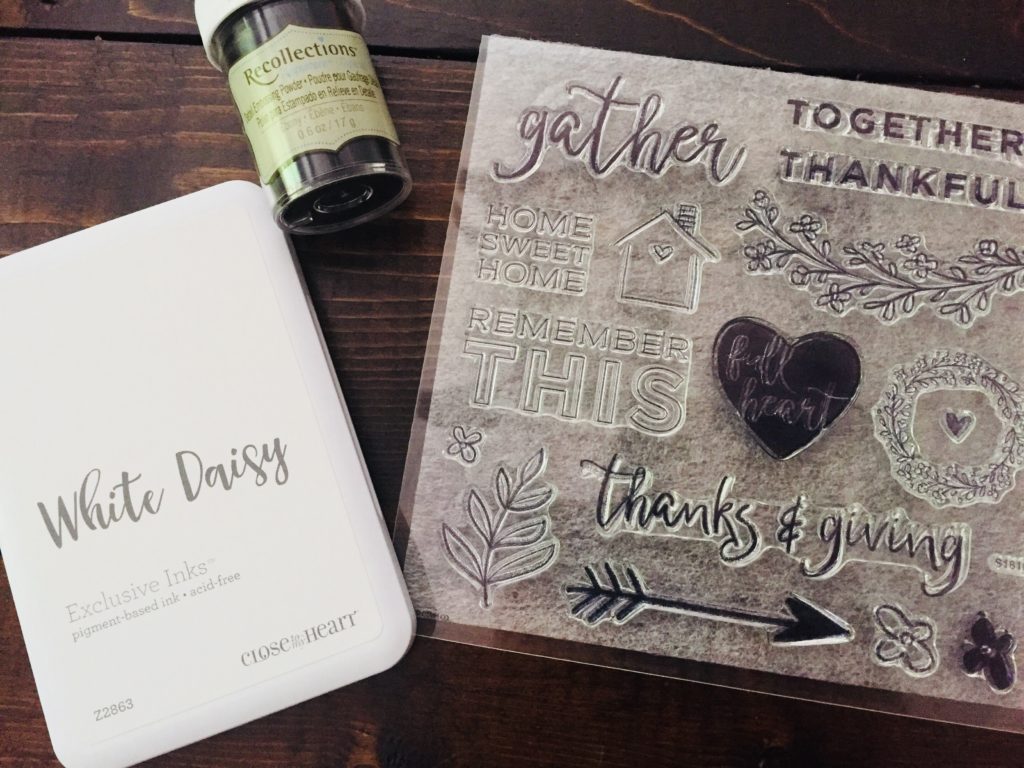 To get started with this project you will need the following supplies:
Stamps (acrylic or rubber stamps will both work)
Embossing Ink (I like to use this White Pigment Ink. It is so versatile!)
Black Embossing Powder
Begin by stamping onto the utensil with embossing ink. Then pour the embossing powder over the stamped image. I use a "Tidy Tray" to keep the powder contained and to make it easier to pour back into the jar. Shake all the loose powder off the utensil and onto the tray. Then you are ready to heat set the powder with your heating tool. It only takes a few seconds for it to start setting.
CREATING A FESTIVE TAG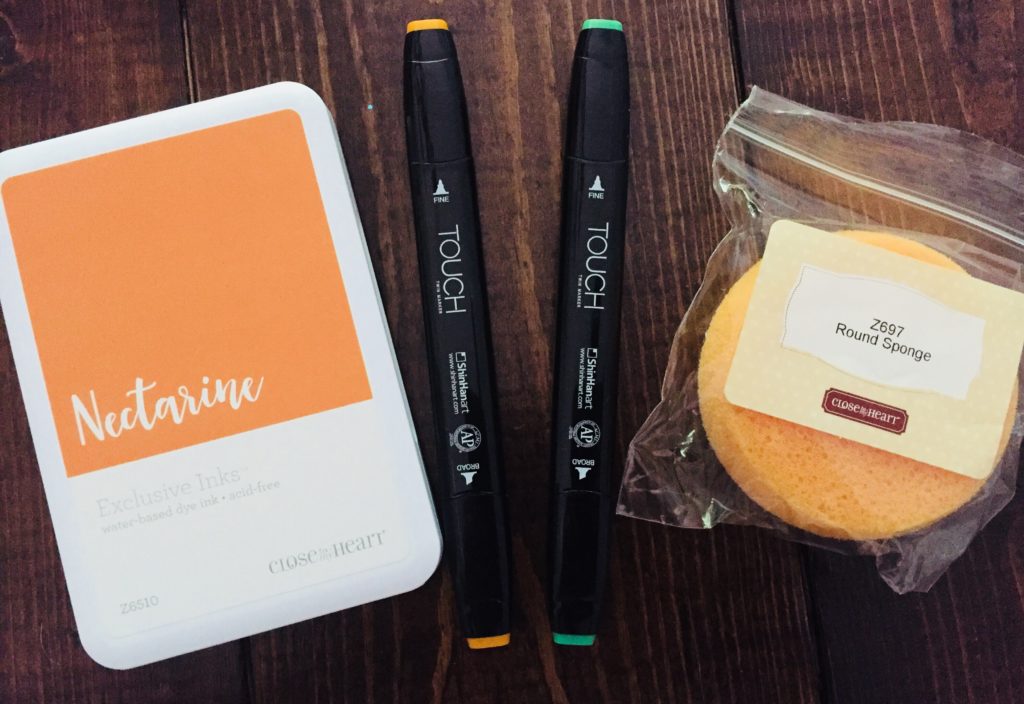 Once I had the utensils completed, I decided to use the stamp set to make a cute tag for this gift. Tags are so easy and super fun to make! I just cut a rectangle out of cardstock and clipped the corners off the two upper edges. Once I had the images stamped and colored, I decided the tag needed just a little more color. I like to use a sponge to add ink around the edges of the cardstock.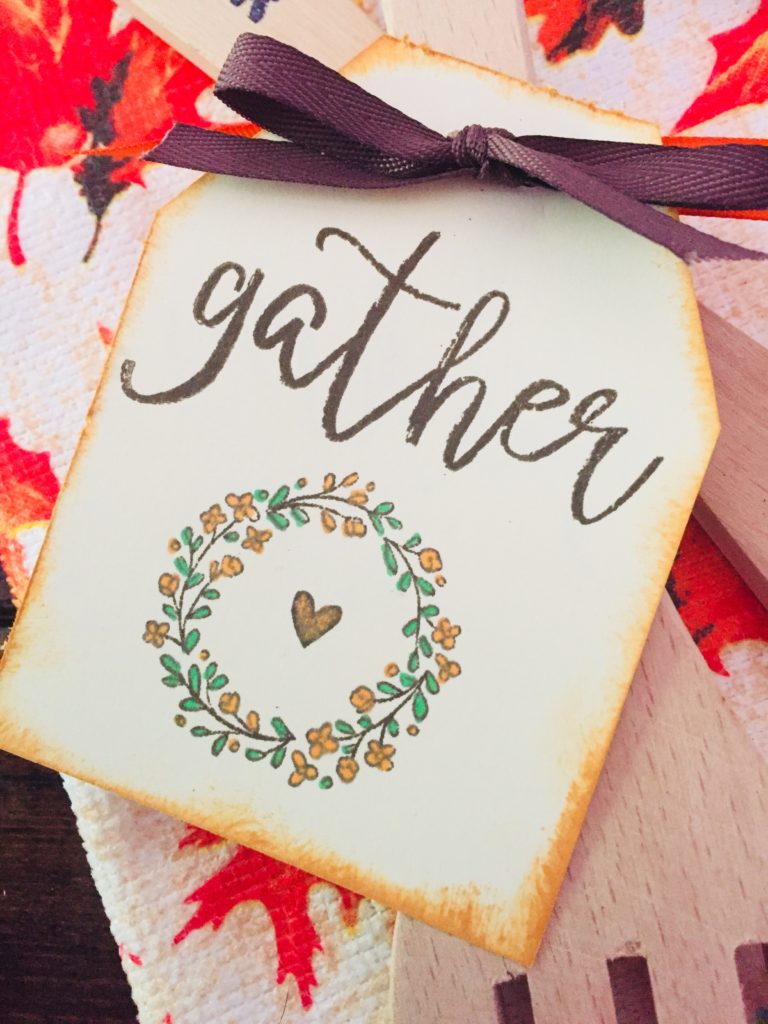 This was a very simple gift to put together. I think the personalized utensils look really festive with the hand towel and tag. I know I would enjoy receiving a personalized gift like this.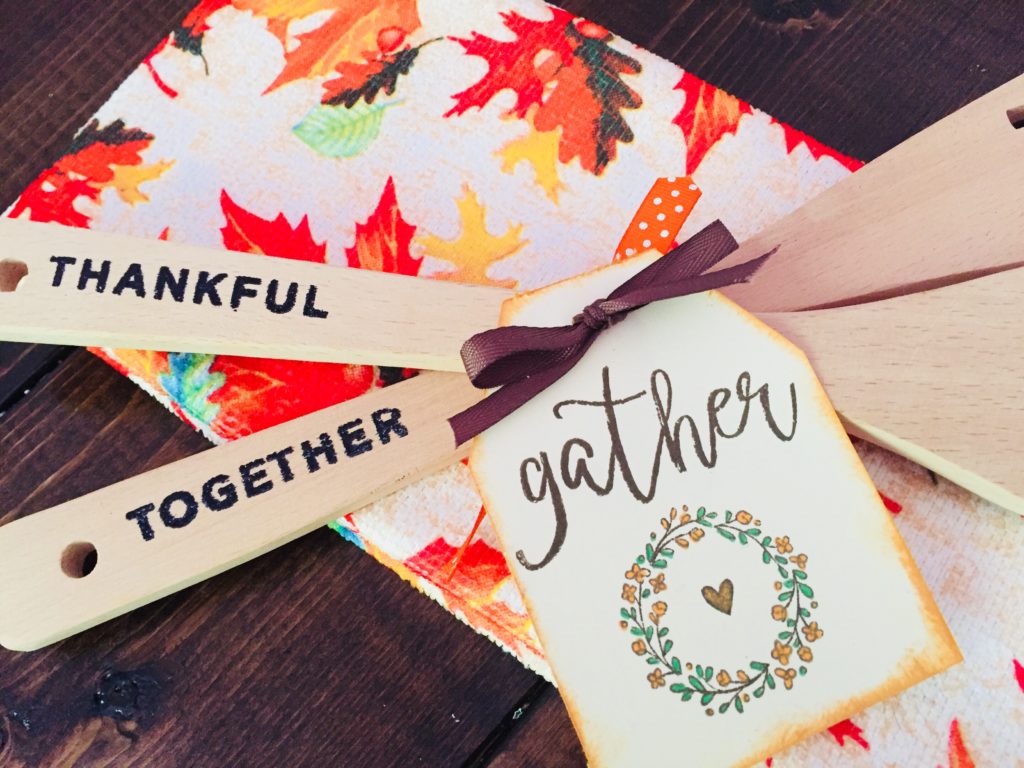 This post does include links to my Close to My Heart business site. I am an Independent Consultant and could get commission on these products. I love to spoil my customers with lots of fun products throughout the year! All of these opinions are my own and I would be happy to answer any questions. I appreciate any support!