Have you been in the Dollar Tree lately? It is exploding with all things Spring and Easter right now. My head just spins with ideas looking at all the pretty florals and pastels. This DIY Easter Bunny Wreath is made from all Dollar Tree supplies and would be the perfect addition to your front door this Spring!
I will be the first to admit that I am not an expert wreath maker! Simple craft projects are more my speed. I've made a couple of other really simple Dollar Tree wreaths over the past couple of years. One for Christmas using their adorable red truck ornament and another for 4th of July using that same technique.
This post does include affiliate links. That means I could earn a tiny portion of any sale that is made through clicking on any of these products with no additional cost to you. All support is greatly appreciated!
Dollar Tree Easter Items for Wreath Craft
I have seen many variations of an Easter Bunny Wreath and have always been drawn to them. It was a fun challenge to try to create this wreath idea all from supplies found at Dollar Tree.
After rummaging through all of the beautiful florals, here is a list of supplies I came up with to create this wreath project. Once completed, I ended up spending right about ten dollars on supplies for this craft.
Use a bunny headband to make an adorable Easter Bunny Wreath.
Once I found the bamboo wreath rings, I knew I wanted to make this wreath. I just wasn't sure how to create the bunny ears. The bunny headband ended up working perfectly though!
In addition to the Dollar Tree supplies, you will also need a hot glue gun to complete this project. I think I went through almost four mini glue sticks creating this wreath.
Another thing to note is that the bamboo wreath rings come in one size. The description on the tag is that these are 12 inches. One of my rings was a bit smaller though. If that is the case, use the smaller ring for the head of the bunny wreath.
Easter Bunny Wreath Tutorial
There are not a lot of steps involved for this wreath craft. Here is a list of steps that detail how this wreath was created.
Begin by attaching the bunny headband to the bamboo wreath with a hot glue gun. There is a picture above for reference. The solid white side of the bunny ears should be facing forward.
Detach the wisteria flowers from the leaves. They should just pull apart.
Then hot glue the wisteria flowers to the bamboo wreath ring. I used two for the top piece and three for the bottom.
Attach the two rings together with hot glue. I added more glue to the back once they were attached to make it a little more secure.
Add one sprig of lilac to each bunny ear and attach it with hot glue.
Use the ribbon to create a bow. I also added a flower to the bow for a little more detail.
Then attach the greenery from the wisteria bushes to the middle of the wreath where the bamboo rings come together. Add the bow on top of the greenery.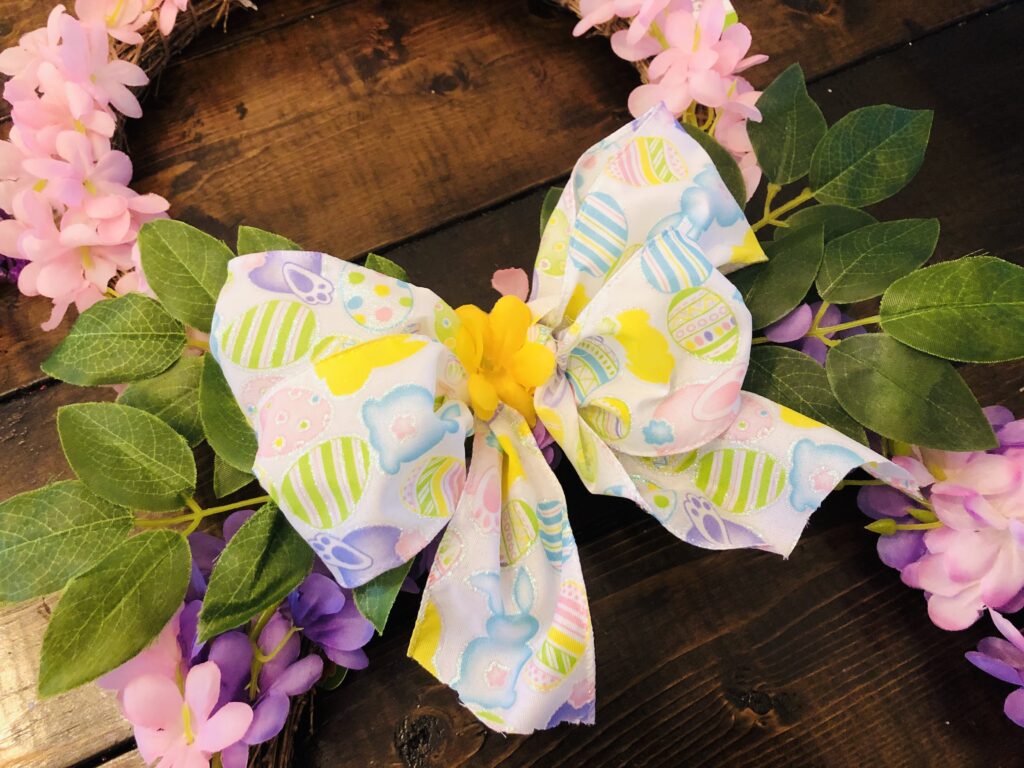 This wreath turned out SO cute! I really enjoyed working with the flowers. I was surprised by how easily they come apart. This makes them very flexible to work with.
Dollar Tree Easter Wreath Idea
There are so many fun Easter items at Dollar Tree for wreath making. I've seen some cute ideas using glitter eggs. Another great idea is using plastic eggs to make a wreath.