Over summer break we were able to meet up with family for our annual cousin camp. We look forward to getting the kids together every year! This year Graylie and one of her cousins were the best of friends. They decided they wanted to be pen pals.
I thought it would be fun to create a pen pal kit for each of the girls. This way it would be easy for them to write back and forth. Also, I remembered that Dollar Tree has super cute greeting cards.
I was compensated for this post. This post also includes affiliate links and I will be compensated if you make a purchase after clicking on my links. All support is greatly appreciated!
Find super cute greeting cards at Dollar Tree!
There are over 6,500 Dollar Tree stores nationwide and on August 25th (today) they will be celebrating one YEAR of carrying Expressions from Hallmark, $1 each and  Heartline a Hallmark company, 2 for $1. With hundreds of new greeting cards to choose from, you can celebrate every moment with your friends and family without breaking the bank!
We headed to Dollar Tree last week to pick out some cute cards for our Pen Pal Kits. They had so many cute ones to choose from. I love all of their cheerful designs.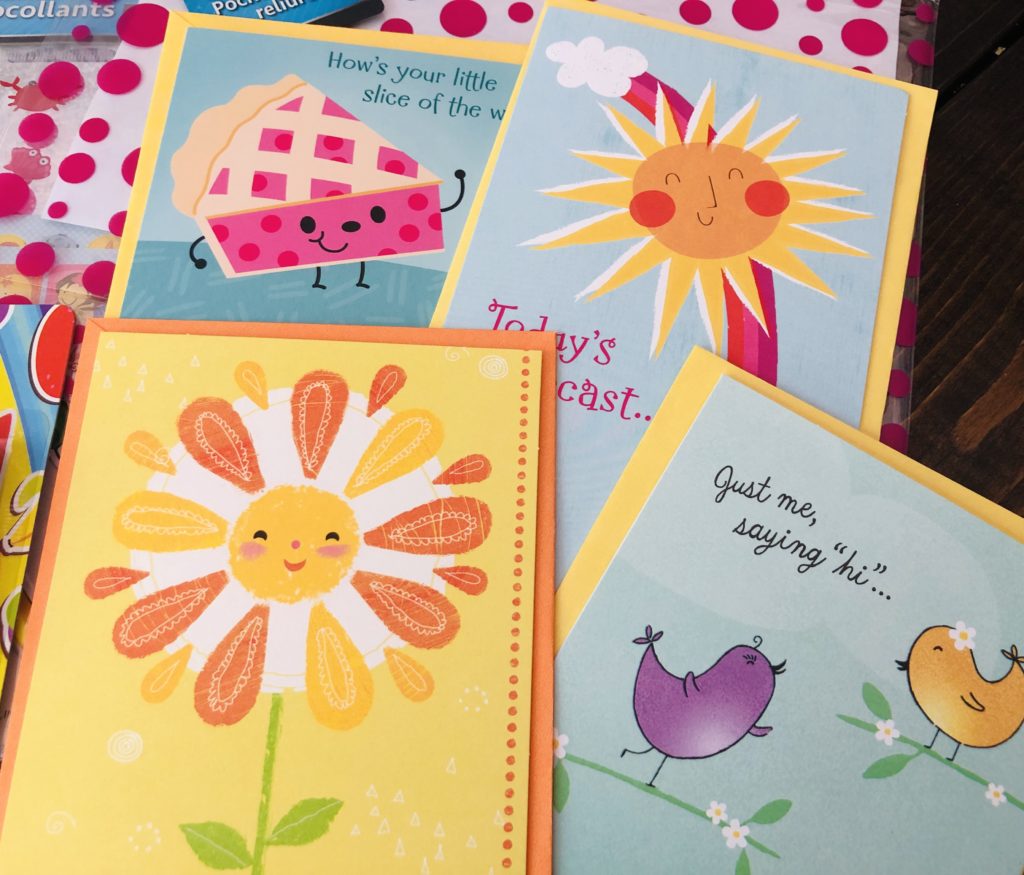 Aren't these cards adorable? They are really sweet and great quality. All the ones we picked out were only two for $1! That is such a great price for cards.
Encourage kids to write by letting them pick out their own cards.
Since Graylie is just now learning to read and write these cards will be perfect. She can write a quick note with my assitance and sign her name. I'm sure she'll also draw a little picture and decorate it even more with stickers.
Along with the cards, we also included some other fun items in our pen pal kits. All of these items came from the Dollar Tree as well.
I'll also include a few stamps and address labels to help make it even easier. The girls will enjoy having a special kit for all their pen pal supplies. It is so fun to watch them grow up together!
The next time you are shopping for greeting cards, I would highly suggest heading to Dollar Tree. They definitely have the best prices and largest selection of cards around.
They are also celebrating their one year anniversary with an amazing sweepstakes. Enter 8/22/19 through 9/7/19 for your chance to win one of 20 prizes – The prize includes a gift box containing seventy Heartline a Hallmark Company, Expressions from Hallmark, and Joyfully Yours a Dayspring Company greeting cards, thirty note cards, and one $100 Dollar Tree gift card.