It is finally starting to feel more like Fall here in North Carolina! School was out yesterday so we took the opportunity to make a quick trip to the mountains. Check out how our trip went discovering Blowing Rock, NC with kids!
We really aren't always spontaneous or adventurous. Most days off from school we go to a park or out to lunch. I'm not sure what sparked this mini vacation.
I am so glad we took this trip though! Blowing Rock is an easy two hour drive from Charlotte, NC where we live. I can see us going back in a few months for another visit.
If you have followed me very much, you may already know I am pretty frugal. I love to save money and definitely do not spend like to over spend. When we first started talking about this trip, I checked around online and in local Facebook groups for the places and activities with the best value.
Great place to stay in walking distance of downtown Blowing Rock!
We knew we wanted to stay one night in Blowing Rock, NC on this trip. Being walking distance from downtown was at the top of my list! I wasn't sure how parking would be so I thought it would be convenient to stay close by.
I ended up making our reservations at the Meadowbrook Inn. They were offering a great rate especially since it was during the week. Other top perks were free parking and a complimentary hot breakfast.
If your kids are anything like mine, they love a good hotel breakfast! I'm not sure what the draw is. Maybe it is all the choices. They even love getting cereal there.
Don't let the rain ruin your vacation!
Unfortunately for us, the weather was not great during our trip. We got there in the afternoon and it was raining. Since it seemed to just be light rain, we decided to venture out anyway.
We are notorious for forgetting rain jackets! Luckily there was a cute coffee shop just around the corner. I love supporting local businesses like this. We were able to grab a couple of lattes for the adults and macroons for the kids.
The park is a must when going to Blowing Rock NC with kids.
With coffee in hand, we headed to Memorial Park. This is a great park and the kids loved it! It has great playground equipment including nice swings and a rock wall.
It is located right in the middle of downtown Blowing Rock, NC. It has public restrooms in case you are out and about and someone needs to make a pit stop. They also have lots of festivals here throughout the year.
The light rain did not stop the kids from playing at the park. Eventually we needed to head somewhere else though. A very nice lady recommended the public library that was located right next to the park.
As much as we wanted to stay outside, we decided to check it out. It was a very cute library with a great children's area. We are big fans of libraries so this was a great spot for us to hang out.
The kids were able to look at books. They also had puzzles and coloring books. We probably spent almost an hour there.
Blowing Rock is such a cute town. It is fun to just walk around and look at the little shops and displays. They do a great job keeping the area nice and clean too!
Don't forget the ice cream!
You know that fun park I mentioned? They even have an ice cream shop right across the street. What a perfect location!
Getting ice cream is definitely a favorite vacation tradition. They had so many great flavors to choose from! Plus we were able to get a few treats to take back for later.
Kid Friendly Dinner Option
I'll admit it. We don't really eat out a lot with the kids. Occasionally we go to McAlisters or Chic-fil-a. This sounds boring but I like to try and stick to my grocery budget.
Of course, vacation is a little different though. We ended up at The Town Tavern. It's a fun sports bar and restaurant with a great kids' menu. The kids' meals were $4.95 and I thought that was a great price!
Fun Family Hike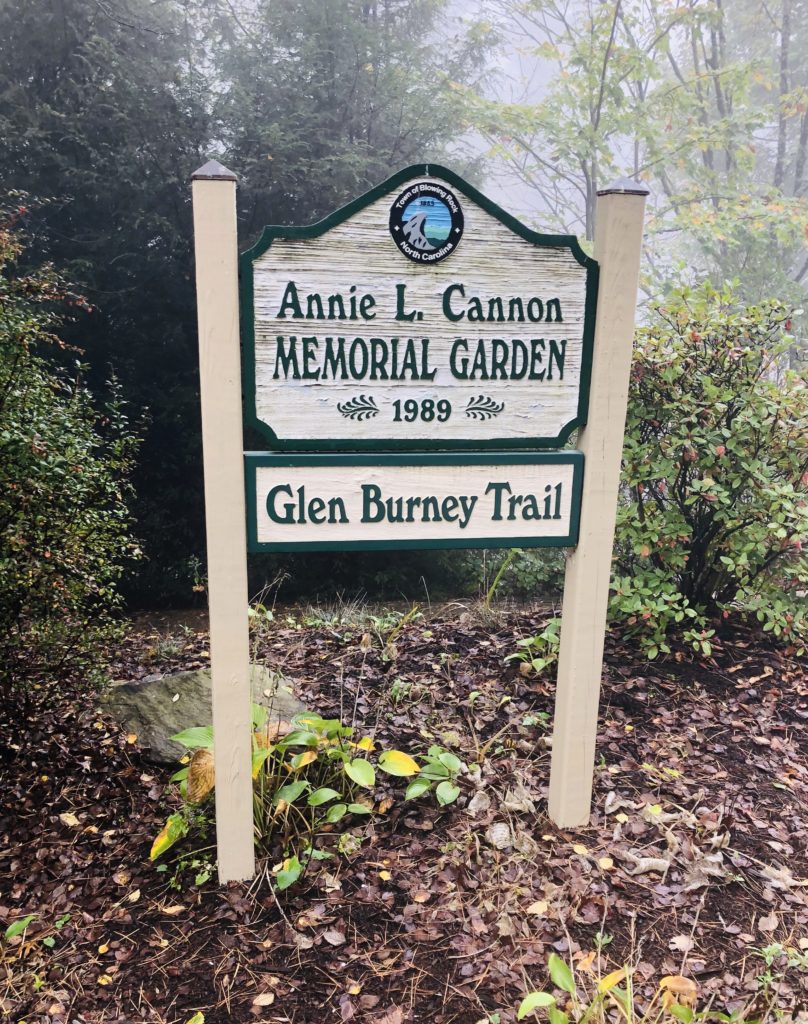 I saved the highlight of our trip for last! Right in Blowing Rock, there is a trail head for Glen Burney Falls. My main goal for this trip had been to get outside and into nature.
Since the conditions were very foggy, we weren't really able to see the mountains. I was thrilled to find this trail. It felt like we were hiking in a rain forest.
There are actually four points of interest on this trail. The first one is called The Ruins. It is an old sewage treatment facility from 1929. Then there is a section called The Cascades. The two at the end are waterfalls. The entire trail is 1.6 miles.
The trail was very steep in some parts and there were lots of roots. We ended up only making it halfway out with our five year old. We were okay with that though. It gives us something else to look forward to when we go back.
This is a very nice hike and our son loved it. He is ten years old and definitely could have done the entire trail. Next time we'll know what to expect!
If the weather had been less foggy, our plan was to drive out to The Blowing Rock. It looks like a great family activity. There is a beautiful view there and a wonderful spot for pictures.
Also, a couple of other fun family attractions in the area are Tweetsie Railroad and Mystery Hill. If our trip had been a day or so longer, we would have definitely visited those.