For Week 15 of the 52 Weeks of Pinterest Challenge, we made Paper Plate Crowns! This paper plate crown craft was so simple to make and we didn't need to purchase any supplies. That always makes me happy! We found this pin on my Let's Get Crafty Pinterest Board.
Paper Plate Crafts are very budget friendly and perfect for classrooms or parties. We enjoy creating Paper Plate Wreaths for every season. This paper plate crown craft is perfect for princess parties or playdates!
Supplies for Paper Plate Crowns
Here are the supplies we used:
Paper Plate
Scissors
Markers (you could use crayons or paint as well)
Rhinestone Stickers
Easy Steps to Create
Here are the steps for creating the crown:
Fold the paper plate in half.
Cut the plate in "pizza slices" stopping at the bumpy edge of the plate.
Unfold the plate and make the final two cuts.
Once you have the paper plate cut, it is time for the fun part…..decorating the crown! I emptied our marker box on the table and put out the rhinestone stickers. I found the stickers on clearance at Michael's a few weeks ago and they ended up being perfect for this project.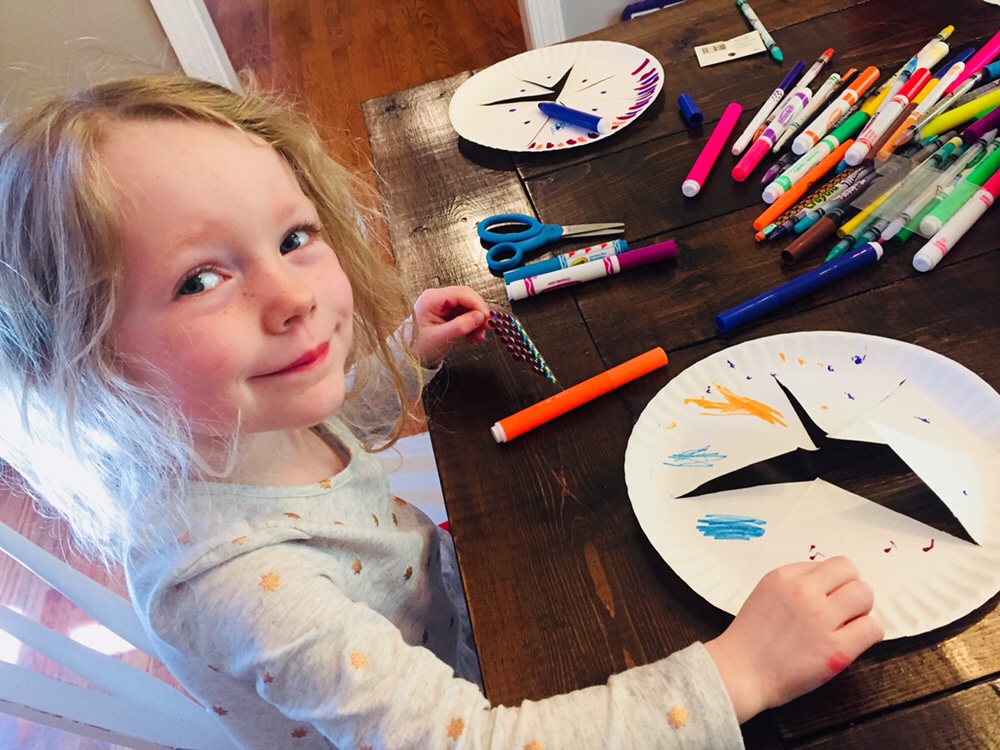 Once the plate is decorated, the triangles can be folded to stand up. How cool is that? Now the kids can have their very own crown! Here are the crowns we created:
Graylie was pretty excited about her creation even though she wanted to wear the one that I made! This craft would be so fun to do at a birthday party, especially a princess party!
If you are a Pinterest fan too and need some motivation to actually do some of those pins, please join our small Facebook group called 52 Weeks of Pinterest – 2018 Challenge. It is fun to see what pins others are doing! I've gotten some great recipes and ideas from some of our other members!
This post does include affiliate links. That means I could earn a tiny portion of any sale that is made through clicking on any of these products with no additional cost to you. All support is greatly appreciated!