Welcome to the first 2018 monthly Pinterest Challenge Blog Hop, hosted by My Pinterventures. The purpose of this Pinterest Challenge is to motivate all the participants of this hop (and you too) to not just pin, but to make it happen!
I have been doing 52 Weeks of Pinterest this year. When I saw this group doing a fun blog hop, I just had to join in! So this month, I chose to make Apple Nachos from a pin from Whole Lifestyle Nutrition.
As you know, we are currently doing the Whole 30. Of course, the kids are not doing it but we are trying to offer healthy foods to them as well. One of the hardest parts of the Whole 30 has been during the weekend.
A typical weekend for us consists of ordering pizza, having snacks and the adults enjoy a glass of wine or two. So, I wanted to make something fun this weekend for us without breaking the rules of the Whole 30.
I love pinning healthy snacks. Most of them involve some sort of whole wheat flour, oats, or peanut butter though. When I came across the Apple Nachos, I knew that was something I could make work with the Whole 30. These were so simple to make. It only took about five minutes!
Here are the ingredients I used:
2 Fuji Apples
2 Tablespoons Cashew Butter (Almond Butter would also work)
1 small box of Raisins
About 2 Tablespoons of Sliced Almonds
I cut the apples using my apple wedger. Then I arranged the pieces on a plate.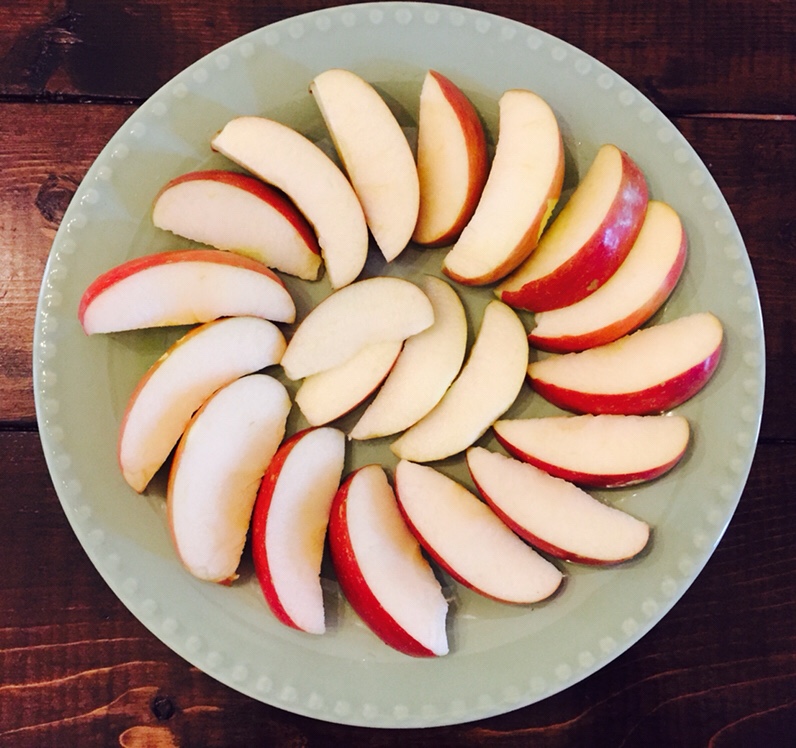 I heated the cashew butter in the microwave for about 1 minute. That made it easier to drizzle it onto the apples. After I drizzled the cashew butter, I sprinkled on the almonds and raisins. Pecans and/or unsweetened coconut flakes would also be yummy on this as well.
This snack was a huge success! Gavin is still talking about how much he liked it and asking me to make it again. The Whole 30 really encourages you to try not to snack so we will have to hold off for a little while.
This would be a great recipe to take to a brunch or a Super Bowl Party! Just because you are on the Whole 30 doesn't mean you can't socialize. It just means you need to be a little more prepared.
To join next month's challenge, click here to sign-up ⇒ February Pinterest Challenge
---
Now let's see what other things Pinterest inspired! Head over and visit the other hosts to see what they crafted, cooked, built, or tried!
Erlene – My Pinterventures • Shirley – Intelligent Domestications
Michelle – Our Crafty Mom • Molly – Just a Little Creativity
Marie – DIY Adulation • Jenny – Cookies Coffee and Crafts
Joanne – Our Unschooling Journey • Emily – Domestic Deadline
Roseann – This Autoimmune Life • Trisha – Blowing Away Out West
Sam – Raggedy Bits • Lynne – My Family Thyme • Beverly – Across the Blvd.
Debra – Shoppe No. 5 • Lauren – Mom Home Guide • Emily – Domestic Deadline
Heather – Glitter on a Dime • Regan – The Anti-June Cleaver
Gwen – Geez, Gwen! • Blake – Style Island • Kristie – Teadoodles
Kelly – Under A Texas Sky • Candice – Fearlessly Creative Mammas
Chelc – Inside the Fox Den • Megan – C'mon Get Crafty