Friday was a rainy and gloomy day for us. Usually we do a little grocery shopping and make a trip to the library on Fridays. We didn't really want to get out though. I decided it would be the perfect day for crafting and baking. Since I didn't really have a craft planned, I just had to come up with something that we already had supplies for. That is how this Washi Tape Spider Halloween Craft came to life!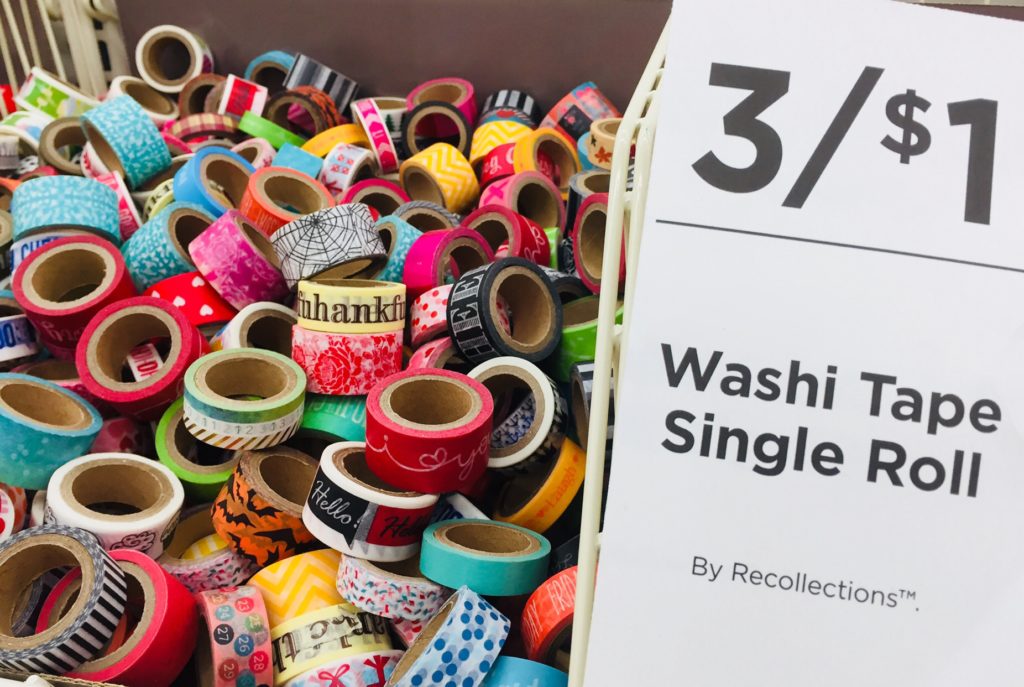 I don't have a huge supply of Washi Tape, but I have been collecting some here and there. My favorite finds were out of the bin pictured above. Michael's has a big bin at the front of the store full of Washi Tape! The best part is the price. It is only 3 rolls for $1. I picked up a few rolls back in the summer with a Halloween theme and I knew we would be able to put those to use!
How adorable are these spider stickers??? I could not resist those. Once again….I was at Michael's and came across a great sale on Halloween and Thanksgiving craft supplies for the kids. So with these supplies on hand I knew a spider craft would be a great project for us.
We used the following supplies for our Washi Tape Spider Craft:
Spider Stickers
Crayons
Washi Tape
Paper or Cardstock
First we colored our white cardstock with crayons. We did this because we couldn't decide what color paper to use. Graylie loves to color so this worked well for us. You could also use paint or markers. Once we had the paper colored, I helped her put the Washi Tape on the paper. It can be a little hard for small hands to tear. We tried to make a spider web design.
After we were finished with the tape, we added the cute spider stickers. I love their glittery legs and googly eyes! This craft was so simple and really fun! If you are looking for a quick and easy craft this week, definitely give this one a try. You should also check out our Easy Paper Plate Halloween Wreath Craft!
This post does include affiliate links. That means I could earn a tiny portion of any sale that is made through clicking on any of these products with no additional cost to you. All support is greatly appreciated!