Pumpking Painting is one of our favorite fall activities! I look forward to it every year. When I was in Dollar Tree a few weeks ago, I came across the perfect tray for crafting with little ones. I thought I would give it a try as a Pumpkin Painting Tray first!
This post does include affiliate links. That means I could earn a tiny portion of any sale that is made through clicking on any of these products with no additional cost to you. All support is greatly appreciated!
Organize Pumpking Painting Supplies with a Dollar Tree Tray.
If you have seen any of our Cloud Dough trays, you already know I enjoy organizing our crafts. I usually use the divided tray. This tray is actually a lunch tray but it works perfect for painting little pumpkins.
I was excited to find this lunch tray in orange! They have a variety of colors in our store. How cute would these trays be for a pumpkin painting party.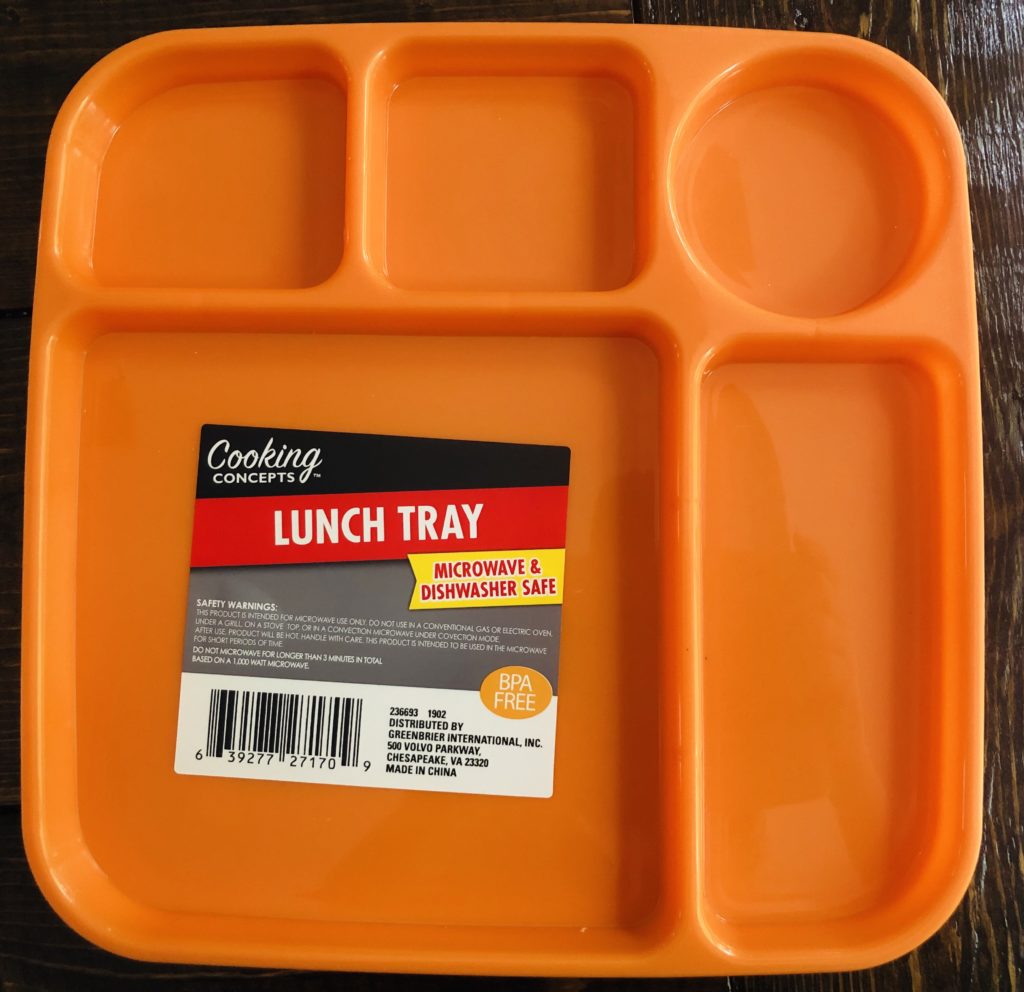 This tray is perfect for keeping all the supplies organized. Not only would we be painting the pumpkins, we also enjoy decorating the pumpkins with lots of sparkly, googly supplies.
Pumpkin Decorating Supplies
I added the following supplies to our Pumpkin Painting Trays. All of these supplies came from Dollar Tree except for the rhinestones. I found those at Michael's last year for 70% off!
Acrylic Paint
Halloween Rhinestones
Glitter Glue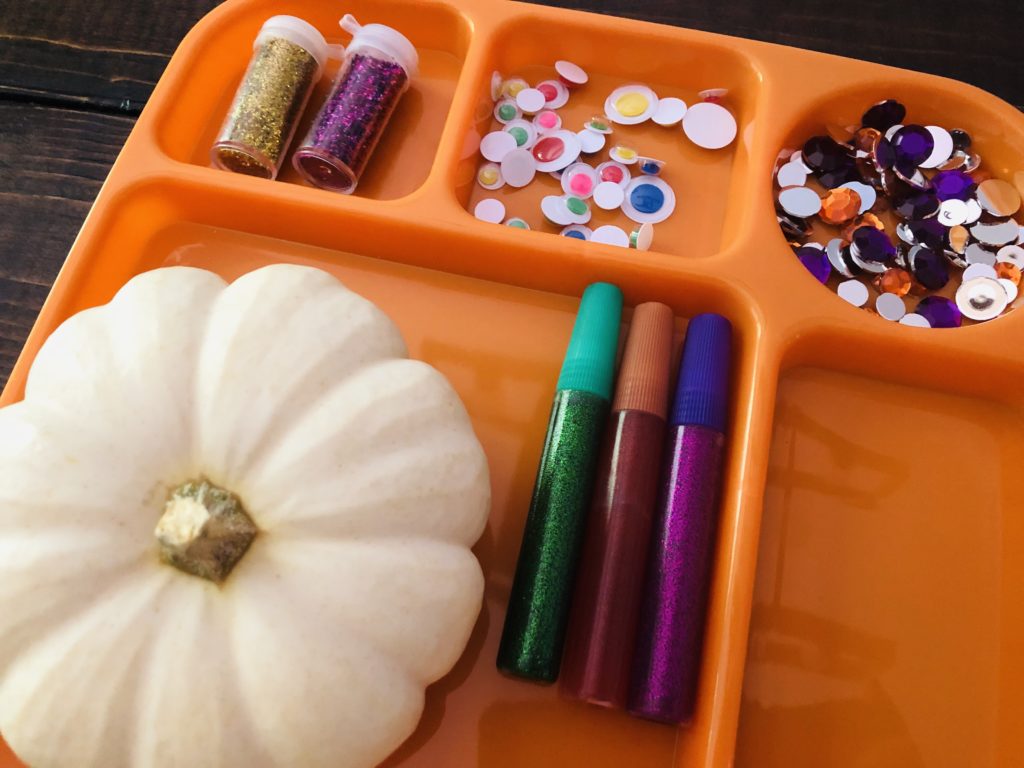 I was able to set the trays up before the kids got home from school. I added everything but the paint. The afternoon goes so much smoother if I can be organized.
Once they got home and settled, I asked it they wanted to paint pumpkins. Of course, the answer was an enthusiastic yes!
Let's paint pumpkins!
I already had lots of paint pulled out. They picked three colors of paint to add to their craft tray.
They used a variety of paint brushes and started right away. We all know crafting can get messy. This pumpkin painting tray is so great for containing the mess. Plus everyone has their own supplies so they aren't arguing over a certain color supply!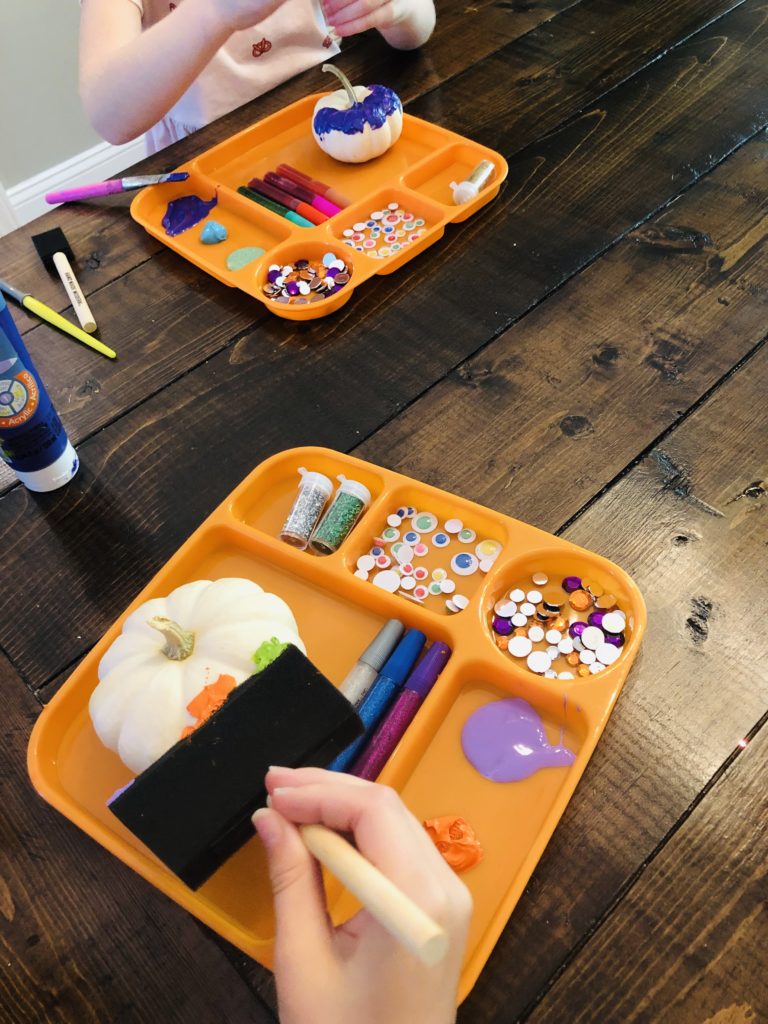 Add sparkles and googly eyes!
Once they finished painting, they added the other supplies from their tray. They added all the glitter! It was amazing! I love the colors they chose. It's so fun to watch their creativity.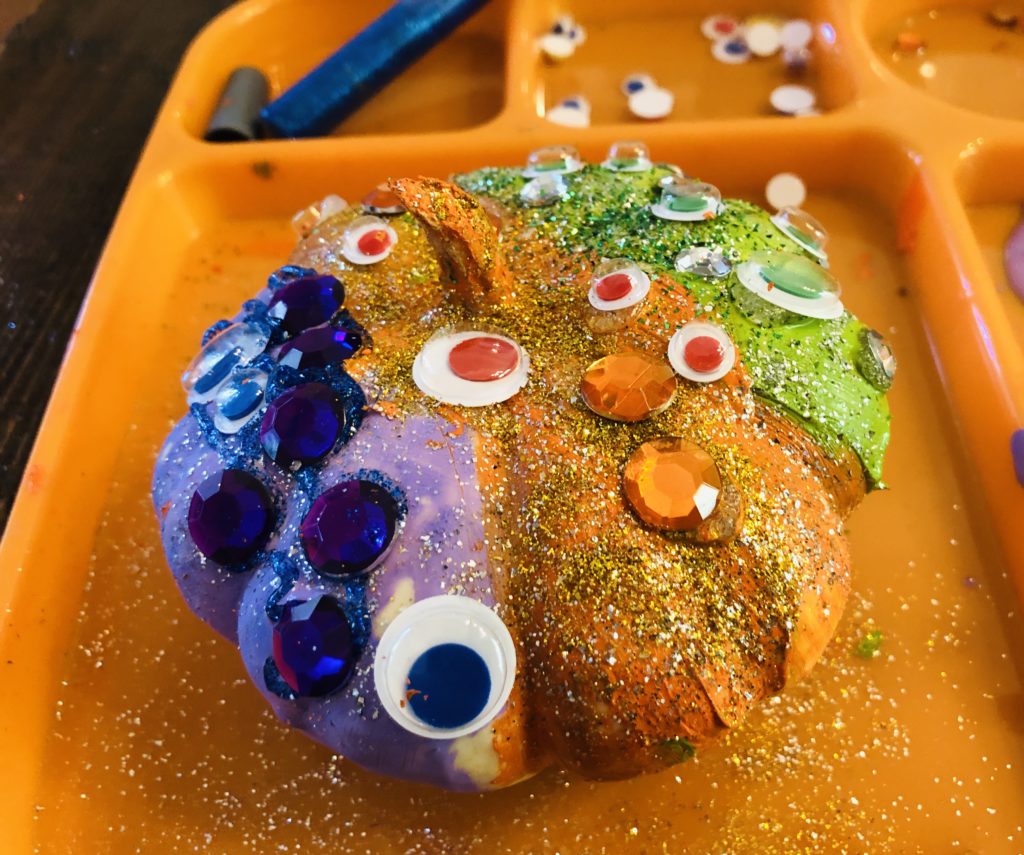 The glitter glue ended up being great for decorating and also great for adding on the other embellishments. They wanted to use all the supplies on their trays and they almost did!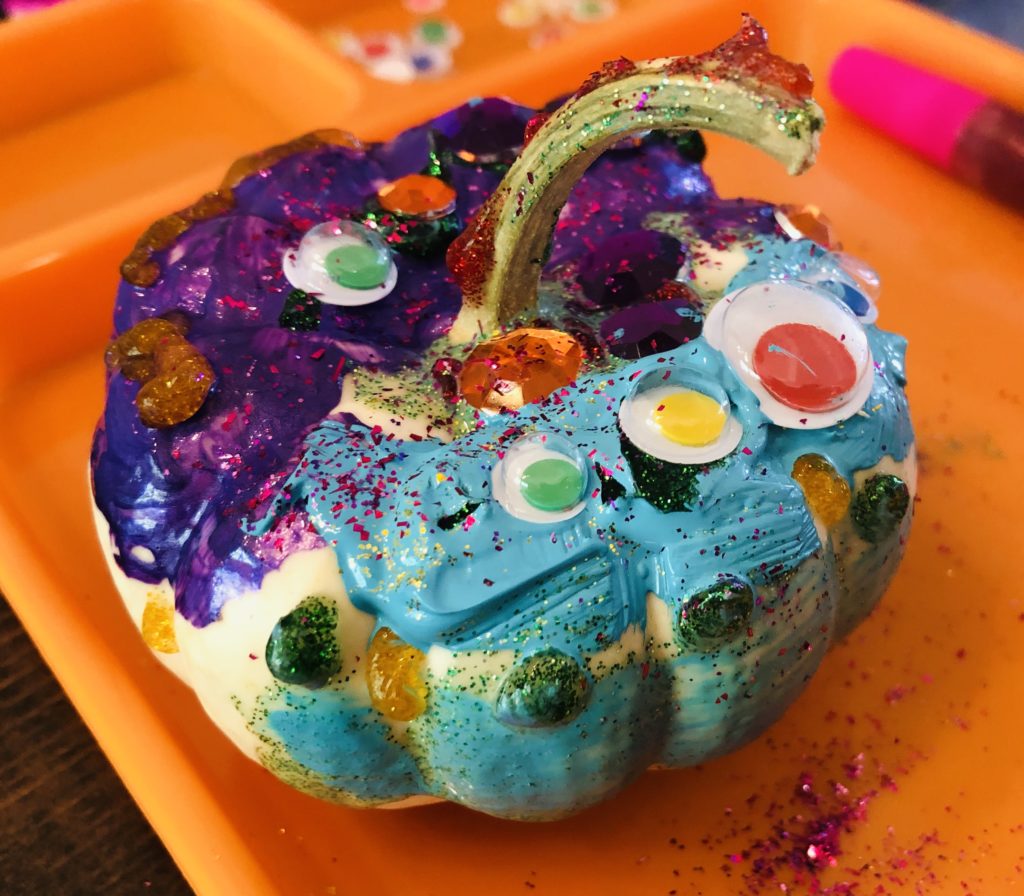 Once they finished decorating these cute little pumpkins, we just left them on the trays to dry. We let them dry overnight just to be safe. Some of the paint was on there pretty thick.
This pumpkin decorating activity is so fun and great for kids of all ages. You can change out the supplies with pom poms or stickers if you choose.
If you are crafting with toddlers or preschoolers, be sure to check out our Marshmallow Pumpkin Painting Craft. The marshmallows are fun for little ones to paint with since they are the perfect size for their little hands.