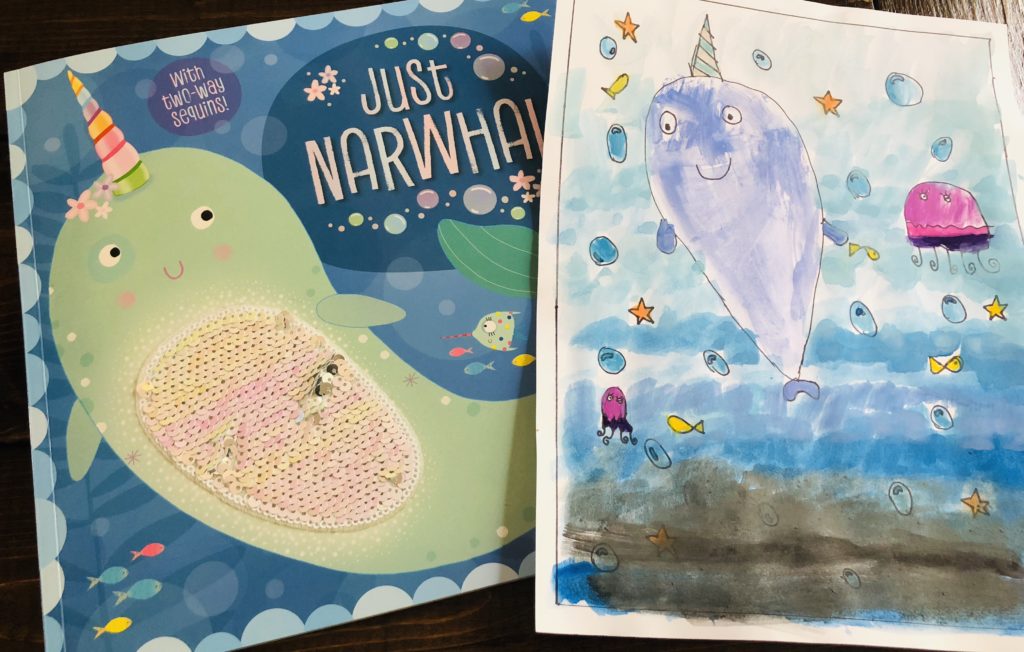 Have you seen the two-way sequins books from Make Believe Ideas? They are some of our favorite books! We have been reading one called Just Narwhal this week. It has an adorable Narwhal pictured on the front with two-way sequins and the kids have fallen in love with her. We had so much fun reading this book and creating pictures to go along with it. Be sure to check out the Free Printable Narwhal Coloring Sheet.
This post does include affiliate links. That means I could earn a tiny portion of any sale that is made through clicking on any of these products with no additional cost to you. All support is greatly appreciated! 
Just Narwhal is such a sweet story about believe in yourself.
 When her mermaid friends ask her to judge their art contest, she just doesn't think she is capable. She doesn't feel she has any skills and goes around finding others to judge instead. She quickly realizes she does have hidden skills and she is the best judge to be found.
Besides the magical story, we are also obsessed with the beautiful art featured in this book! We decided to try to draw some of our own Narwhal pictures and used watercolor paints to color them in.
We each started with a piece of white cardstock and an ultra fine sharpie marker. I normally don't have permanent markers out but we were planning to use watercolors. These markers are perfect for drawing pictures to watercolor.
If your kids want to get into drawing, starting with a Narwhal is a great idea. It is simple to draw and turns out super cute. I was so impressed with the fun drawings the kids created.
Once we were done drawing, we colored our pictures using watercolor paints. This was the highlight of my day! It was so much fun sitting around the table with them and coloring our drawings.
I also created a Free Printable Narwhal Coloring Page in case you don't want to do the drawing! Just click on the link below and it will open into a PDF file that is ready to print. If you plan to do watercolors, I would print it on cardstock or watercolor paper.
Narwhal Printable Coloring Page
Be sure to check out all the other adorable book selections from Make Believe Ideas. They really have the best books. I love all of their bright and whimsical illustrations. They are a UK company but products are available in the US in places such as Barnes and Noble, Target, Walmart, and online retailers such as Amazon.