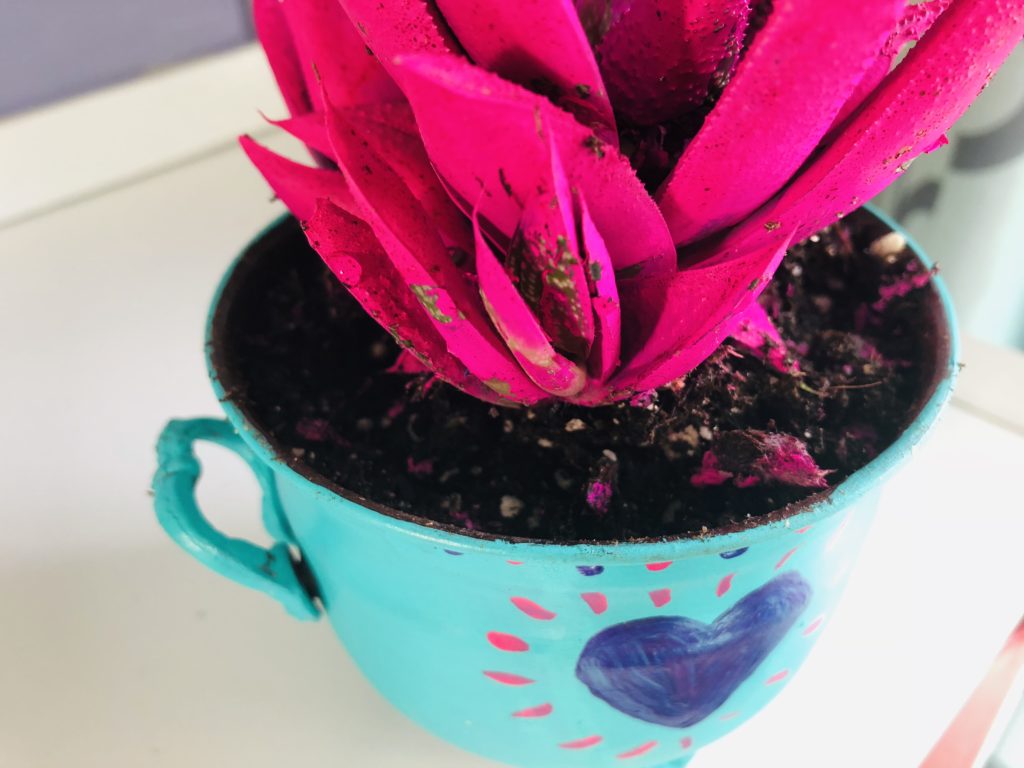 I am a sucker for all the cute dishes and trinkets at the Goodwill Store! I've been trying to declutter my own house but just had to take a peek while dropping some bags off a few weeks ago. I am excited to join a group of other crafters for a monthly Thrift Store Challenge. I'll be able to share a project with you each month using some fabulous finds from the thrift store. This week we're making a DIY Painted Succulent Planter!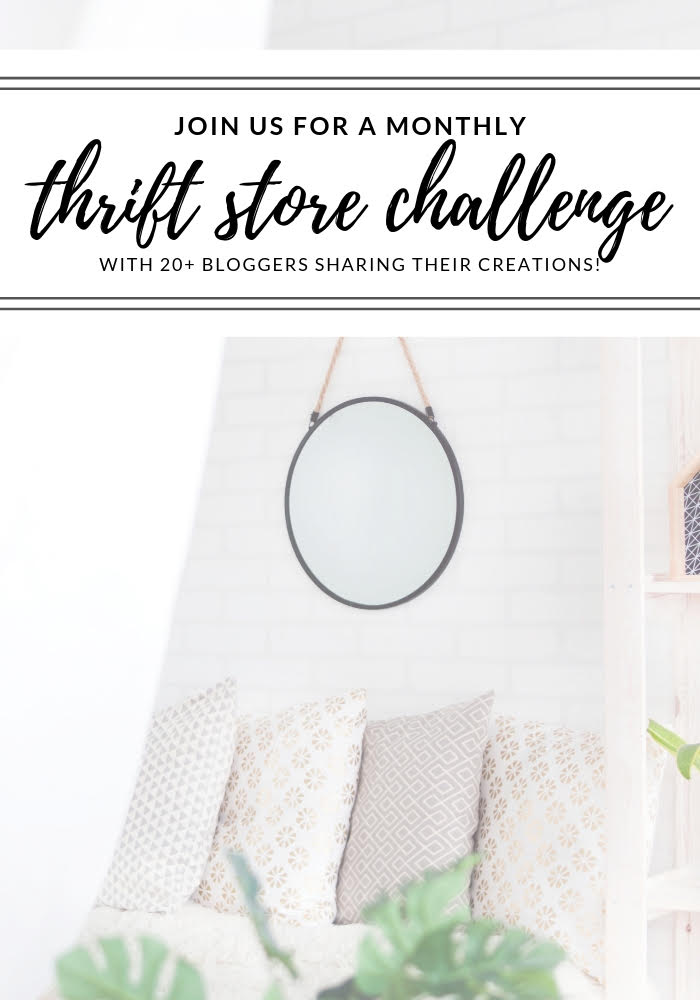 The Rules:
Upcycle an item(s) from a thrift store, resale store, or garage sale into a new piece of decor.
There's no monthly theme.
There's no budget to stick to.
Meet the Hosts
Angela | Simply Beautiful By Angela – Heather | Glitter On A Dime Amanda | Domestically Creative – Michelle | Our Crafty Mom Jenny | Cookies Coffee and Crafts – Ali | Home Crafts by Ali – Lynn | My Family Thyme – Emy | Semigloss Design – Angie | Flippin Fanchers – Denise | My Thrifty House – Michelle | Michelle James Designs – Debra | Shoppe No 5 – Habiba | Craftify My Love – Victoria | Dazzle While Frazzled – Ann | Duct Tape and Denim – Molly | Just a Little Creativity – Morgan | Charlston Crafted – Meredith | Southbound Blog
Make sure you follow our board on Pinterest for more upcycled decor inspiration!
This post does include affiliate links. That means I could earn a tiny portion of any sale that is made through clicking on any of these products with no additional cost to you. All support is greatly appreciated! 
DIY PAINTED SUCCULENT PLANTER
Before I get into the planter, let me show you my favorite finds from the Goodwill Store this month. I actually found a few items that will make great thrift store makeovers! Obviously the little pot is what we will be working with today. It was only 99 cents. I also found the cute white lantern for 99 cents and I'm hoping to do a candle project for that one. Under the pot, you will find four white cloth napkins. Those were all $1.49. I've been wanting to use less paper towels and I think these will make a fun craft project to do with the kids.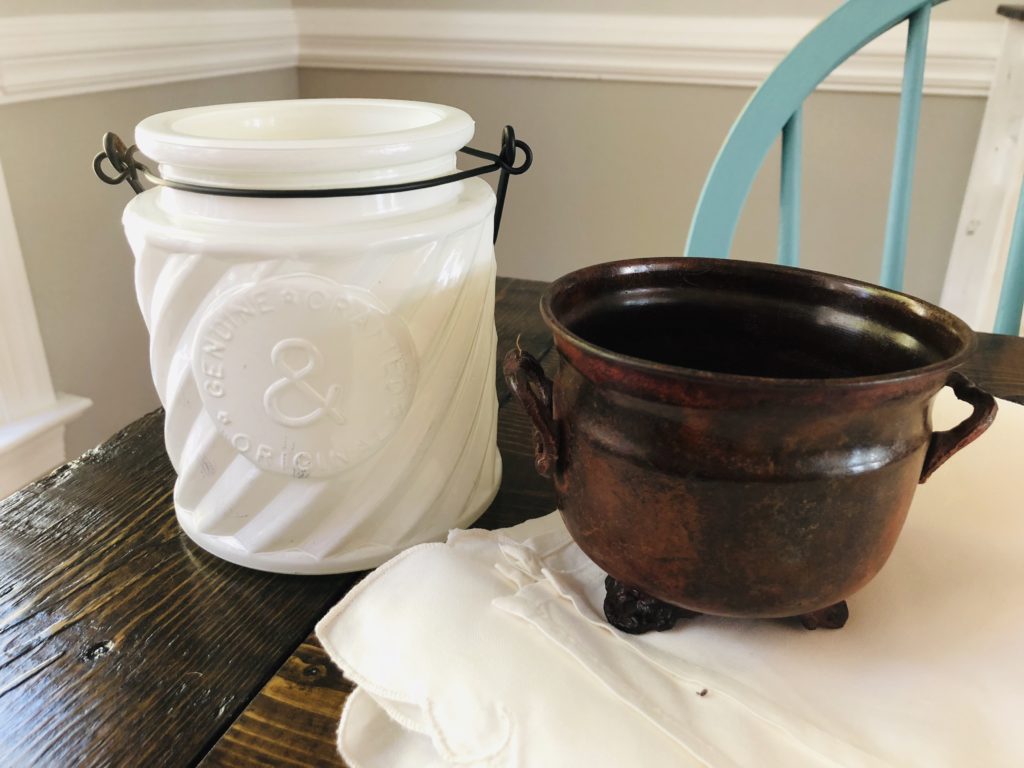 As soon as I saw the little pot, I thought it would be perfect for planting a succulent. We don't have any indoor plants so I thought this would be a fun way to start. Graylie and I headed to Home Depot over the weekend to take a look at their plant selection. I had intended to get a traditional green plant, but she fell in love with these colorful ones called Kosmik Kaktus. I love color too so we decided to go for it!
She chose a bright pink plant and I used that as inspiration for my planter. I knew I wanted to paint it a teal color since the plant would be going into our crafting and reading room. I found this fun selection of acrylic paint at Michael's Stores.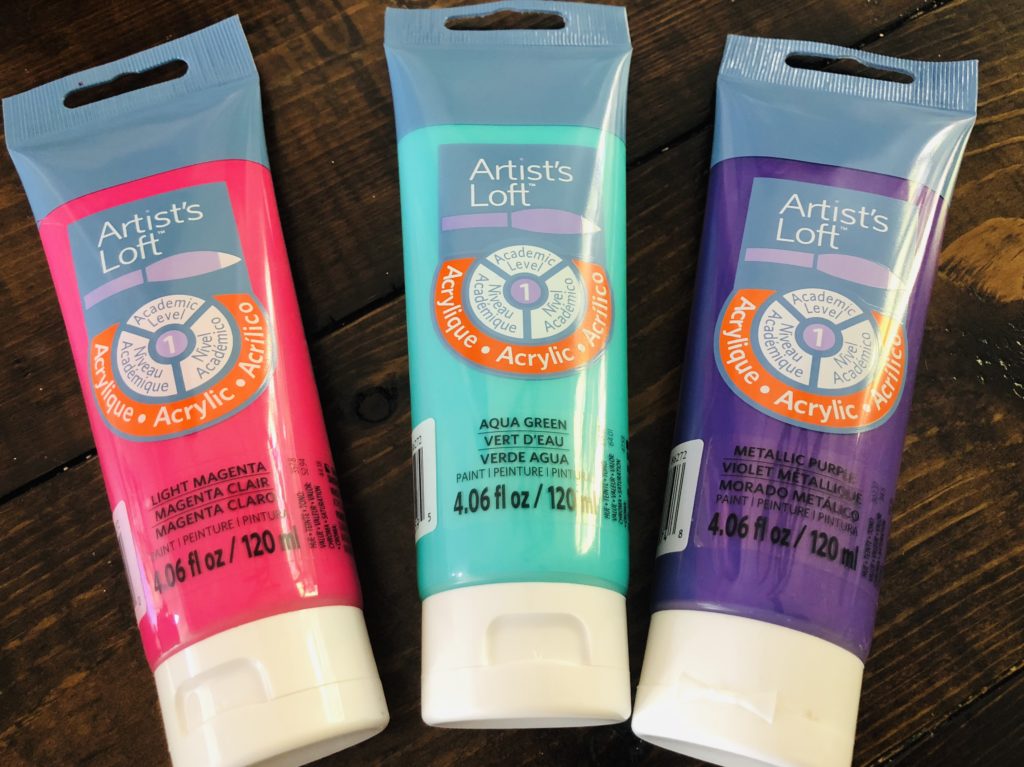 I used white spray paint as a primer before applying any of the acrylic paint. I did this to make sure the colors would be vibrant once they were painted onto the surface.
Once the spray paint was dry, I began painting the entire pot with the Aqua Green Acrylic Paint. I was thrilled with the color and it matched our room perfectly!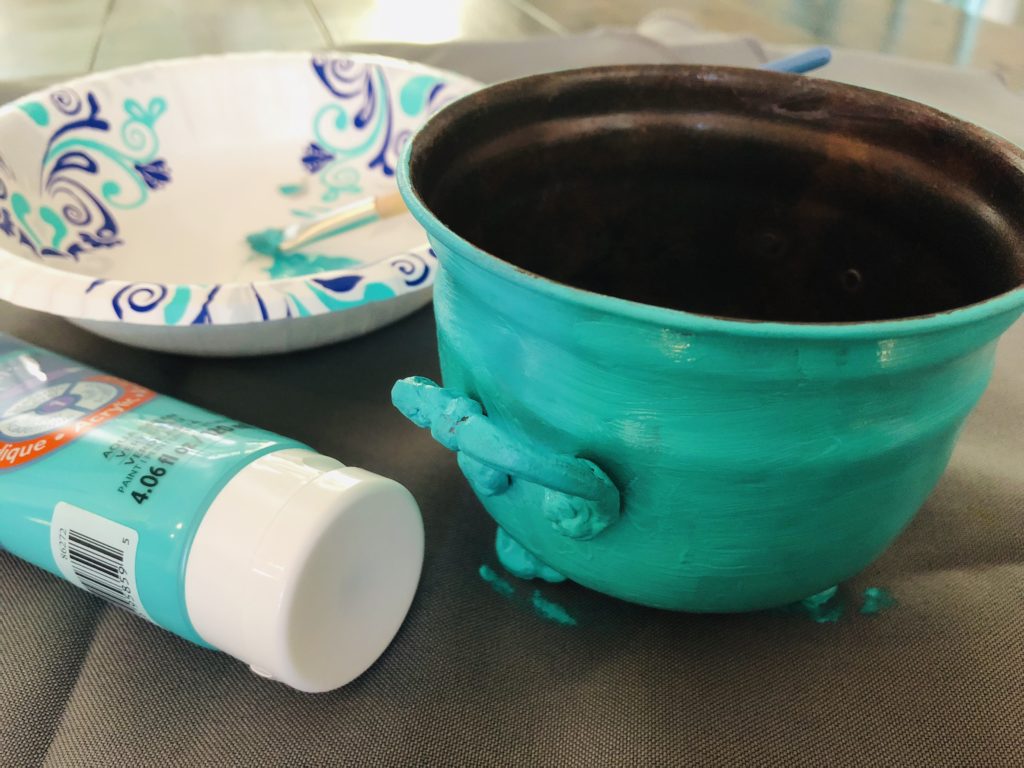 I considered leaving it as just the solid color but couldn't resist adding my own design. Using the metallic purple and  light magenta paint, I created a dotted border around the top of the planter. Then I painted a simple shining heart. Those colors really look amazing with this Kosmik Kaktus!
What do you think? Do you enjoy painting things to give them a new look? It is one of my favorite ways to be creative. Now I just have to figure out how to keep this plant alive!
And now for more thrifty goodness!
Check out what my fellow upcyclers created below!