How did the summer go by so quickly? We just wrapped up the last week of DIY Summer Camp by celebrating our own Kindness Week. I thought it would be a nice reminder for the kids to be kind to everyone as we head back to school for a new year. I know I say this almost every week but this was probably my favorite theme!
This post does include affiliate links. That means I could earn a tiny portion of any sale that is made through clicking on any of these products with no additional cost to you. All support is greatly appreciated! 
We kicked off the week with these super cute coloring pages from Coffee Cups and Crayons. It is a free printable coloring page and I fell in love with the design. We spent the morning coloring and talking about ways to be kind. It was actually very calming and one of the best mornings we've had all summer. It's the simple things that turn into the best activities sometimes.
We had actually painted these rocks last spring. It is one of my favorite projects. I let the kids paint all over the rocks. Once the rocks dried I wrote inspirational words on them with a Sharpie Paint Marker. We painted so many that we still had a few left this summer. We went for a morning walk and hid them around the playground and bike racks in our community.
I decided it would be a great activity for Kindness Week for each child to pack a shoe box for Operation Christmas Child so we could talk about showing kindness to others across the world. We headed to Dollar Tree so I could let the kids pick out as many items as their box would hold. This was a little harder on my four year old since she is still young and wants all the toys for herself. We talked through it and watched a video of children receiving their boxes in other countries.
DONATE OUTGROWN BOOKS, TOYS, AND CLOTHES
It can be so easy to help others. We have so many gently used items to give that could bring job to other people. We went through our collection of books and gave them to a young kindergarten teacher who needed resources for her classroom. We also collected three bags of toys and clothes to give to the AmVets National Service Foundation.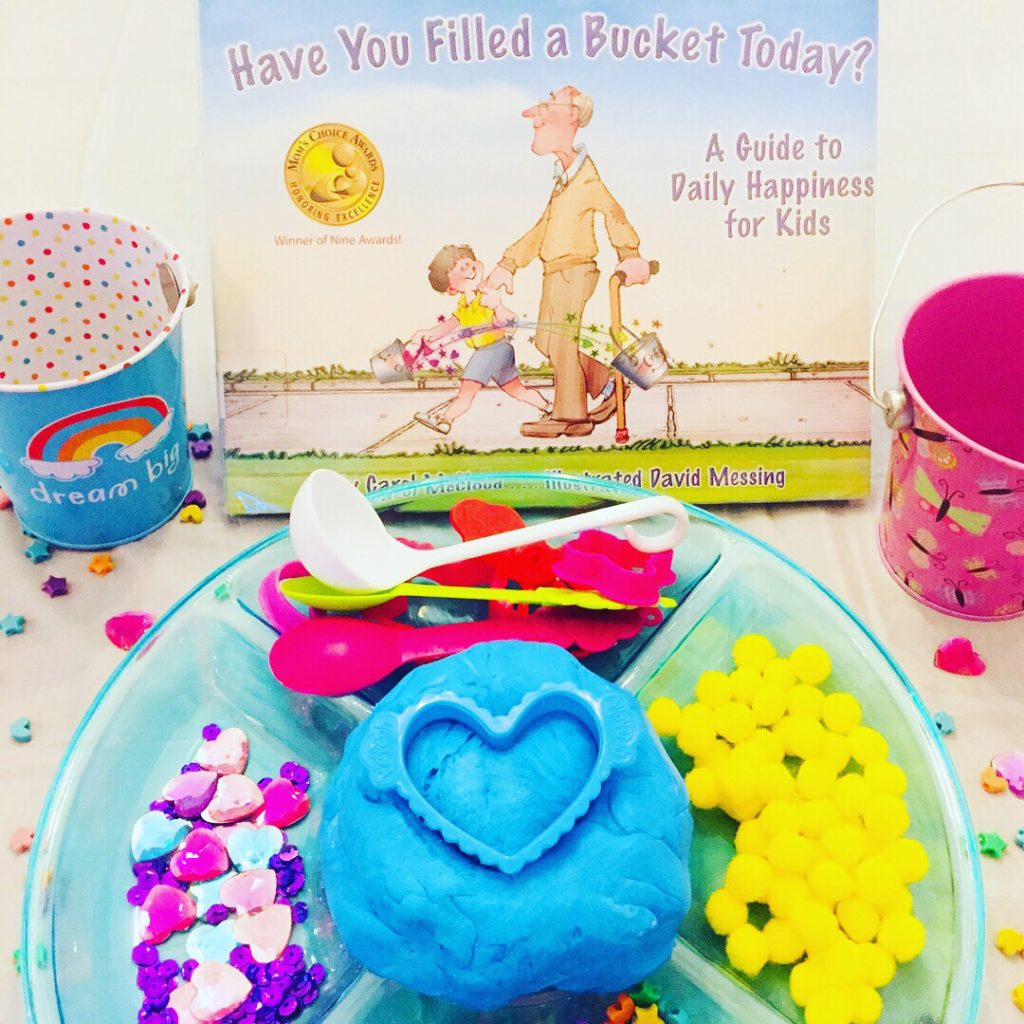 I picked out several books at the library for Kindness Week. This book Have You Filled A Bucket Today? is one of our absolute favorites! It is such a sweet story about how we all have an invisible bucket that gets filled with love and kindness. We used this craft as a visual way to show our buckets being filled as we talked about nice things we can do for one another. I highly recommend this activity for siblings!
This was a super fun week and I honestly hate to see it end. I can guarantee you that we will be doing our DIY Summer Camp aka Camp Mom next year! As sad as I am to see summer go, I am looking forward to fall. Stay tuned for lots of fun fall and holiday crafts from us.