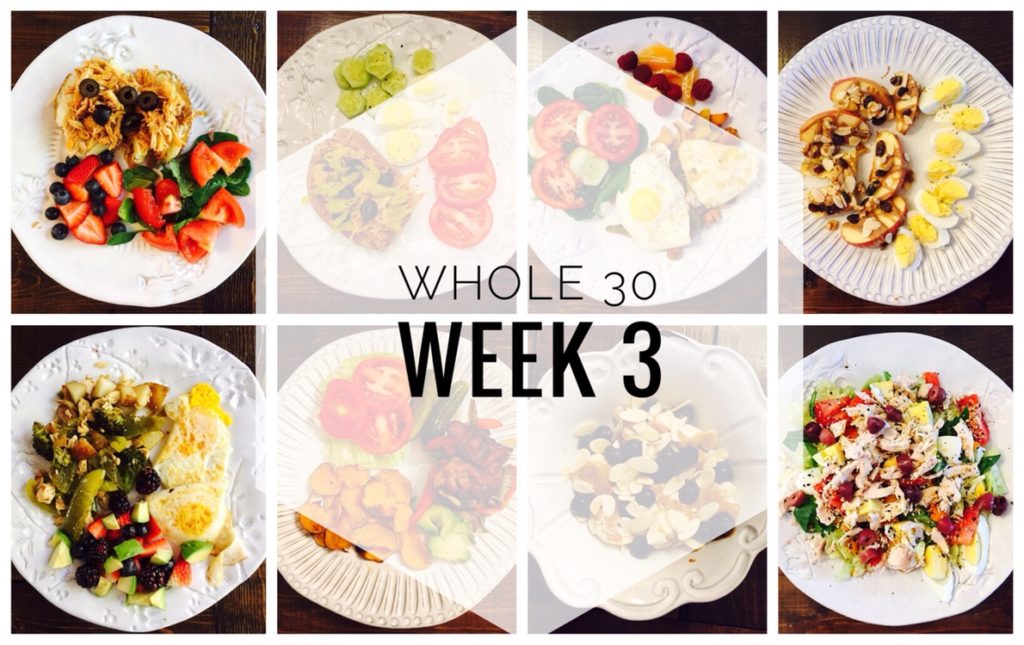 On Monday we finished Week 3 of our January Whole 30! Sometimes it feels like we are barely hanging on. This last week was especially hard because we had a few snow days. The kids were home watching movies, drinking hot chocolate, and eating popcorn. We also had a birthday party to attend and I was graciously able to decline the cake. That is another win for me because I do love cake!
Trying new recipes has definitely helped keep us on track. This week we tried Slow Cooker Buffalo Chicken and Rosemary Garlic Chicken with Bacon-Wrapped Cabbage. I had intended to try a new recipe on Monday night too but our internet was down. I soon realized how dependent I am on Pinterest for my recipes. I have a binder that I made of a lot of my favorite recipes and had considered getting rid of it since I have them all online. I guess I'll be keeping that binder and probably adding to it!
Here is what we had for Week 3:
Day 15
Breakfast – Smoothie with Banana, Cashew Butter, Almond Milk, and Instant Coffee
Lunch – Leftover Taco Soup with a Baked Potato topped with Guacamole and Black Olives
Dinner – Healthy Hamburger Soup topped with Avocado
Day 16
Breakfast – Two Eggs, Bacon, Raspberries, and Apples with Almond Butter
Lunch – Leftover Hamburger Soup
Dinner – Roasted Sausage, Peppers and Potatoes served with Salad and Green Beans
Day 17
Breakfast – Leftover Sausage, Peppers and Potatoes, Two Eggs, Fruit, and Spinach Salad
Lunch – Same as Breakfast
Dinner – Crockpot Buffalo Chicken on a Sweet Potato with Olives and Pepper Rings
Day 18
Breakfast – Apple with Cashew Butter and Two Hard Boiled Eggs
Lunch – Baked Potato topped with Buffalo Chicken & Olives, Berries, Spinach and Tomatoes
Dinner – Hot Dog Foil Pack with Roasted Broccoli, Berries and Avocado
Day 19
Breakfast – Veggie Scramble, Bacon, Spinach, Berries, and Avocado
Lunch – Baked Potato topped with Buffalo Chicken & Olives, Berries, Spinach and Tomatoes
Day 20
Breakfast – Apples topped with Almond Butter, Raisins, and Almonds and Two Hard Boiled Eggs
Lunch – Leftover Chicken, Potatoes and Peppers, Two Eggs, and Diced Avocado and Fruit
Dinner – Bunless Burgers with Avocado, Bacon, Sauteed Mushrooms and Peppers, and Sweet Potato Chips
Day 21
Breakfast  – Banana, Almond Butter, Berries and Sliced Almonds
Lunch – Big Salad
Snack – Blueberry RX Bar
Dinner – Sausage, Peppers, and Potatoes served with Green Beans
We are getting so close to finishing our 30 days and I have to admit I am excited about that! I love eating healthy but I do miss chocolate, wine, and pasta. I've also avoided having lunch dates since it is so hard to find Whole 30 compliant menu items at most restaurants. I really miss that too.
Here are a few things I learned during Week 3:
The Healthy Hamburger Soup that we have been enjoying for the past 3 weeks is very similar to the Lasagna Soup that we usually have and love so much. We didn't even miss the cheese so this recipe will definitely be a keeper.
If we don't have leftovers, lunches can be really tough. I tried having a salad on Monday and it did not keep me satisfied until dinner.
Salads are very time consuming to make and I am realizing they are not my favorite meal option. I love side salads on the other hand.
Here are a few of my favorite products this week!
Next week I'll be doing our Final Recap of the January Whole 30! I would love to do this program again in a few months since I am sure we'll need another reset. The next time I would like to do a series on "Whole 30 on a Budget" since I haven't really kept up with my spending on this round. Now that I'm finding some great products and recipes, I think we could make it work with our grocery budget. There are so many great and affordable options at Aldi and Trader Joe's. It is definitely something to think about!