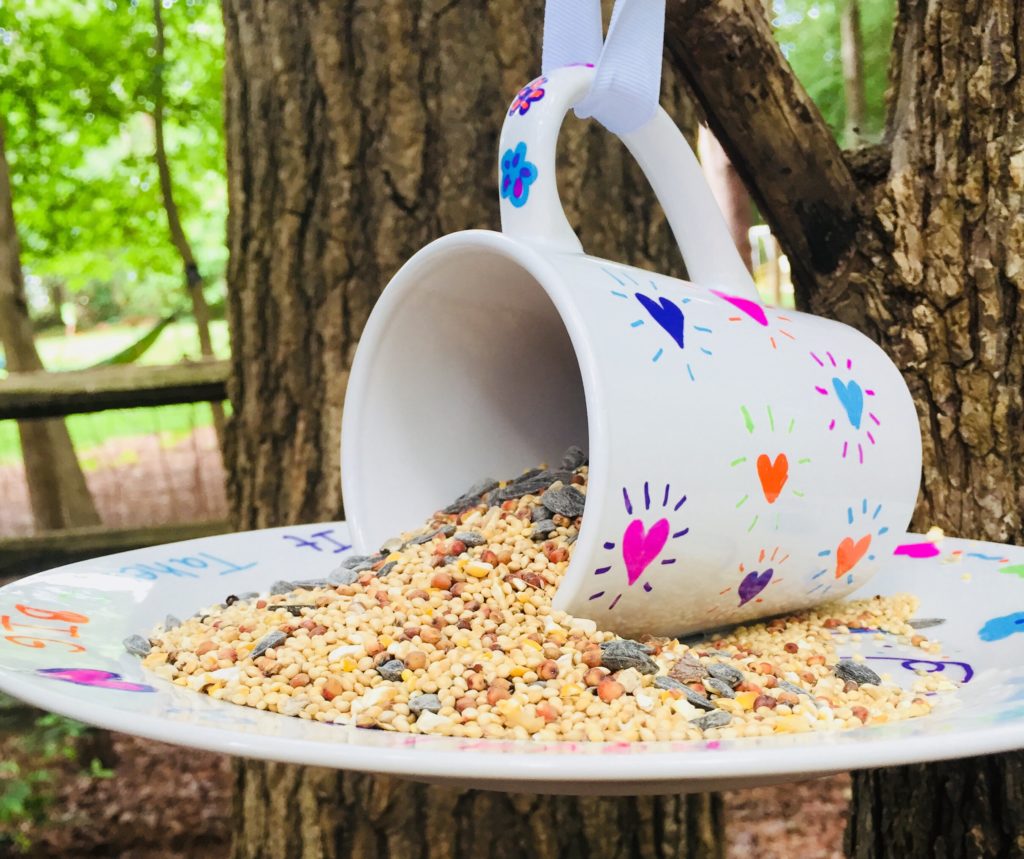 Looking for some fun activities to do with the kids this summer? I have joined a fun group of bloggers to share some great ideas that you and your kids are sure to enjoy! There will be ideas for children of all ages! From June 4th through June 8th, we'll be sharing 3 new projects each day. Our goal is not only to survive the summer break but provide some enriching activities to keep the boredom at bay as much as possible because mom's have the best ideas!
Just take a look at what these Mom bloggers have come up with and you'll see what I mean! But first, enjoy the tutorial I am sharing for a DIY SHARPIE MUG BIRD FEEDER! If your kids love to doodle and draw, they will love this one. The best part is that the mugs and plates from Dollar Tree are perfect for this craft!
---
Welcome to the Summer Family Fun Blog Hop
Shirley Intelligent Domestications • Erlene My Pinterventures
Cookies, Coffee And Crafts • Donna Two Chicks And A Mom
Marie DIY Adulation • Sam Raggedy Bits • Emily Hunny I'm Home DIY
Rebecca The Moments At Home • Victoria Dazzle While Frazzled
Marie The Inspiration Vault •Michelle Our Crafty Mom
Heather Glitter On A Dime • Emily Domestic Deadline
---
DIY SHARPIE MUG BIRD FEEDER CRAFT
I have always been drawn to all of the beautiful mugs on Pinterest decorated by Sharpie Markers! So when I saw this particular bird feeder pin from Craft Create Cook, I knew I wanted to try it for Week 23 of the Pinterest Challenge. I was able to use white stoneware plates and mugs from Dollar Tree to make this a very inexpensive project.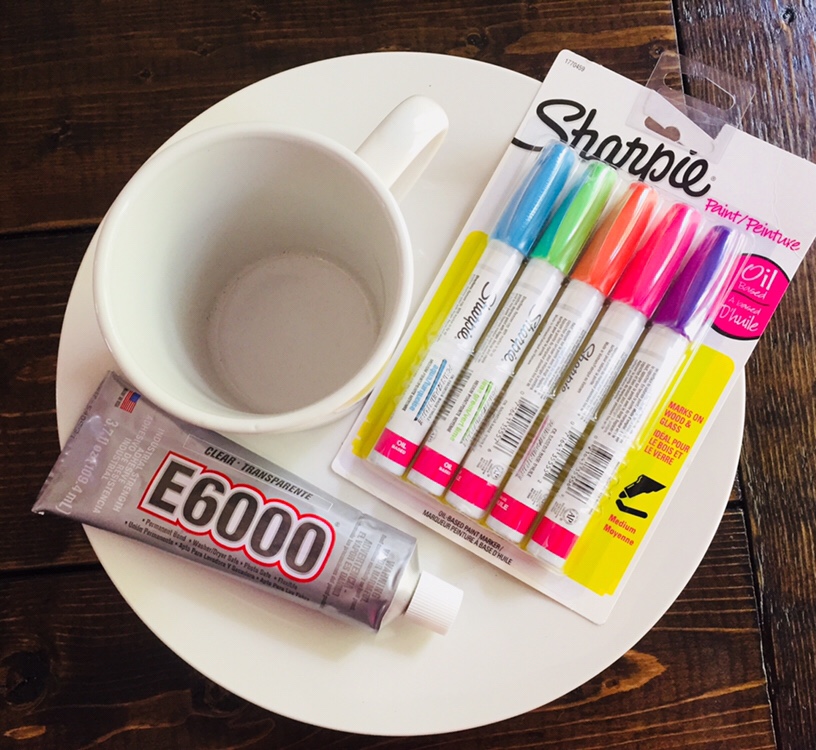 This post does include affiliate links. That means I could earn a tiny portion of any sale that is made through clicking on any of these products with no additional cost to you. All support is greatly appreciated! ?
Here are the supplies I used to complete the Sharpie Mug Bird Feeders:
First I decorated the plates and mugs with the Sharpie Markers. This was so much fun! You could let kids of all ages doodle and draw on these cups and it would be so cute. We were making our bird feeders for an End of Year Teacher Gift. I chose to draw out the quote "It Takes a Big Heart to Teach Little Minds" on our plates.
Once I had the plates and mugs decorated, I used the E6000 Craft Adhesive to attach the mug to the plate. Then I placed a butter knife on each side of the mug to hold it in place. This needs to dry for about 24 hours.
After 24 hours I was ready to test out these bird feeders. I tied a piece of ribbon through the mug handle so that it can be hung outside. Then I added some bird seed. I was very excited by how cute these bird feeders turned out!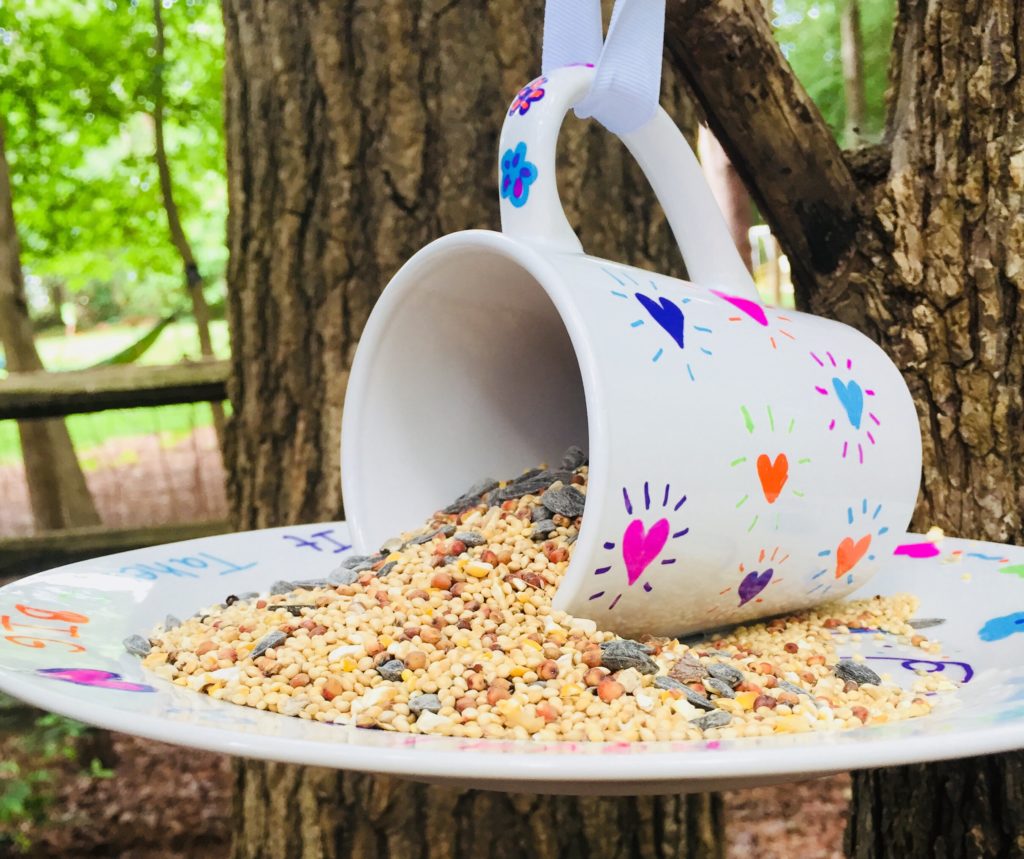 This is such an easy and inexpensive craft! It would be the perfect craft to do this summer when you have some down time with the kiddos. Plus it will be so much fun watching the birds come to enjoy the bird seed on their own decorated bird feeder!

Visit my blogging friends below for more summer family fun ideas!
Monday
How To Install A Ring And Hook Game @Intelligent Domestications
Fairy Garden Fun for Kids @Two Chicks And A Mom
Tropical Shrinky Dink Charms and Pins @My Pinterventures
Tuesday
DIY Painted Rocks That The Kids Will Love To Make @Our Crafty Mom
DIY Sharpie Mug Bird Feeder @Glitter On A Dime
How To Turn Admission Tickets Into A Bookmark@Craftify My Love
Wednesday
DIY Giant Backyard Frisbee Tic-Tac-Toe Game @DIY Adulation
Book Themed Outdoor Play Ideas for Kids @The Moments At Home
5 Easy Ways to Have Fun with DIY Bubbles This Summer @Hunny I'm Home DIY
Grandma Camp @Intelligent Domestications
Thursday
Easy Kids Obstacle Course Ideas @Cookies, Coffee And Crafts
How to Make a Fun Kids Swim Towel @Dazzle While Frazzled
Polymer Clay Charms @Domestic Deadline
Friday
Nerf Battle Paint Splatter T-Shirts @The Inspiration Vault
How to Make Easy Farmhouse Planter Herb Markers @Raggedy Bits
DIY Creative Summer Journal @My Pinterventures