Happy Father's Day! Anyone else ever struggle with gift ideas for the men in your life? It is always a tough one for me. This year I decided to pull out the Cricut Maker at the last minute and customize a Beer Mug Gift for Dad.
This post does include affiliate links. That means I could earn a tiny portion of any sale that is made through clicking on any of these products with no additional cost to you. All support is greatly appreciated!
I had looked for beer mugs online and didn't really see one that I liked. In the end I ordered this stainless steel mug from Amazon. It is really cool but I felt like it needed a personal touch.
DIY Gift for Dad using Cricut Maker
Since I already have a Cricut Machine and supplies, it was easy to make this simple project at the last minute. In the past I have struggled with vinyl projects. I have realized the key to make these easier is to have the correct transfer tape. There will be more information on that below.
I really did not have any idea what I wanted to put on the mug until yesterday afternoon. So I figured the best place to start was Cricut Design Space. I just did a quick search in Projects and found this cute coaster project.
Once I found the project, it was as easy as clicking on the "Make It" button! It was the right size and everything. I'm not sure how I got so lucky.
I used an orange vinyl since my husband is a Tennessee Vols fan. I think lots of colors would look great on this stainless steel mug.
If you are familiar with the Cricut Machine, you know the next step is placing the vinyl on the mat and then loading the mat into the machine for cutting. I'm usually pretty good at this part so I know it will be a breeze for you!
The next step is weeding your design. You will definitely want to use a weeding tool for this part. Weeding vinyl is the process of removing the excess material that you do not want on your project.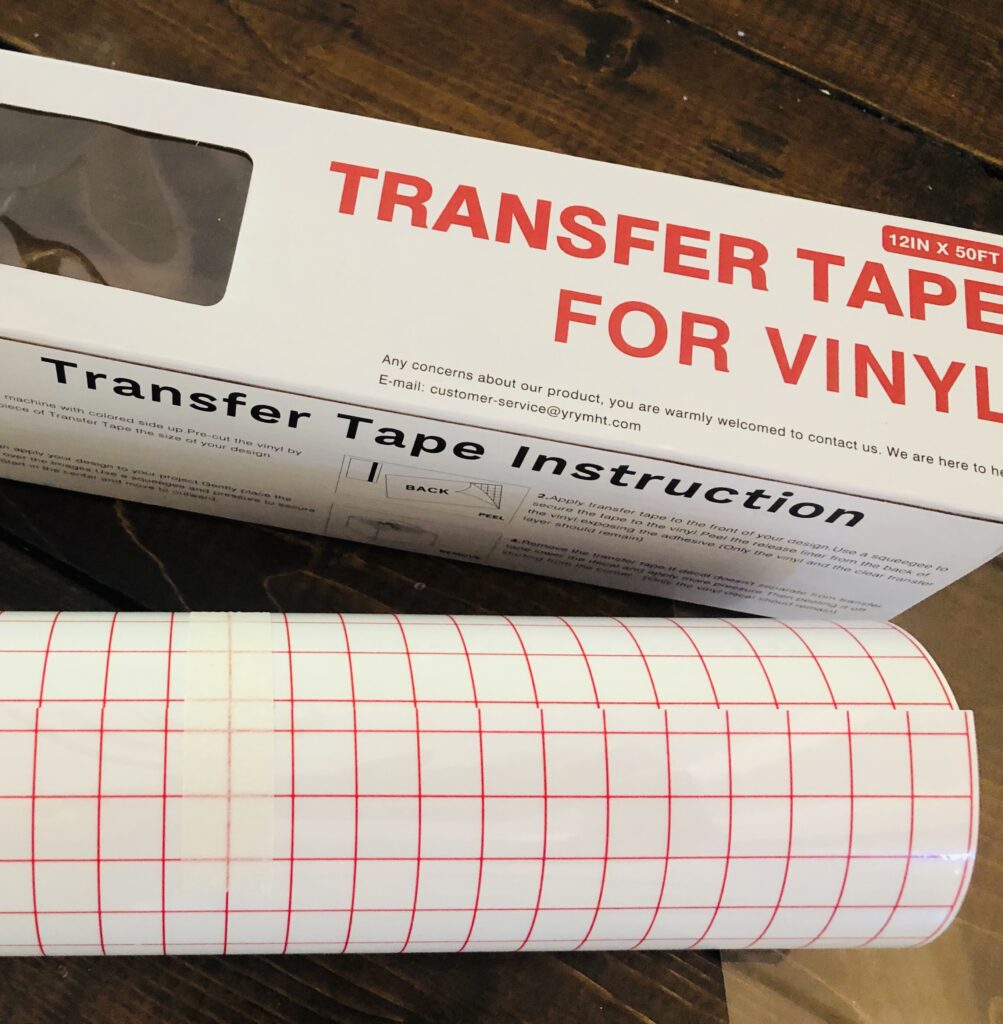 Once you have removed all the excess vinyl, you will need to apply the transfer tape. All transfer tape is not created equally. The first time I tried it did not go well. That was a couple of years ago and I was ready to throw in the Cricut towel forever.
I recently ordered the Transfer Tape pictured above and it worked beautifully! To apply the transfer tape, gently place a piece of the transfer tape (adhesive side down) over your design, starting in the center and moving out toward the edges. I usually cut a piece off that is similar in size to my design.
Remove the backing from the transfer tape, so you can then use this to apply the design to the mug. Once you have it in place, you should be able to slowly remove the transfer tape, leaving the vinyl design in place on the mug.
I was so excited about how this mug turned out! In the past my husband has actually helped me with Cricut projects. I knew I had to do this one on my own so I wouldn't ruin the surprise!
DIY Father's Day Beer Mug Gift
Once I had the mug completed, I picked out some great beer and some of his favorite candy to go with it. This gift was a hit and it was something he can use and consume. That is the perfect gift giving combo if you ask me!