Who knew Dinosaur Week would be so much fun? We have really enjoyed reading books, making crafts, and doing dinosaur activities. This latest project has been a week long event and probably our favorite so far. We have been planning this Create Your Own Backyard Dinosaur World for weeks!
This post does include affiliate links. That means I could earn a tiny portion of any sale that is made through clicking on any of these products with no additional cost to you. All support is greatly appreciated! ?

Our inspiration started with the plastic dinosaurs we picked up at Dollar Tree a couple of weeks ago. We knew these would be a necessity for this week's dinosaur theme. They have a variety of shapes, sizes, and colors and you definitely can't beat the price! If you don't have a Dollar Tree, I also found this awesome set on Amazon for only $12.95.
Gathering outdoor materials for dinosaur small world.
The dinosaurs were the only item we purchased for this project. We spent Monday morning gathering rocks, branches, and sticks from the yard. This was probably my favorite part of the entire week. The kids really got into it and kept saying how we make a great team. That was definitely a nice change from the arguing and fighting that I am used to hearing.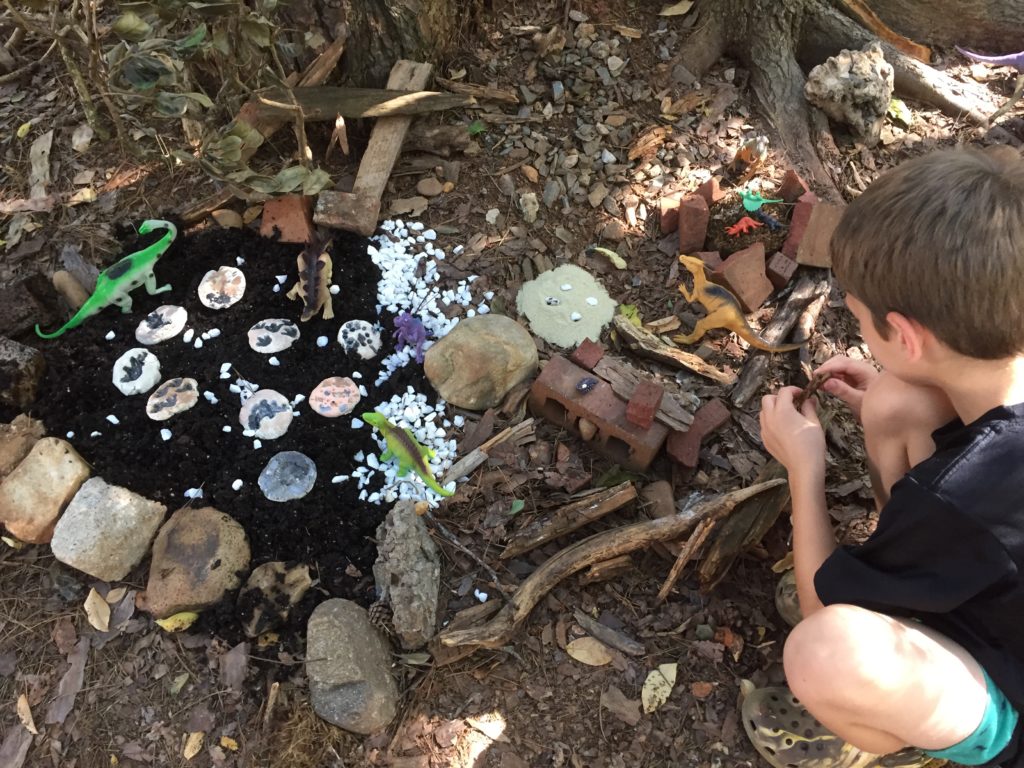 After we gathered all of our building materials, Gavin and his friend really took off creating what they call Jurassic Park. (They were so proud of the name. LOL) They placed the rocks and some sticks around the perimeter of a cool tree in our backyard. They were really creative and developed a variety of different sections and play areas.
Creating dinosaur fossils for dinosaur garden area.
Later in the week, we crafted dinosaur fossils from salt dough. We thought these would be the perfect addition to our dinosaur world. The kids enjoyed seeing their creations added to the dinosaur world.
Dinosaur Small World Play
It is great for kids to get outside and use their imaginations! We also have a traditional fairy garden area in our backyard. The boys think it is cool to do pretend invasions from the dinosaurs over to that area as well.
I can see this area getting lots of use this summer! I also have a sneaky plan for the dinosaurs to escape so we can go on a Dinosaur Hunt. Week one of our DIY Summer Camp has definitely been a success! I'm not sure our other themes are going to be able to compete with Dinosaur Week.