For Week 33 of the Pinterest Challenge, I decided to make Chocolate Chip Sheet Pan Pancakes. I had seen this pin for Sheet Pan Pancakes before summer. We have been so busy I just had not gotten around to trying it. Now that school is starting next week, I am starting to think about my meal prep game. It is back to prepping smoothies and packing lunches!
For Sheet Pan Pancakes you can use any pancake recipe or you could even use a pancake mix. You just need about 2 1/2 cups of pancake batter. I really enjoy this recipe for Whole Wheat Yogurt Pancakes. It makes the perfect amount of batter for the sheet pan I used.
Whole Wheat Yogurt Pancakes
Ingredients
1

cup

Whole Wheat Flour

1/2

tsp

Baking Soda

1

tsp

Baking Powder

1

cup

Milk

1

Egg

1/2

tsp

salt

1/2

tsp

vanilla

1/2

cup

yogurt

plain or vanilla
Instructions
Mix dry ingredients together.

Add in wet ingredients and stir until combined.



For the sheet pan pancakes, I prepared the batter from the recipe above. Then I poured it into a sheet pan that was lined with parchment paper. I made sure the parchment paper was larger than the pan so I could easily pick up the baked pancakes and place them on a cutting board.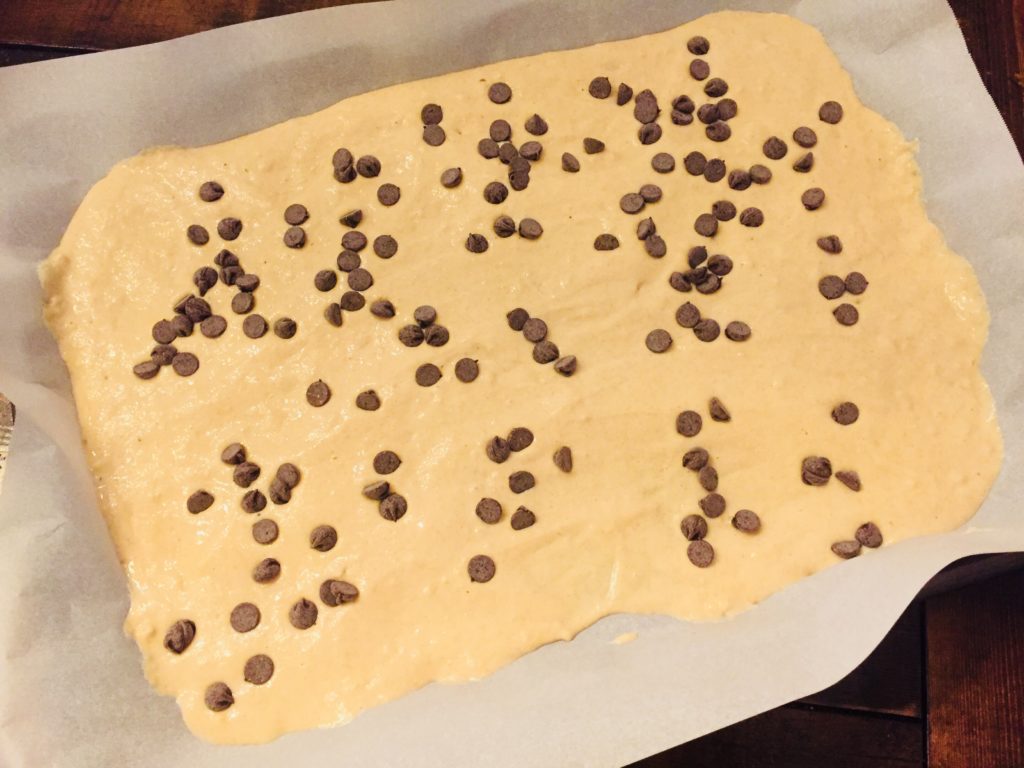 I sprinkled the batter with chocolate chips before putting it into the oven. You could use any topping but my family is a big fan of anything chocolate!
Bake the batter in the oven at 425 degrees for 11 – 15 minutes. Once the batter has cooled, transfer to a cutting board and slice into squares.
I could not believe how great this turned out! It is so much easier than pouring and flipping pancakes. They also freeze great. I used the parchment paper from the baking sheet to wrap them up before placing them into a freezer bag. This will be great to have on hand next week when we are trying to get back into our school routine.
This post does include affiliate links. That means I could earn a tiny portion of any sale that is made through clicking on any of these products with no additional cost to you. All support is greatly appreciated!