We finally finished packing away all of our Christmas decorations this weekend! What a job that is! I love the cozy feel of all the decorations but also enjoy the clean feel of packing them away.
Even though it isn't really that cold here, I thought it would be fun to make these Winter Paper Plate Wreaths so we could add a little decor to our playroom area. Graylie is all gung-ho on decorating for Valentine's Day but I'm just not quite there yet.
Create a Paper Plate Wreath for every season!
This paper plate wreath craft is super simple. If you've been following us for very long, you know I try to do one for every season. We already had some fun glittery foam snowflake stickers leftover from an ornament craft. Foam stickers are a favorite craft supply around here!
This post does include affiliate links. That means I could earn a tiny portion of any sale that is made through clicking on any of these products with no additional cost to you. All support is greatly appreciated!
These stickers are great for little hands! They are chunky and peeling off the adhesive is great for fine motor skills. I've been able to find some great foam stickers at Dollar Tree, Michaels, Amazon and Oriental Trading.
Find great seasonal crafting supplies at Dollar Tree.
I also picked up some additional snowflake stickers at Dollar Tree last month. Of course, I can never resist their seasonal crafting supplies.
These sparkly stickers were the perfect accent to the big snowflake foam stickers. It's always fun to have a mix of embellishments for the kids to use.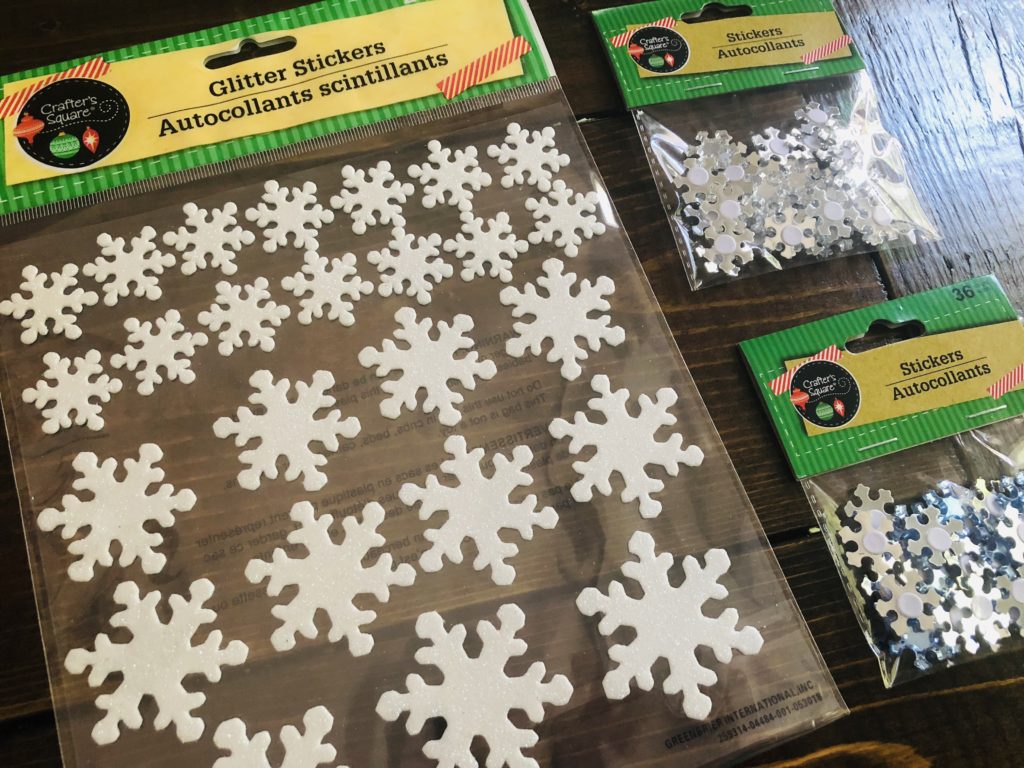 To get started, you will need to cut the middle out of a cheap paper plate. I recommend this step be completed by an adult unless you are crafting with older children.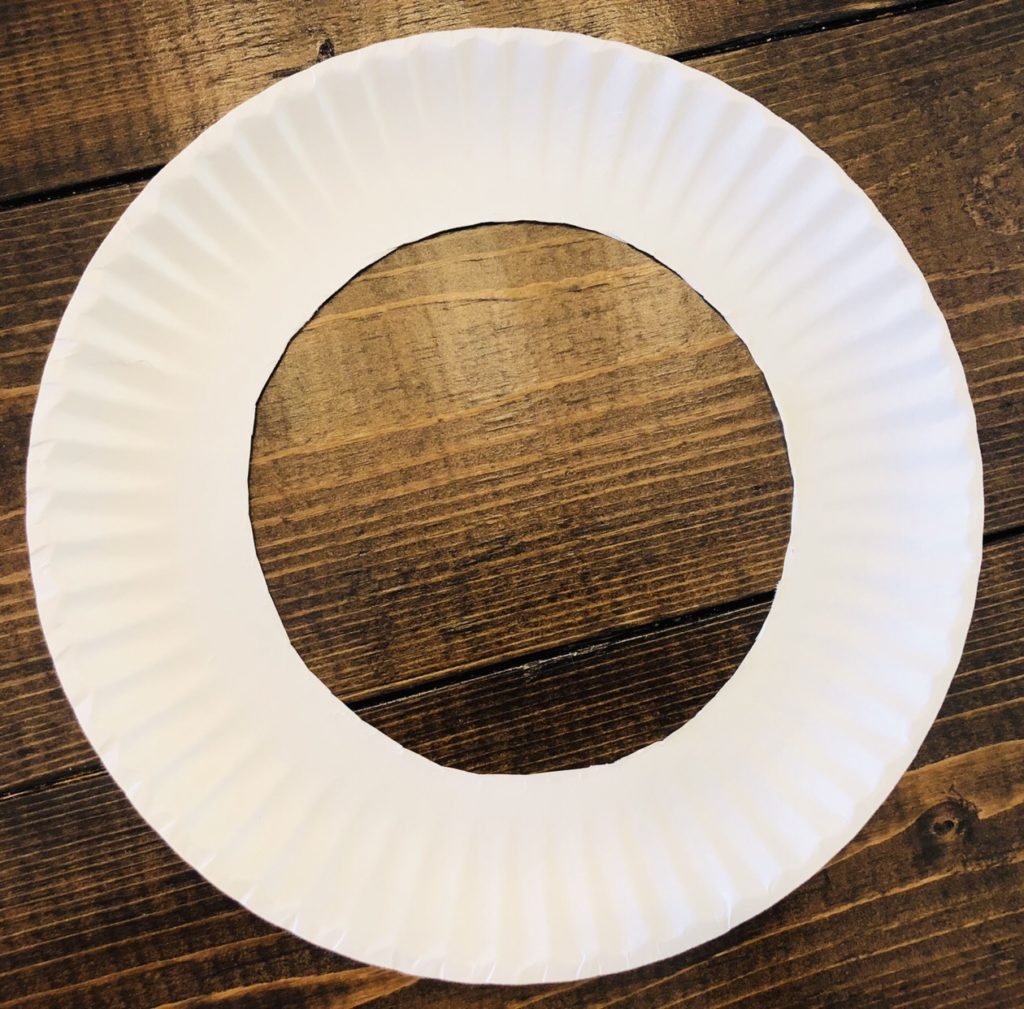 Paper Plate Wreaths are a great craft for preschoolers.
Once the middle has been removed from the paper plate, let the children color it with crayons or markers. I like to give them colors that go along with the theme of the craft. For this particular Snowflake Paper Plate Wreath, I chose blues, purples, and grays.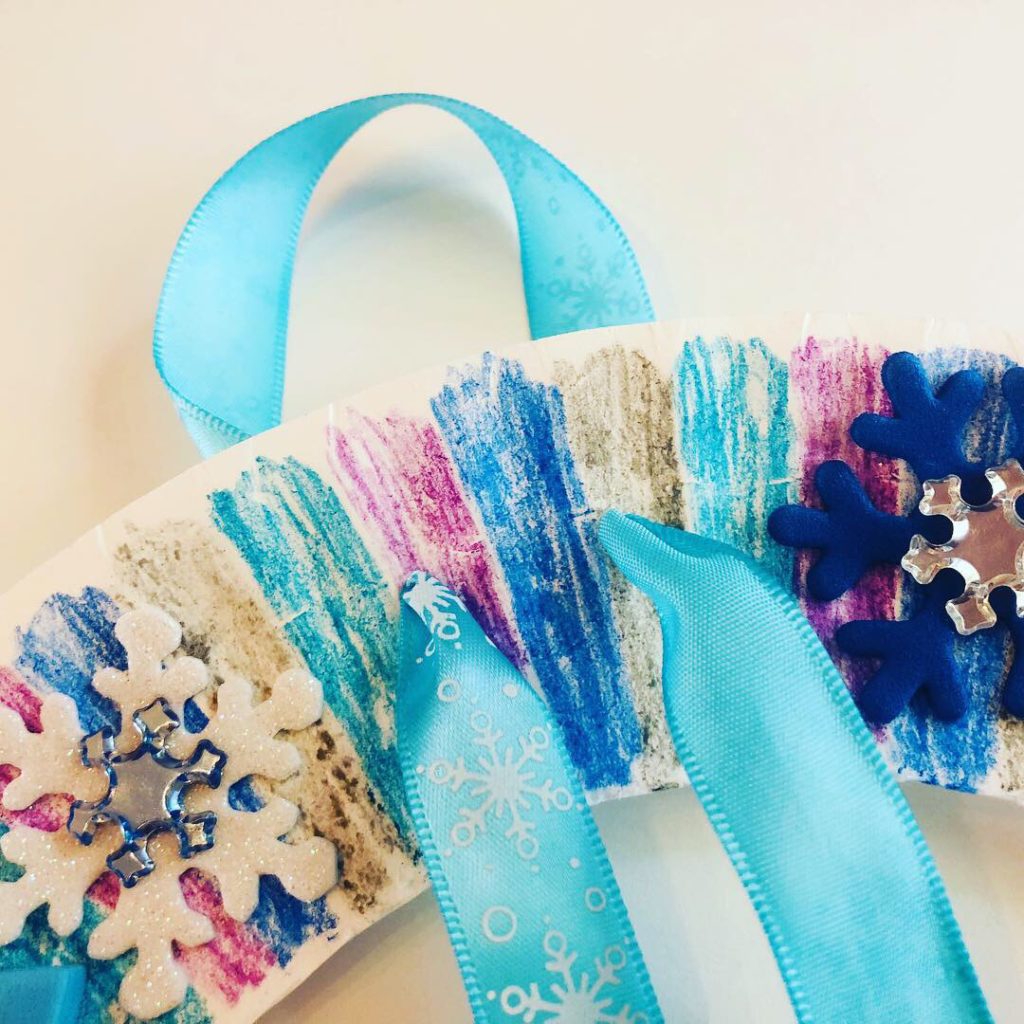 Once they are finished coloring, I have them add the stickers. These snowflake stickers were so much fun to work with. We ended up layering some of the tiny ones on top of the foam stickers for a more dimensional craft project.
Then I punch two holes at the top of the paper plate wreath. The holes are there so you can thread ribbon through the paper plate. This enables you to create a loop to hang the wreath on a door or hook. The kids love picking out a pretty ribbon for their wreaths.
Snowflake Paper Plate Wreath
Now you see why I love this Snowflake Wreath Paper Plate Craft so much! It's quick, simple, and mess free! It makes an excellent party craft for classrooms or birthday parties. I was thinking this might be perfect for a Disney Frozen Party.