Did you know popsicle sticks can be turned into a really fun bracelet craft? We decided it to try it this week and it actually worked! We went with a patriotic theme since Memorial Day and 4th of July are both right around the corner. If you are looking for a fun craft this summer, you'll want to check out this Patriotic Popsicle Stick Bracelet tutorial.
It actually takes a day or two to get the popsicle sticks ready to work with. So make sure you do this before letting the kids know about it. If your kids are like mine, they aren't always patient when they get excited about a new project.
This post does include affiliate links. That means I could earn a tiny portion of any sale that is made through clicking on any of these products with no additional cost to you. All support is greatly appreciated!
Popsicle Stick Prep
The first step in this craft is to prepare the popsicle sticks so they will form into the bracelet shape. I recommend that this step be completed by an adult. I used jumbo sticks but I think any size would work. It just depends on what size bracelet you would like to create.
To get the popsicle sticks ready, I boiled them in a large pot of water for about 20 to 25 minutes. Once they were done boiling, I let them soak in the water overnight. This just makes them so much easier to work with.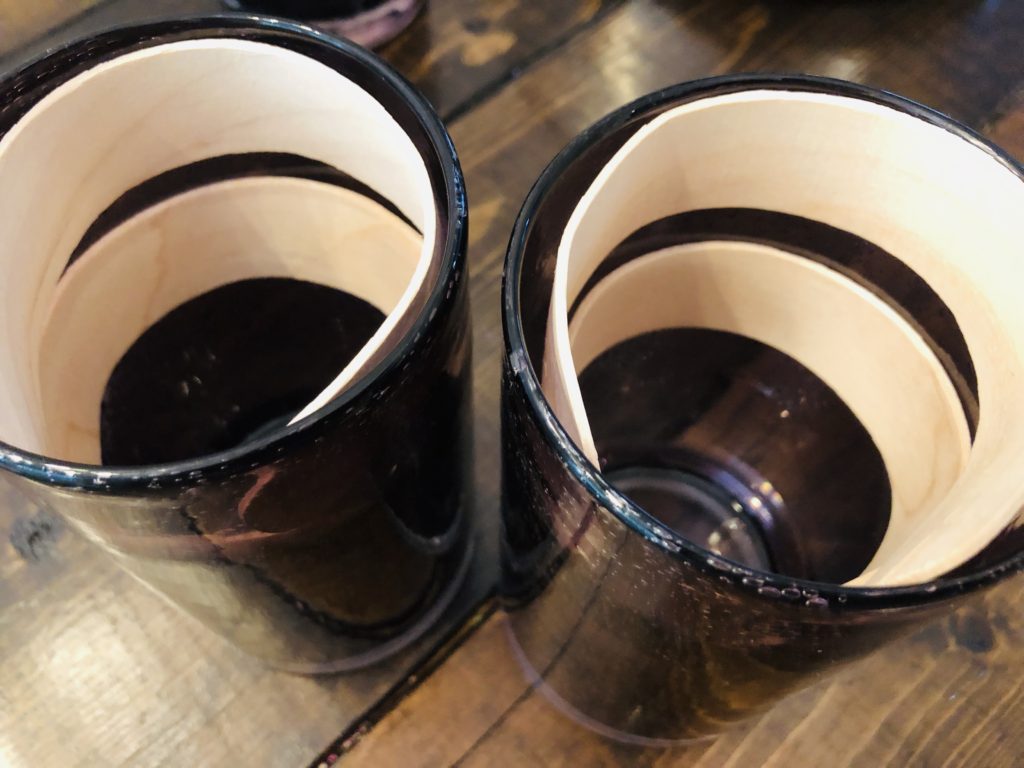 Once the popsicle sticks were soft and bendable, I shaped them into a bracelet form. The kids really wanted to try helping with this. I had boiled a lot of sticks in anticipation of this so I let them give it a try. A few did break during this process so you definitely want to have extras.
Once we had them shaped, I pushed them into drinking glasses to dry. This step takes several hours as well. If you have smaller popsicle sticks, pint mason jars would probably be a good size for this step.
Decorating the Bracelets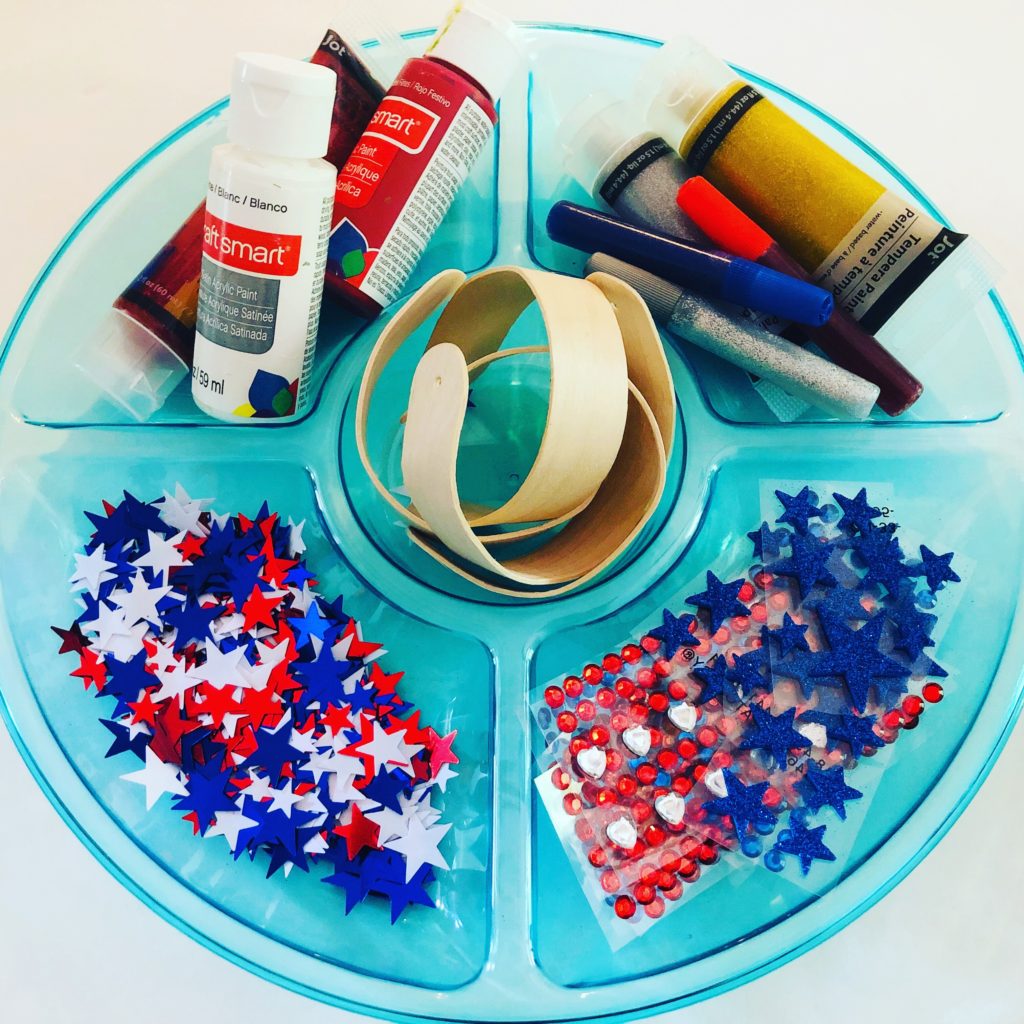 Once the sticks were dry, it was time for the fun part! I set up our craft tray with lots of sparkly stickers, stars, paint, and glitter glue. We get most of our supplies at Dollar Tree and Michael's.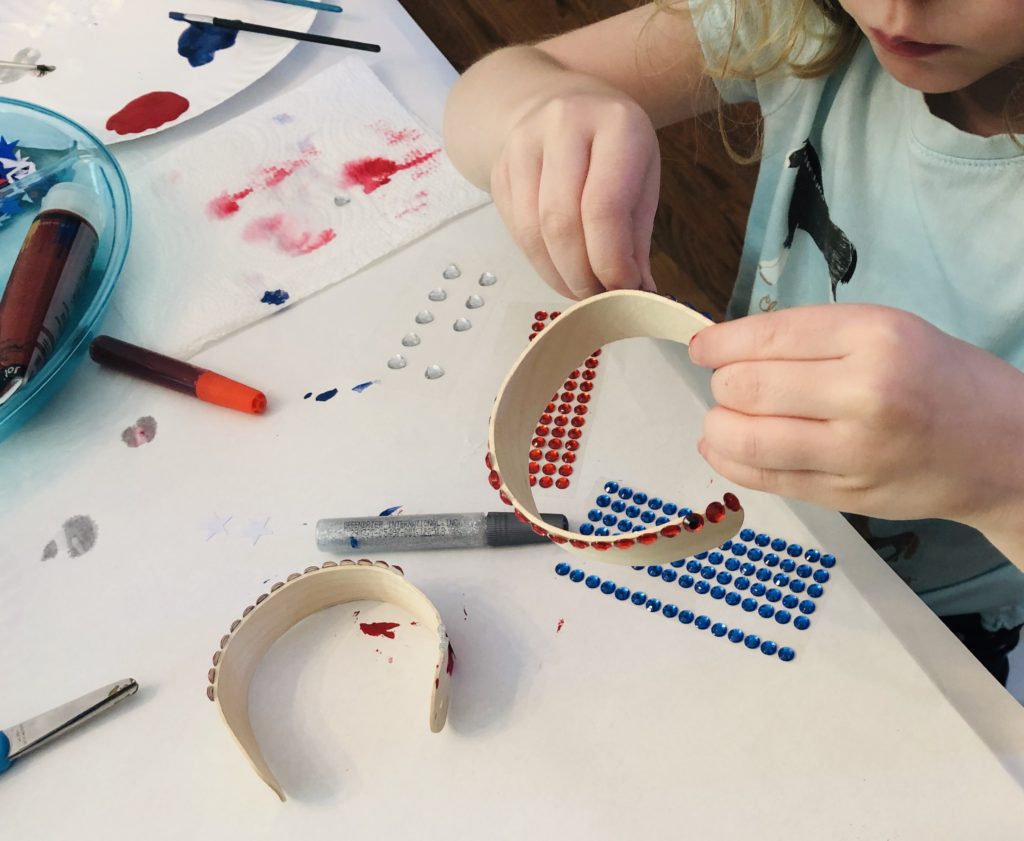 These Patriotic Popsicle Stick Bracelets were so much fun to decorate. I love providing a variety of crafting materials and letting the kids create on their own. It is so fun to see what their creations will look like. We also got in a lot of fine motor skills work with all of those little sticker gems and tubes of glitter glue.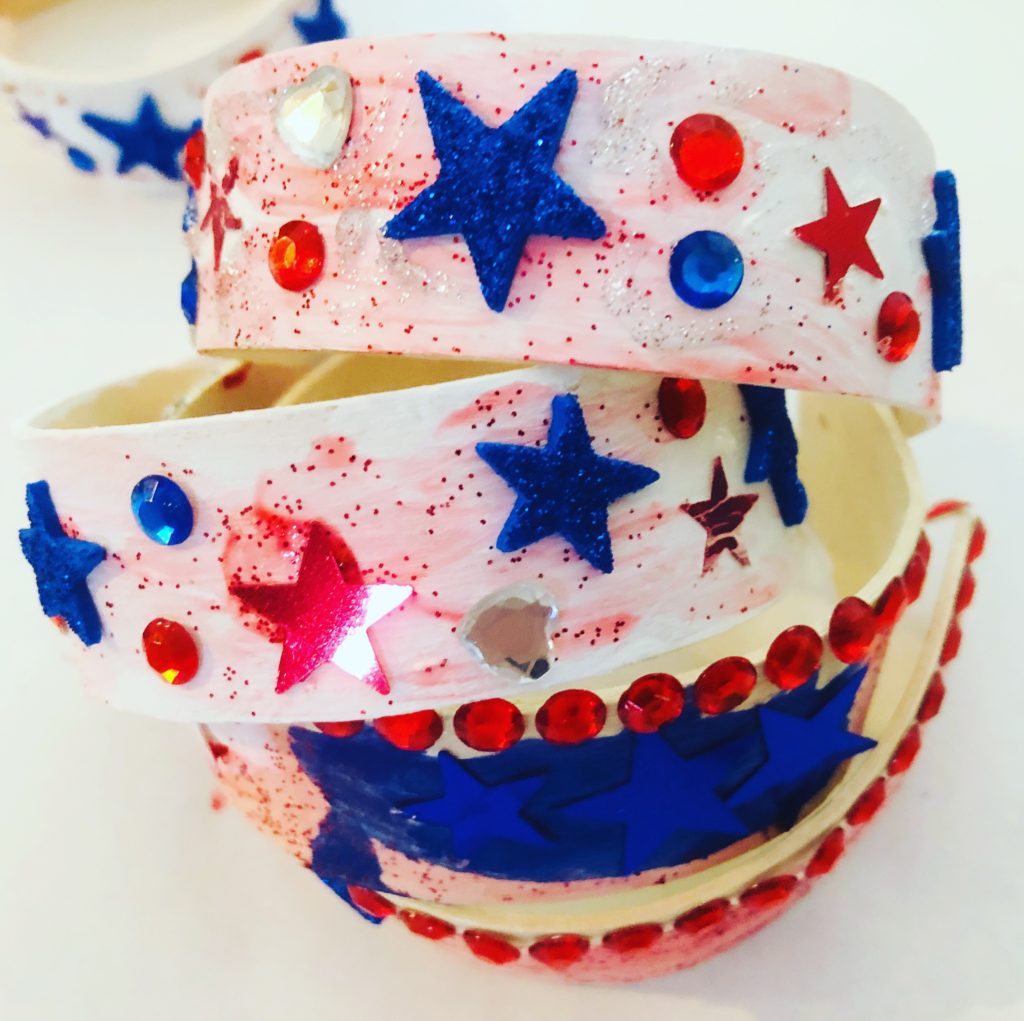 I love all the bling! These bracelets are full of sparkly fun and will be so fun to wear this summer. Graylie loves to play dress up too so I'm sure they will end up with her other collection.
Sizing the Bracelet
You can leave the bracelets just like this. The large sticks fit me perfectly. They were a little big for Graylie's arm though. I decided to punch holes in the ends and tie a ribbon.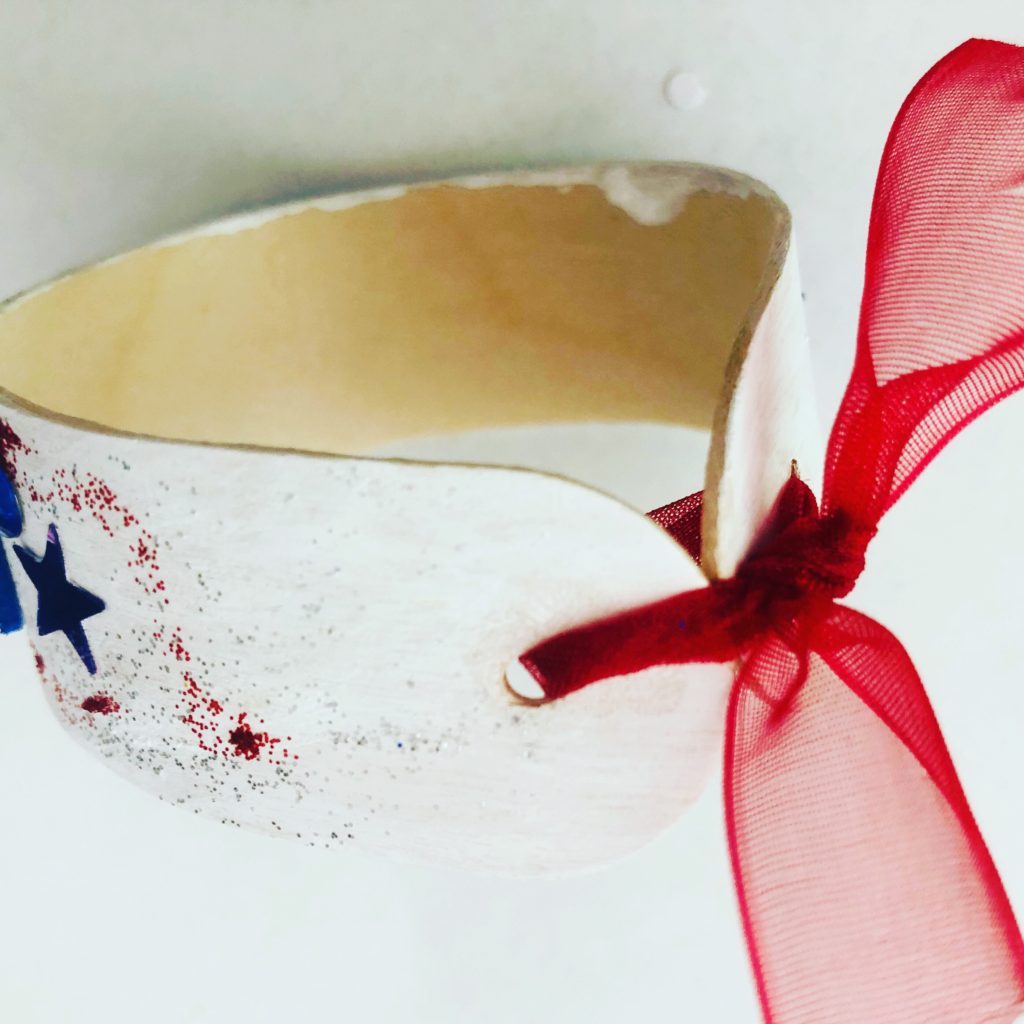 I used my Fiskars punch to create the holes. I wasn't sure if it would be able to work on this material but it worked great! Then I put the ribbon through the holes and tied the ends together. Now the bracelet is a perfect fit for her little wrist.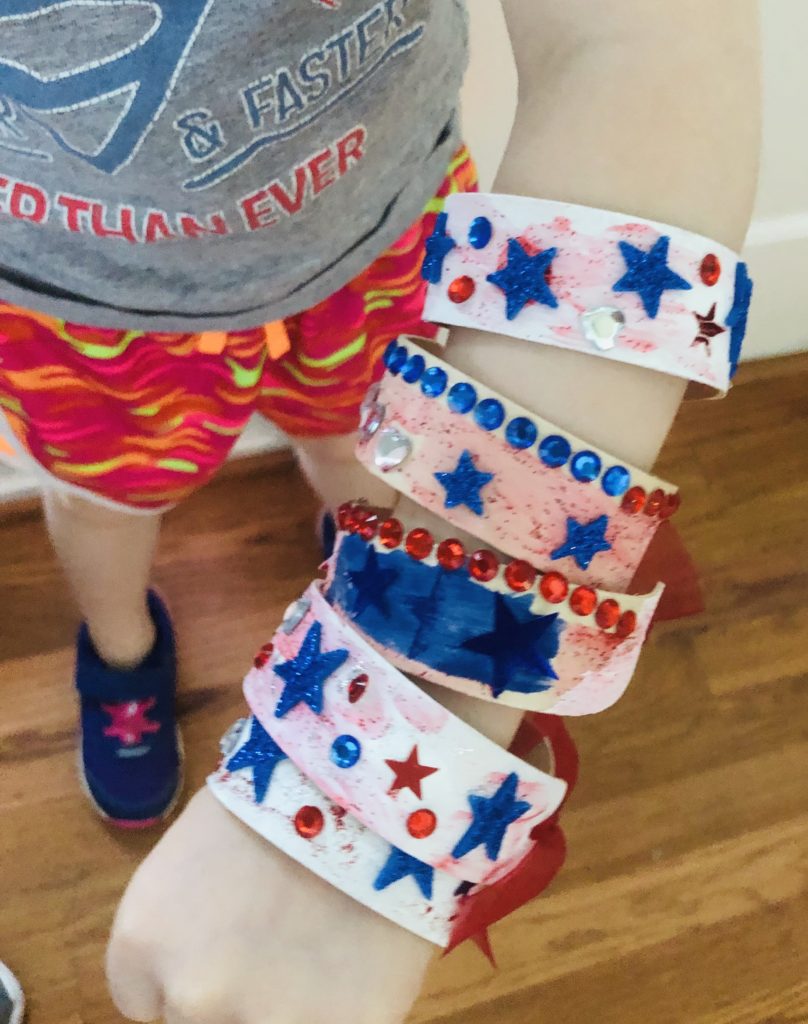 If you like bling and sparkle, this is the craft for you! Just be sure to give yourself time to prep the popsicle sticks if you are planning to do this for a party. Patriotic Popsicle Stick Bracelets would be a really fun craft for a Memorial Day or 4th of July party.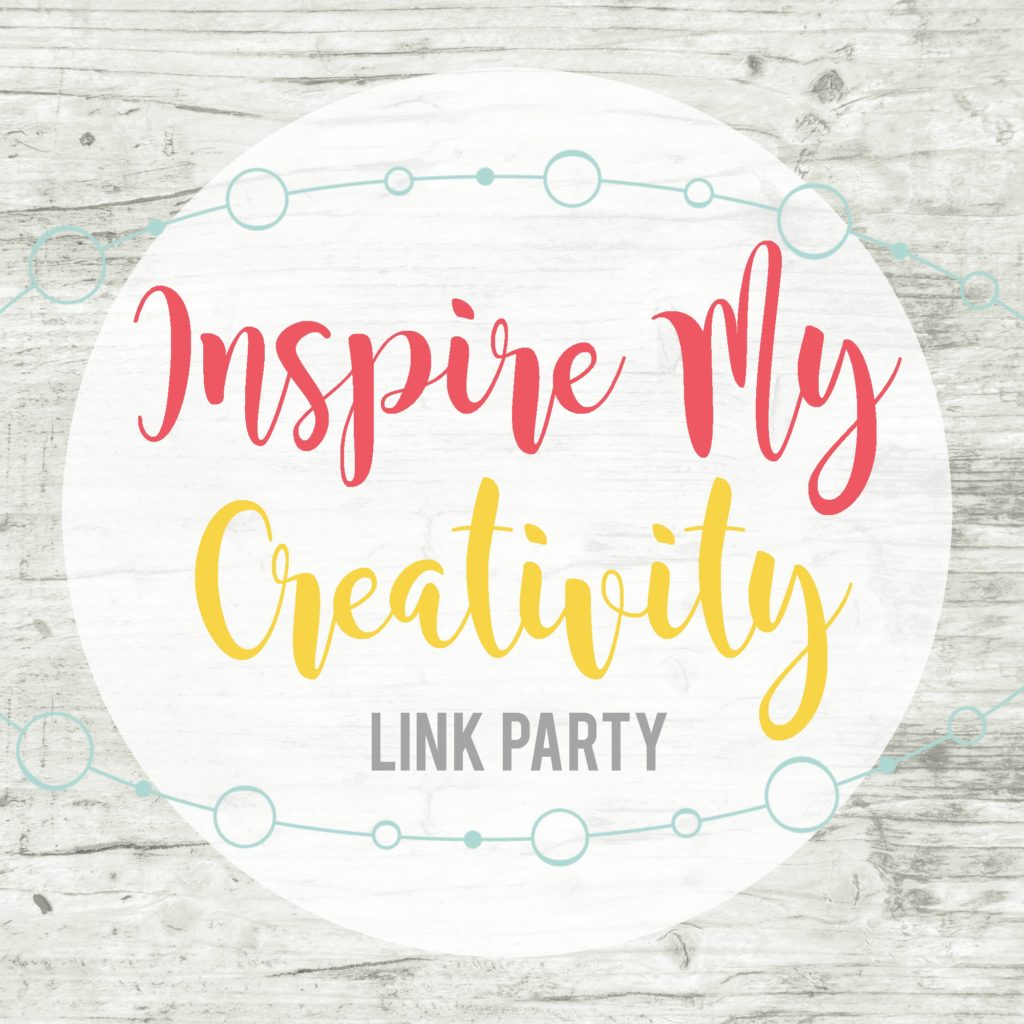 I was inspired this month by a group of crafty friends to create something to wear this month! Check them all out to see what other fun creations they came up with!
Shani | Sunshine & Munchkins
Christine | Swordfights & Starry Nights
Meg | See The Happy
Candice | She's Crafty
Julia | The Quiet Grove
Marie | The Inspiration Vault
Brooke | My Beautiful Mess
Heather | Glitter On A Dime
Rachel | Adventures of a DIY Mom
Jenny | Cookies, Coffee and Crafts
Anna | Practical and Pretty
Cathy | A Boy and His Mom
Sarah | The Strawberry Nest
Adree | The Keele Deal
Aimee | Things Small and Simple
Alexandra | EyeLoveKnots